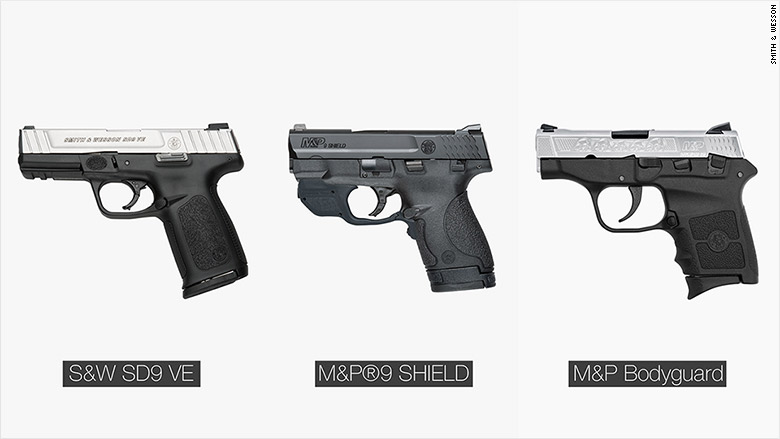 Assault weapons like the ones used in last week's mass shooting in San Bernardino are dominating the public debate about guns.
But the majority of weapons that Americans are stocking up on are handguns, not rifles.
Gun sales are surging -- Smith & Wesson posted a quarterly sales jump of 32% on Tuesday, and CEO James Debney said handguns account for three quarters of the company's sales.
"We view the growth in the handgun portion of the market as a longstanding trend," said Debney.
The hottest handguns are compact, the company said, so they're designed for concealed carry.
"You could put one into a suit jacket and you wouldn't even know it," said Brian Ruttenbur, gun industry analyst for BB&T. "This is something you literally drop into the makeup compartment of your purse."
Related: The recent rise and fall of the AR-15
More people than ever are buying guns to protect themselves, thanks to new state laws that make it easier for people to get a concealed carry permit.
"That's brought a significant number of first time buyers to the firearms market, especially women," said Rommel Dionisio, gun industry analyst for Wunderlich Securities.
Women buy about 25% of the guns, and they're the gun market's fastest-growing demographic, said Ruttenbur. He said that gun companies are now catering specifically to women, producing ever-increasing numbers of pink and purple handguns.
"It's a scary world out there," said Tara Dixon Engel, an NRA-certified gun instructor and author of The Handgun Guide for Women. "Between the nutcases and terrorists and the standard, run-of-the-mill criminals, a lone female is an easy target."
This year is on track to set a record for FBI background checks. That isn't the same as gun sales, but it is a close proxy.
Investors have taken notice. Shares of Smith & Wesson (SWHC)have surged 125% this year, while Sturm, Ruger (RGR)'s stock has climbed 62% this year.