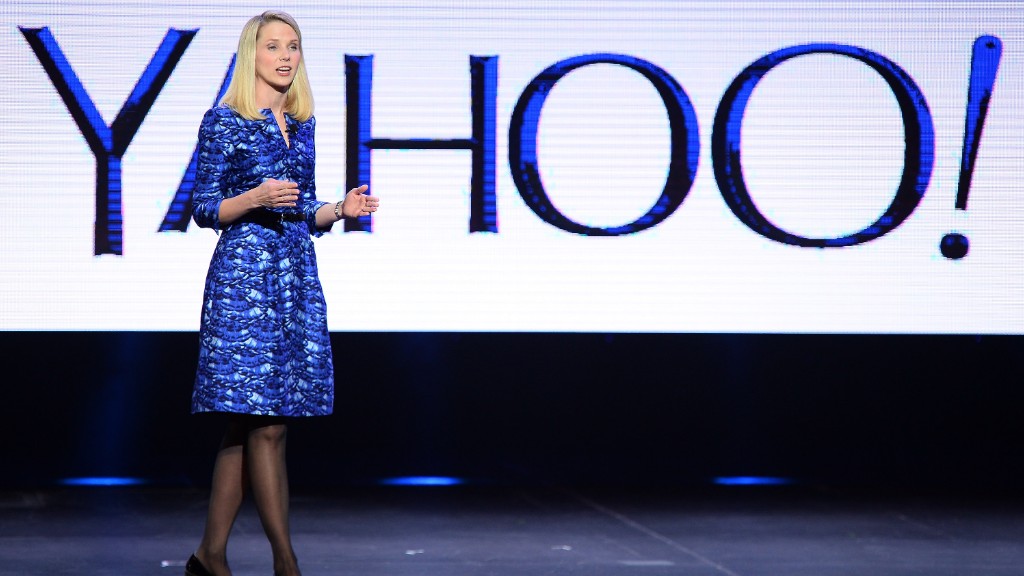 After a week's worth of meetings, Yahoo's board decided to do the exact opposite of what it had planned several months ago.
Yahoo will no longer spin off its lucrative Alibaba stake. It will instead consider spinning off every other part of the company, including Yahoo's core Internet business, into a separate publicly traded company.
The end result will essentially be the same as the original plan: Yahoo will break away from Alibaba.
CEO Marissa Mayer said she is pleased that Yahoo will "increase value and diminish uncertainty" for shareholders. She also said it will "provide more transparency" into the value of Yahoo's core Internet business.
Alibaba: Why Yahoo won't sell it
1. Yahoo has a 15% stake in Chinese e-commerce giant Alibaba worth about $30 billion.
2. Spinning off that stake would have generated a lot of money for Yahoo (YHOO) and its shareholders. But, after an unfavorable IRS ruling, it could have been subject to a gigantic tax bill of about $10 billion.
3. Activist Yahoo shareholder Starboard Value had once favored selling off Alibaba but later opposed it. If the board decided to sell Yahoo's Alibaba (BABA) stake, it likely would have faced a nasty battle from disgruntled shareholders.
Yahoo's core Internet business
1. Yahoo's sales continue to decline after its ad business was eclipsed by Google (GOOGL) and Facebook (FB) over the past several years.
2. The stock market values Yahoo's Internet business as essentially worthless. Yahoo's market valuation is about $31 billion -- but its stakes in Alibaba and Yahoo Japan are worth a combined $38 billion, leaving its core business worth less than zero.
3. By performing a "reverse spinoff," Yahoo likely will avoid the big tax bill. Since Yahoo is an operating company (unlike its stake in Alibaba), spinning off Yahoo would probably be tax-free or close to it.
4. On a conference call with analysts Wednesday, Yahoo Chairman Maynard Webb denied that the company is looking for a buyer. "There is no determination by the board to sell the company or any part of it," he said.
5. Yahoo could still be sold, but it's unclear who might be interested in Yahoo's Internet business. Verizon's (VZ) Chief Financial Officer Fran Shammo said Monday that he would "look at it," even if a discussion is premature.
Marissa Mayer: Keep her on or show her the door?
1. Yahoo's CEO has been unable to turn the company around in her three-year tenure. She has focused on improving the company's mobile products.
2. The board has not publicly turned against Mayer, and she has stacked the nine-member board with allies. (Mayer herself is on the board.) But her most vocal defender, PayPal co-founder Max Levchin, resigned from the board on Wednesday.
3. In a CNBC interview Wednesday, Webb said Mayer has the board's support, and that he has "never met anyone smarter, who cares more or works harder" than the Yahoo CEO.
4. She'll collect $26 million in severance if she's fired ($110 million if Yahoo gets sold).
5. Mayer is due to give birth any day now.
6. Yahoo has had seven different CEOs or acting CEOs in the past 10 years.