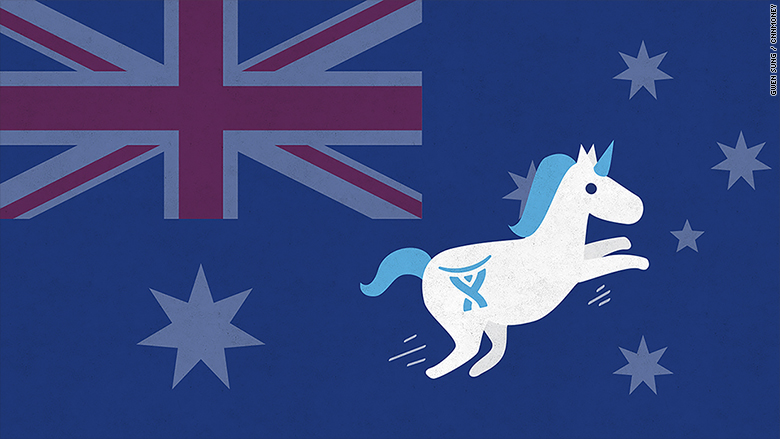 Apparently, you don't need to be a sexy Silicon Valley unicorn with backing from numerous A-list venture capital firms to be a success on Wall Street.
In fact, it might help if you aren't a typical start-up.
Atlassian, a cloud software company that was founded in Sydney, Australia, surged 30% in its market debut Thursday.
Demand for the offering was strong. Atlassian priced its IPO at $21 -- above its initial range. The company had already boosted its price range earlier this week. The company raised $462 million in the stock sale.
The stock was trading around $27.15 midday Thursday. At that price, Atlassian has a market value of $5.7 billion.
That's a solid jump from the $3.3 billion valuation Atlassian fetched in April 2014 when it sold shares to mutual fund firm T. Rowe Price (TROW).
Atlasssian also did a round of financing with VC firm Accel in 2010. But those are the only two times it raised money from outside investors.
Related: Is this a slow motion tech wreck?
This makes Atlassian a very unusual unicorn -- the term used for private companies worth at least $1 billion.
Square (SQ), the mobile payments startup founded by Twitter (TWTR) CEO Jack Dorsey that went public last month, sold shares at a steep discount to what it was valued at the last time it raised money from VC backers.
That IPO, combined with a tepid debut from fellow unicorn Pure Storage (PSTG), had many experts predicting that buzzy startups would be in trouble if they tried to go public next year.
So why has Atlassian -- the IPO from the Land Down Under -- bucked the trend? (I wonder if there were Vegemite sandwiches during the roadshow?)
First, let's look at what the company does. In a nutshell, it helps Men (and Women) At Work. (Sorry! I really love that song.)
Related: Square IPO pops, but only after it lowered price
Atlassian has several popular products geared toward businesses -- such as JIRA, HipChat and Confluence -- that helps teams collaborate. It even chose the ticker symbol TEAM for its stock.
"It was a miracle that ticker was still available," joked Jay Simons, president of Atlassian, adding that MATE, an anagram of TEAM, would have also been fitting given Atlassian's Australian roots.
The company also has no salespeople. Instead, it uses viral word-of-mouth marketing to pitch its products. And that approach is working. Sales were up nearly 50% in its most recent quarter.
And Atlassian, which has been around since 2002, has been profitable for the past 10 years.
Good luck finding a Silicon Valley startup with that type of track record. Many unicorns seem to pride themselves on how quickly they can burn cash.
"The response you're seeing today in the public markets is due to the uniqueness of our business," said Simons.
Atlassian also spends heavily on research and development (44% of total sales last year!) to ensure that it remains relevant with its customers.
"We're always inventing and always refining," Simons said. "We're looking for different things to add on to the core product platforms."
Now comes the hard part -- proving to Wall Street quarter after quarter that it can retain its momentum.
Atlassian faces formidable competition. Tech giants Microsoft (MSFT), IBM (IBM) and Google (GOOG) offer some similar products. Then there's cloud leaders such as Salesforce (CRM), Zendesk (ZEN)and ServiceNow (NOW) as well as other unicorns like GitHub and Slack.
Nonetheless, Atlassian has shown that even in a tough market for IPOs like this one, investors will be interested in quality companies with a real business plan and proven success instead of just hype and flashy private market valuations.