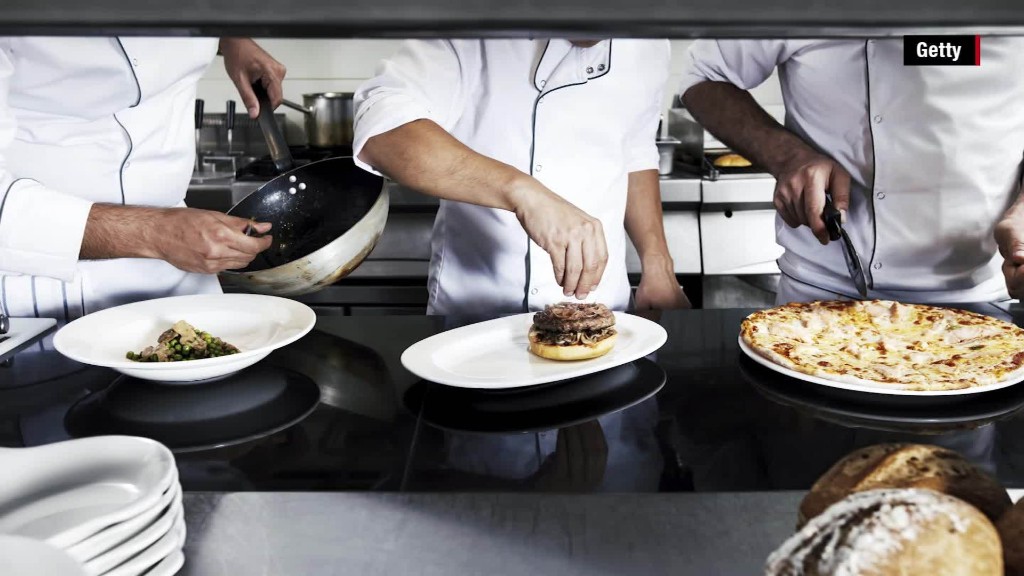 Chipotle, you've got problems.
The company's "food with integrity" slogan seems absurd at a time when at least 141 Boston College students -- including members of the basketball team -- are sick after eating at a Chipotle restaurant near the campus. The culprit this time: norovirus.
The latest crisis comes as Chipotle is still dealing with the fallout of an E. coli outbreak at several restaurants that made 52 people sick in nine states in October and November. There was also a salmonella outbreak in late August.
No wonder Chipotle (CMG) is in damage control mode.
Chipotle takes a social media hit
Chipotle has gone from beloved fast food joint for Millennials to the butt of jokes.
Here's a sampling of social media posts about Chipotle this week. The hashtag #Chipotlecoli is trending:
"Been eating Chipotle every day praying I get Ecoli. That lawsuit would be clutch to pay off my student loans," said one Instagram user.
"E.coli time !!!!" said one woman on Instagram with a photo of a Chipotle burrito bowl.
"Write the saddest story you can think of... ate lunch at Chipotle," tweeted one user.
"They can't go on TV and say 'food with integrity' anymore. Their whole advertising model is thrown out the window," says Howard Penney, managing director of Hedgeye Risk Management, an investment research firm.
The fact that Chipotle has a larger Instagram following than chains like Panera (PNRA), Wendy's (WEN) and Subway could backfire as even the loyal fans share their concerns.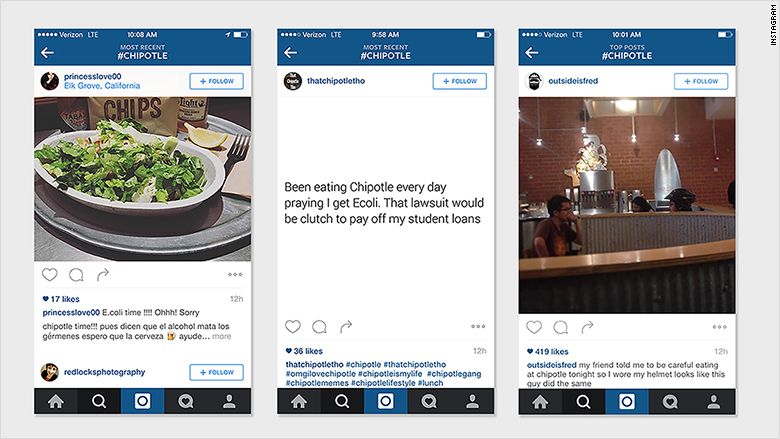 Related: Boston College says students sick after eating at Chipotle
Slow response
No one has died from either outbreak, but the company's supply chain is looking deeply flawed. As is its PR.
Penney blasted Chipotle's management team for its slow and seemingly tone-deaf response, calling it the worst he had seen in his entire two decade career.
"It's gone right at the heart of the brand. If you're hitting a Millennial male athlete, forget it. You can't imagine a worse target audience," says Penny.
This is starting to be compared to the Target (TGT) data breach in late 2013 or Whole Foods (WFM) being outed for systematically overcharging for pre-packaged food.
Related: Chipotle tries to move past a horrible year
Stock price tanks
Chipotle finally put out a statement Thursday offering its "sincerest apologies" to the people who got sick. CEO Steve Ells went on NBC's "Today" show to reiterate the company is making changes.
"The procedures we're putting in place today are so above industry norms that we are going to be the safest place to eat," Ells said.
But the hit to the company's reputation -- and stock -- have been clear.
Chipotle stock has cratered to $550 on Wednesday, an almost 30% drop from its all-time high of nearly $759 a share in early August.
Chipotle was struggling even before the food safety issues. Wall Street analysts have been slashing their forecasts. Many says it will fall further.
Deutsche Bank now predicts the stock could fall to $480 -- a nearly 40% drop from its high.
"The customer reaction to E. coli headlines (which initially emerged on Nov. 1 and then recurred on Nov. 20) was more severe than expected," wrote Jason West of Credit Suisse in a research note this week.
How long will customers stay away?
Both Chipotle and Wall Street analysts have been trying to assess how many people will stay away -- and for how long. CNNMoney stopped by the Chipotle near Columbus Circle in New York City this week and saw one of the shortest lines ever at lunchtime.
Sharon Zackfia, an analyst at William Blair, surveyed 800 adults in November. She found that new customers and heavy users -- two key groups -- are the most likely to rethink eating at Chipotle.
But others think Chipotle will be able to bounce back from this.
"Historically, these types of food safety events have had a relatively minor impact on long-term sales and EPS forecasts," says West of Credit Suisse.
Even with all the trash talking about Chipotle on Twitter (TWTR), there were also devoted fans like Penn State football player DaeSean Hamilton who can't wait for Chipotle to put its food safety issues behind it.
As he tweeted Monday, "Chipotle needs to get their act together so I can eat it again."