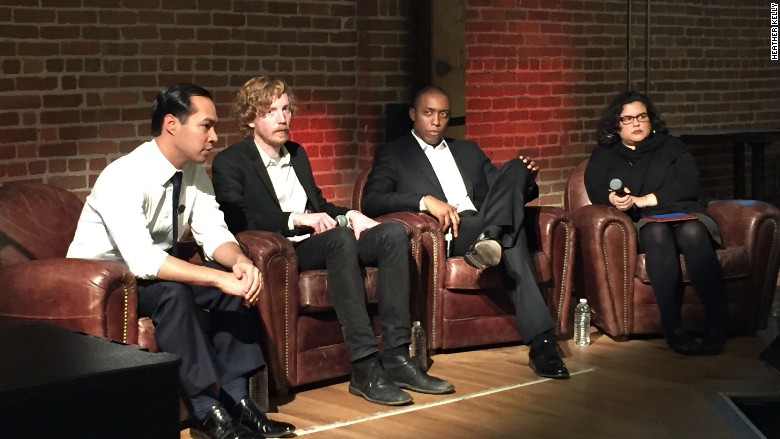 It costs $10 a month to set up a low-income family in the United States with a broadband Internet connection. Another $90 can cover a device like a tablet or laptop.
It's a small amount of money, but the impact can ripple through a child's entire life. Access to the Internet means kids can do homework, apply to colleges and find jobs. Early exposure to tech can inspire the next generation of engineers and designers.
The Department of Housing and Urban Development launched ConnectHome to bridge the so-called "digital divide." The initiative, which puts Internet connections and devices in public housing, follows the government's ConnectEd program, which brought broadband Internet to schools.
"ConnectHome is building on ConnectEd to ensure the Internet follows young people home, and that all families are able to avail themselves of 21st Century tools to compete in this 21st Century economy," HUD secretary Julián Castro said Tuesday at tech company GitHub.
Castro was in San Francisco this week to spread awareness about ConnectHome among tech firms. Castro, the former mayor of San Antonio, Texas, has been mentioned as a potential running mate for Hillary Clinton.
The program is focused on 28 public housing communities across the United States, as well as the Choctaw Nation in Oklahoma. It hopes to connect more than 200,000 children to the Internet over the course of two years.
Related: Stephen Hawking: Technology is making inequality worse
The government can't do it alone. That's why Castro wants Silicon Valley's help.
The program, first announced in July by President Obama, relies on partnerships with nonprofits, Internet Service Providers and private-sector companies. It doesn't just need money, it also needs the tech industry's talent and resources.
GitHub is one early ConnectHome partner. The startup, which lets developers to share and collaborate on code, announced it was doubling its commitment to the program. It's contributing $500,000, $3 million in products and services, and 2,000 volunteer hours from its staff.
HUD is partnering with companies like Sprint (S), Cox Communications and Google Fiber on the broadband connections. Nonprofit EveryoneOn is leading the coordination.
For tech companies, the program is not just charity. It's access to an untapped source of future employees, innovators and leaders.
"We know for a fact that talent is every where, but opportunity is not," said GitHub CEO Chris Wanstrath.
Nicole Sanchez, GitHub's vice president of social impact, described the program as part of a massive talent search.
"Low income people of color around this country have not been connected to this opportunity ever. You are going to see a massive wave of innovation, the likes of which Silicon Valley has not yet seen."