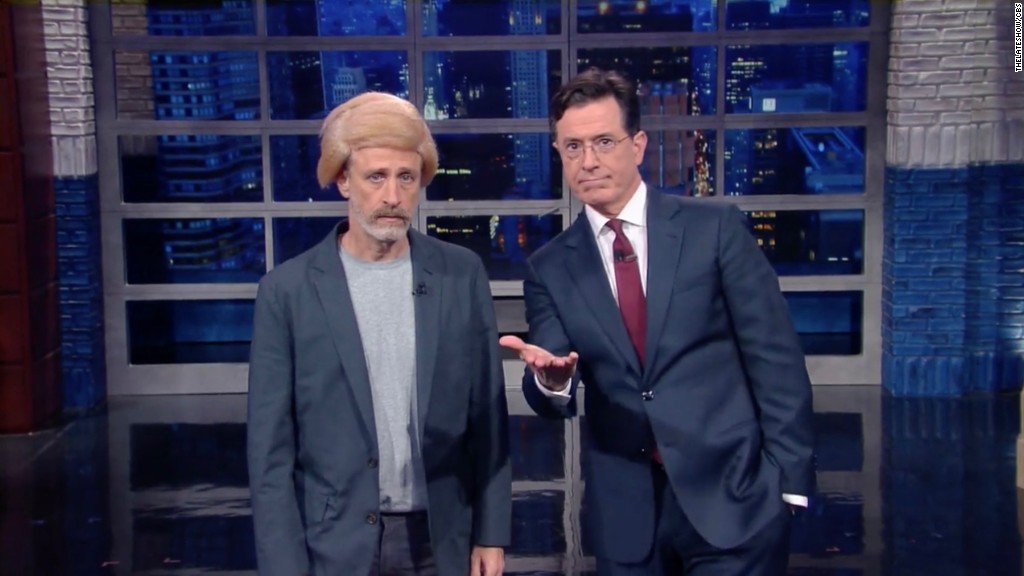 With a little help from an old friend, Jon Stewart brought his famed Donald Trump impression back to TV.
The former "Daily Show" host reunited with his past colleague, Stephen Colbert, on CBS' "Late Show" Thursday night to rally attention for the "Zadroga Act" -- a bill that provides health care to 9/11 first responders who obtained illnesses or injuries from the attacks.
"After the sacrifice our first responders made," Stewart began before being stopped by Colbert who yelled "boring!"
Colbert apologized for cutting Stewart off but explained that Stewart's pitch needed more "zazz."
"No one is going to listen to you unless you -- I don't know how to put this -- 'Trump it up' a little bit," Colbert said. "Face it, Jon, the media won't pay attention to anything at all unless you are Donald Trump."
Related: Jon Stewart to lobby Congress over 9/11 first responders bill
The "Late Show" host then grabbed a wig styled after the hair of the presidential candidate and a bag of Cheetos dust that he applied as makeup to Stewart's face.
Stewart attempted again to get his message across, but was interrupted once more by Colbert who yelled, "bring the Trump!"
And after a deep sigh, that's exactly what Stewart did.
"These 9/11 first responders are the most top notch, first class, diamond encrusted heroes America can produce," Stewart said in his trademark Trump voice. "Tell [congress] Donald said pull up your big boy pants and make America great again... pass the Zadroga Act!"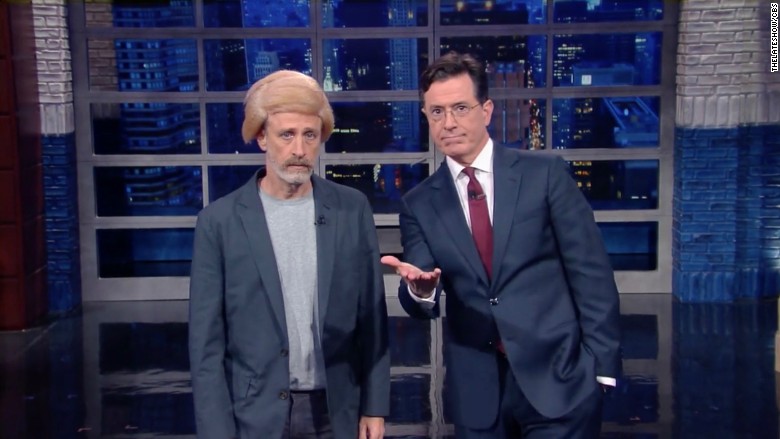 Before Stewart signed off from "The Daily Show" in August, the satirical news host was known for skewering Trump -- going as far to call him the "candidate version of the hot dog crust pizza."
Stewart, who has been somewhat low key since retiring, also popped up on "The Daily Show with Trevor Noah" Monday night to call attention to the healthcare bill.
"What message does it send to our first responders if once we're done as a nation with them helping us that we forget about them? That's unacceptable to me," Stewart said of the act on Monday.