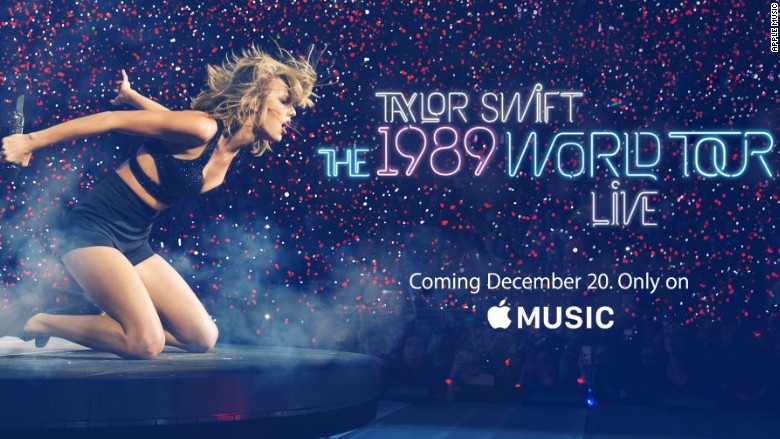 On her 26th birthday, it was Taylor Swift who was giving rather than getting the gifts.
Her fans will get a sneak peak behind the scenes of her world tour, the music star announced via Twitter (TWTR) on Sunday.
Apple Music will exclusively debut the film, "The 1989 World Tour Live," on December 20, just in time for Christmas.
"Thank you so much for all the birthday wishes," Swift tweeted to her 67 million followers. "I have a little surprise for you."
That surprise was a trailer for the concert film.
The deal with Apple Music is a noteworthy one, considering where the pop star and the new streaming service were six months ago.
Back in June, Swift wrote an open letter saying that she would keep her songs off of Apple Music. She demanded that Apple (AAPL) change the terms of its initial three month free trial to ensure that artists would be paid during the trial period.
Apple agreed, and Swift streamed.
Swift will also be sitting down with host Zane Lowe on Apple's Beats 1 radio station on Monday.
Apple did not immediately to requests for comment on Swift's announcement.
The New York Times' Ben Sisario reported that the "1989" tour, which ended on Saturday, had more than $240 million in ticket sales.
Some of the stars that had joined Swift on stage during the tour: Mick Jagger, Justin Timberlake, Selena Gomez, John Legend, and Mary J. Blige.