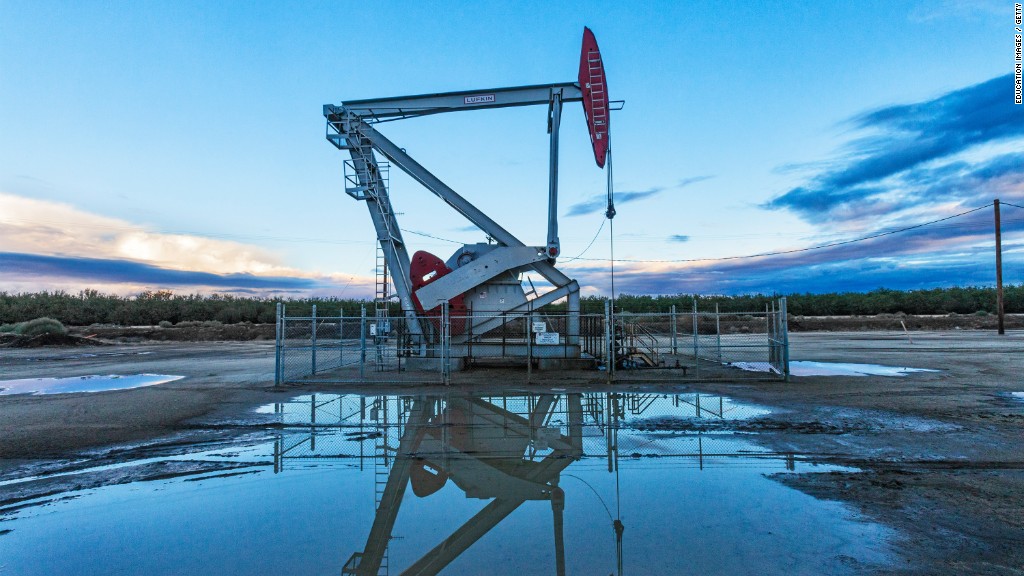 It's going to be a warmer, and cheaper, winter for most Americans.
Natural gas prices fell as low $1.862 per million BTUs Monday, the lowest price for a winter month since January 2002. Home heating oil closed at 99 cents a gallon in New York trading, its lowest point since April 2004.
Both figures are about half of what they were last year. The actual retail price paid by consumers won't fall nearly as much, however, due to charges such as transportation costs. But some consumers are expected to pay as much as 14% less for natural gas this year and 20% less for heating oil.
The increase in fracking resulted in record U.S. natural gas production this summer and near record supplies of natural gas. So just as a record oil production has been driving down gasoline and heating oil prices, the record amount natural gas is pushing down those prices as well.
Add to that there are forecasts of a much milder winter in most of the country. The number of days Americans will need to heat their homes is expected to fall by 10% this winter, with every region other than West catching a break on the weather.
"This is the perfect storm to drive natural gas prices down to where they are now," said Nicholas Potter, natural gas analyst with Barclays. "The industry needed some cold weather to use some of this excess supply and they're getting warm weather instead."
The Energy Information Agency is projecting much lower heating costs for most Americans due to the combination of lower prices and lower consumption.
Almost half of homes in the nation use natural gas for heat, while only about 5% use heating oil. But heating oil is still a major heating source in the Northeast, with its cold winters, while the overwhelming majority of homes dealing with Midwest winters use natural gas.
Related: Oil prices sink below $35 on fears of more Iranian oil
Electricity heats most of the rest of the homes in the nation, but most of the of those homes are in the South and West where warm weather limits the demand for heat. Low natural gas prices are also cutting the cost of electricity, since it is a major energy source for electric utilities.
The low natural gas prices are causing major problems for producers, said Alan Lammey, senior energy market analyst for PointLogic Energy. He said the price could plunge to $1 or less in the spring, and there could be widespread bankruptcies in the sector without a cold snap soon to lift demand.
Natural gas consumption increases in the winter, due to heating needs, and the summer, when air conditioning drives up demand for electricity. Prices are typically low in the spring and fall.
"To have prices this low in the winter is really significant. We've got way, way too much supply and not enough demand," Lammey said. "And this is setting up to be a train wreck for natural gas market in the spring if something doesn't give."