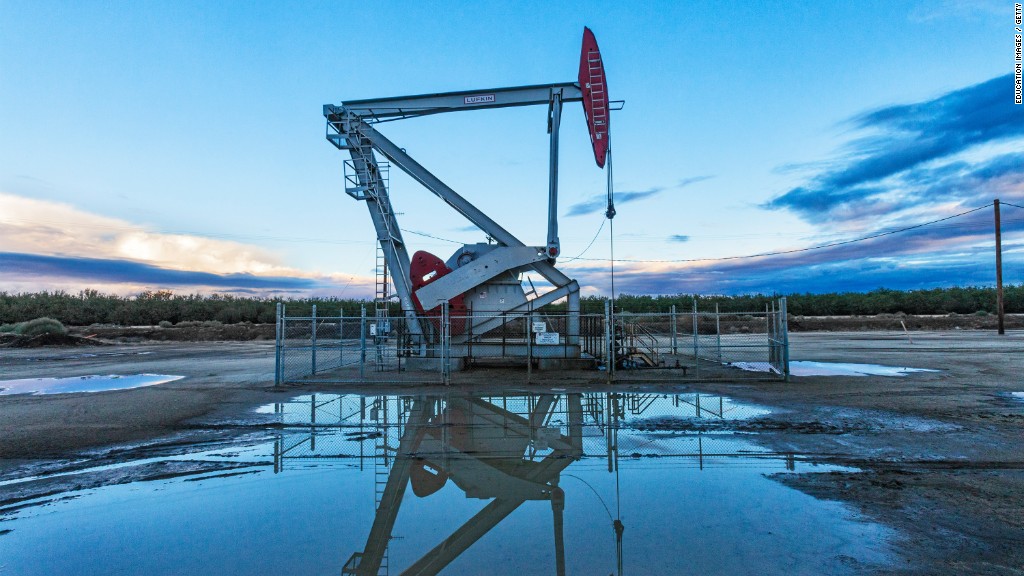 Russia is planning for oil prices to drop to $30 per barrel in 2016.
The country's top finance official, Anton Siluanov, said the government must be prepared for prices to fall further in 2016 as the global glut grows and new supply -- for example from Iran -- enters the market.
"Everything indicates that low oil prices are likely to dominate next year. And it is possible that at some periods [the oil price] will be $30 per barrel," Siluanov was quoted as saying by Russian state-run news agencies.
That would spell more pain for Russia. Oil and gas exports make up almost half of government revenue.
Oil futures were trading at their lowest level in nearly seven years on Monday, sliding below $35 per barrel.
Related: Russians are making far fewer trips abroad
Russia is planning for oil to trade between $40 and $60 per barrel over the next seven years.
Its 2016 budget is based on an oil price of $50 per barrel, Siluanov said. "Therefore, we must be prepared for difficult times," he was quoted as saying.
Russia is forecasting its budget deficit to rise to 3% of GDP in 2016. That's the maximum Russian President Vladimir Putin has said he will allow. Lower oil prices would make spending cuts inevitable.
The International Monetary Fund expects Russian GDP will shrink by 3.8% this year and by another 0.6% in 2016.
Meanwhile, the Russian ruble is sliding again, trading at 70.5 rubles per dollar, the lowest in four months and near last year's record lows.
Russia has been among those hit by OPEC's decision to keep pumping record amounts of oil, hoping to squeeze out higher-cost producers.
Russia, Venezuela, Nigeria and other oil producing countries have been lobbying for the Saudi-led oil cartel to cut production to lift prices. Their pleas were not successful -- OPEC failed to agree a production target at its latest meeting.