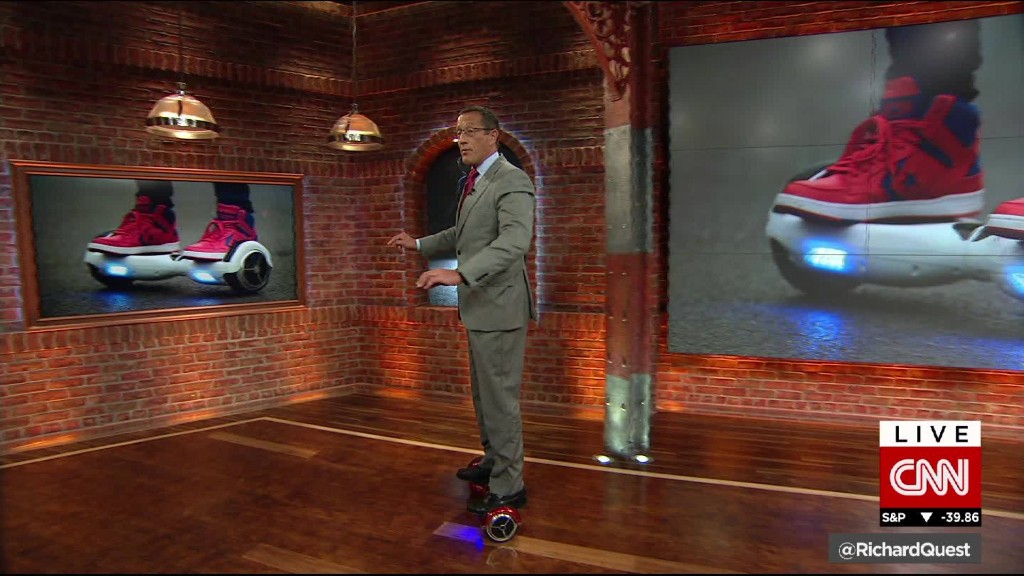 At least 16 reports of hoverboard fires in 12 states are being investigated by a federal agency.
"We consider this a priority investigation," Patty Davis, a spokeswoman for the U.S. Consumer Product Safety Commission, told CNNMoney on Monday.
"This is a popular holiday item and it's going to be in a lot of consumers' homes, and we'd like to quickly get to the bottom of why some hoverboards catch fire," she said.
The investigations include testing new hoverboards, as well as those involved in an incident.
News of the federal probe comes as Amazon halted the sale of almost every model of hoverboards.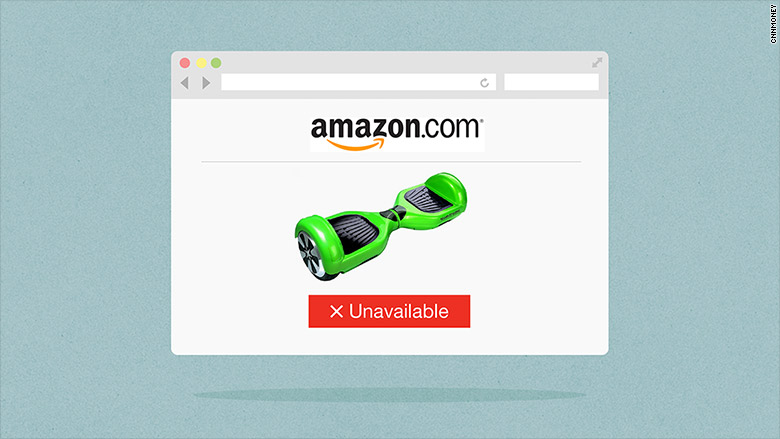 The company had a huge selection of the self-balancing scooters up until last Friday when it removed 97% of the products from its digital shelves, according to one manufacturer, Swagway.
The removal comes months after reports that certain models can burst into flames as result of malfunctioning batteries and plugs.
Amazon sent sellers a notice asking for proof that their gadgets "are compliant with applicable safety standards, including UN 38.3 (battery), UL 1642 (battery), and UL 60950-1 (charger)," according to Swagway.
Swagway's model is among those whose sales have been stopped by Amazon (AMZN).
CNNMoney checked Amazon's website Monday and found that self-balancing scooters from IO Hawk, PhunkeeDuck and others had been removed.
Brands including Razor, Jetson, and Hover X still had their products listed for sale.
"We applaud Amazon for taking these steps to weed out the low quality boards and want to note that this removal is NOT specific to Swagway," a company spokeswoman said in an emailed statement.
"Swagway already meets those certifications and has already sent the requested information to Amazon," she added.
Amazon did not respond to multiple requests for comment.
Hoverboards have been a hot new tech toy this year, but lately it's been for all the wrong reasons.
Many major airlines have been concerned about the safety of the gadgets, and banned them from flights last week.
In October, British authorities declared the scooters illegal to ride in public. A month later, the New York State Department of Motor Vehicles confirmed to CNNMoney that they are illegal in New York City too.
Overstock took down all hoverboard product listings last week as a "precautionary measure." As part of its announcement, Overstock offered customers an option to return their scooters for a full refund.
If you're still looking to buy a self-balancing scooter for the holidays, eBay (EBAY) still has thousands for sale, and retailers including Sharper Image, Walmart (WMT), and Toys "R" Us still sell certain models.