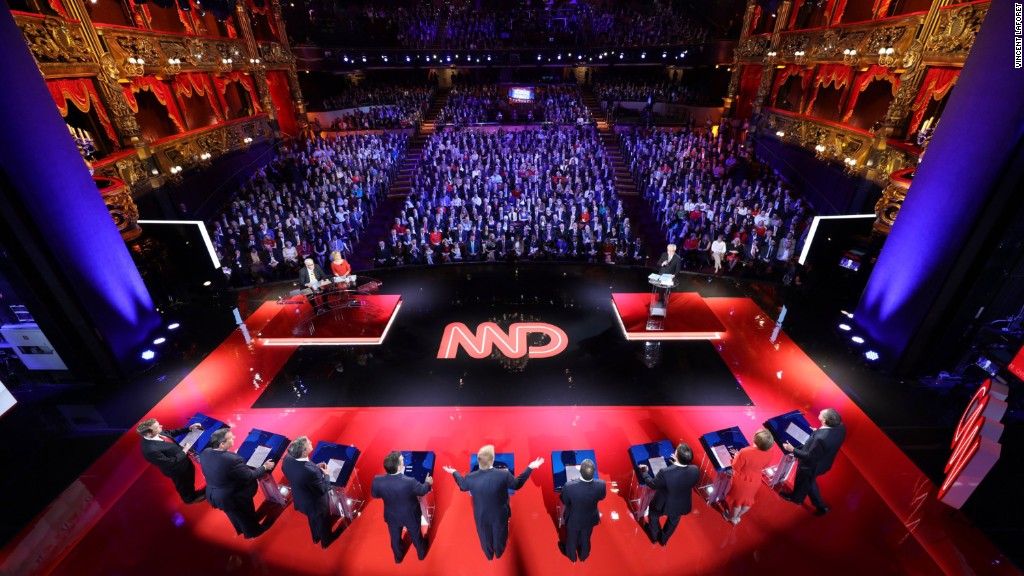 On this day in 2011, Fox News held a GOP primary debate that drew 6.7 million viewers. By the standards of that election cycle, it was the most-watched cable news debate of the year.
By this year's standards, it would have been a total bust.
With Donald Trump center stage, the Republican debates have become a bonafide "big hit" in the TV world, attracting bigger audiences than almost everything else on the dial. Even the Democratic debates have benefited from the big spike in interest.
So CNN is sure to have sky-high Nielsen ratings on Tuesday night. The only question is exactly how high. Fifteen million viewers? Twenty million? Experts have offered up a wide range of ratings expectations.
Related: How Wolf Blitzer is preparing for the GOP debate
The ratings matter, of course, because they're a measure of the public's interest in the presidential race. Candidates are reaching huge numbers of voters through the telecasts this year.
The first GOP debate of the cycle, on Fox News, averaged 25 million viewers via TV. The second debate, on CNN, averaged 24 million.
CNBC's debate reached a smaller number -- about 14 million -- but still set a new network record.
And the most recent debate, on the relatively hard-to-find Fox Business Network, averaged 13.5 million viewers.
That was more than a month ago -- so the long period of time between debates may spur more interest in Tuesday night's, which is the last one of 2015.
Ted Cruz's surge in multiple polls has also stoked anticipation of a possible confrontation between Cruz and Trump.
The Nielsen viewership totals only include traditional TV set viewership in the United States. Tuesday's debate will also be live-streamed on CNN.com, potentially reaching millions of Americans who don't have a cable subscription, and it will be simulcast on CNN International around the world.
TV insiders expect Tuesday's debate viewership to surpass the Fox Business and CNBC totals, but it's harder to predict if it'll top the August and September debates, when Fox and CNN surpassed 20 million each. Given the holiday season, some would-be viewers might choose to skip the telecast.
On the other hand, there isn't much prime time TV competition on Tuesday, with the exception of two big broadcast network shows that could peel away viewers: "NCIS: Los Angeles" on CBS and "The Voice" on NBC.
Republican National Committee chief strategist Sean Spicer said, "I fully expect to see a continued trend of very high interest, enthusiasm and viewership, because it's the Republican party that's offering real solutions and vision."
Related: Debates drive record level of interest in presidential race
Others say the surge in viewership is mainly attributable to Trump and the public's insatiable curiosity about his candidacy. (For liberal political junkies, watching the GOP debates has been highly entertaining.)
In a pre-debate interview on CNN's "Reliable Sources," moderator Wolf Blitzer noted that Trump has taken credit for the ratings surge and said, "He's probably right."
But the added viewership doesn't mean added pressure, Blitzer said, because the pressure is already "enormous" on a debate night.
When produced and moderated well, debates can be both brand-burnishing and profitable for television networks, even though they're costly to produce.
It's not known how much CNN is charging for advertising time, but the networks have made millions of dollars from the prior debates.
Blitzer will be joined by two questioners, CNN's Dana Bash and Salem Radio host Hugh Hewitt. As he headed into a pre-debate prep session on Tuesday, Hewitt called this "the Christmas dinner debate, the one families will be discussing all through their holiday celebrations."
Television ratings for the debate will be released on Wednesday.
Sign up for the Reliable Sources newsletter — delivering the most important stories in the media world to your inbox every day.