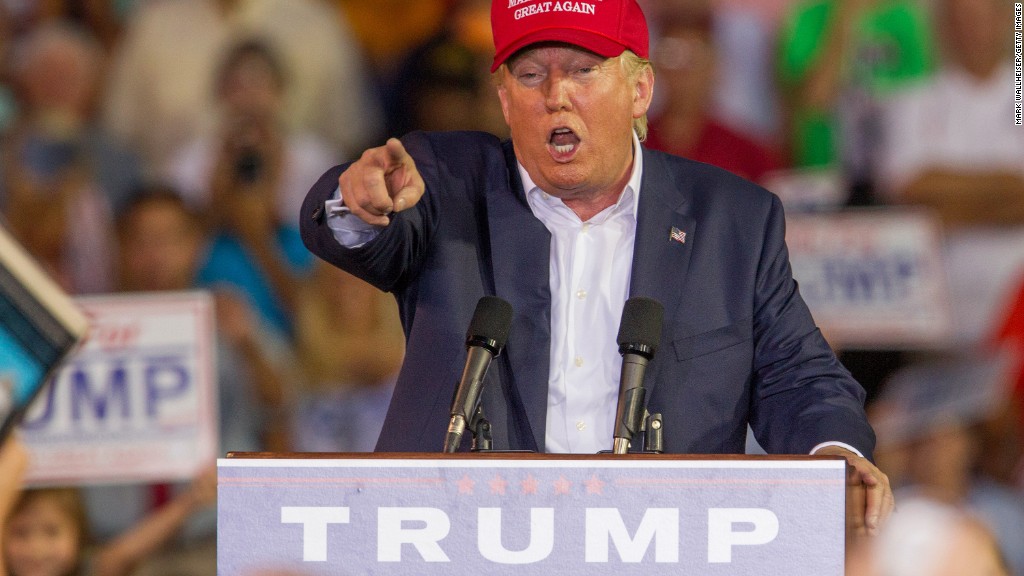 Donald Trump loves boasting about his immense wealth and the "small" million-dollar loan his father once gave him, but other presidential candidates are taking the opposite approach.
In television ads, on the campaign trail and during the debates, some candidates are touting their humble backgrounds in an effort to connect with middle and working class voters. They talk about their poor immigrant father, their childhood in a blue-collar town, their mother's job at Kmart.
Sure, they have all risen above those meager origins. They've since graduated from college, held high-profile positions in government or some other field and commanded six-figure salaries. But they often harken back to their roots, saying they relate to Americans struggling to make a living and raise their children amid stagnating wages and soaring costs.
CNNMoney lays out their working class pasts and how far they've come since:
Marco Rubio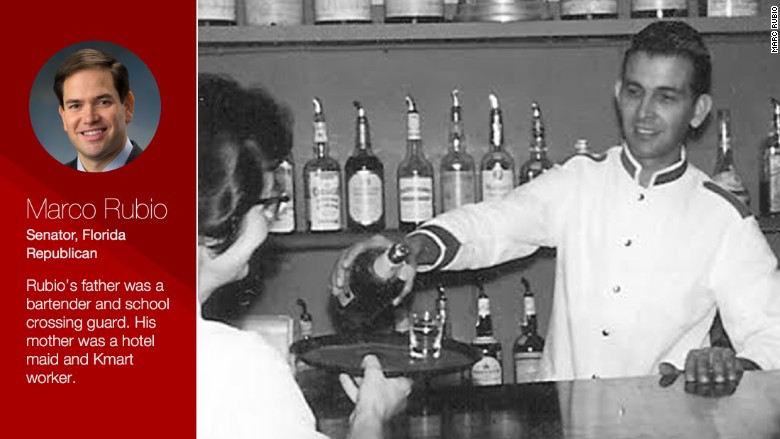 Rubio often talks of his parents' escape from Cuba during the revolution.
"[I]n 1956 they came here, to the one place on earth where the aspirations of people like them could be more than just dreams," said Rubio when he announced his presidential campaign. "My father became a bartender. My mother a cashier, a maid and a Kmart stock clerk. They never made it big. But they were successful."
His mother, Oria, now lives off Social Security and, possibly, a small pension from Kmart, Rubio told CNN. After bartending, his father, Mario, became a school crossing guard. He has since died.
In his first TV ad, titled "Bartender," Rubio talks about his father working long hours behind a portable hotel bar to ensure his children could live their dreams.
Rubio went on to get his bachelor's degree from the University of Florida, and then earned a law degree, cum laude, from the University of Miami. His first job was building birdhouses for an import-export business run by his brother in law.
Rubio makes $174,000 as a U.S. senator, and collected $22,000 for his job as a senior fellow at Florida International University, according to his 2015 financial disclosure form. Rubio, who wrote two books, American Son and American Dreams, also received $30,000 in royalties.
However, Rubio has struggled financially, raiding his IRA to upgrade some household appliances and pay for his four children's school expenses. His net worth in 2014 was estimated at $371,000, ranking him 86th in the Senate, according to the Center for Responsive Politics.
John Kasich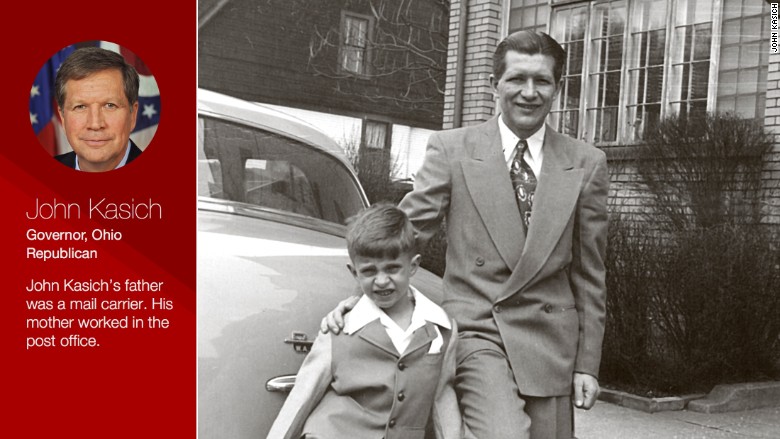 Kasich loves to tell audiences that his father, John Sr., was a mail carrier for 29 years and his grandfather was a coal miner. He was raised in the manufacturing town of McKees Rocks, Pennsylvania, a suburb of Pittsburgh. A daughter of immigrants, his mom Anne, worked for the post office.
Now the governor of Ohio, he uses these stories to emphasize how he can relate to Americans' lives.
"My father carried mail on his back for 29 years," he told Whirlpool employees last year. "Growing up the way I did. I'm really one of you. I understand what it all means. I understand the struggles."
Kasich, whose first job was as a newspaper delivery boy, earned a bachelor's degree from Ohio State University, was elected to the Ohio Senate and served in the U.S. House of Representatives for 18 years, including as chair of the budget committee. He worked as a managing director at Lehman Brothers for seven years until the firm's collapse in 2008.
As governor, Kasich earns $199,000 a year. He is worth between $9 million and $22 million, according to his latest personal financial disclosure form.
Ted Cruz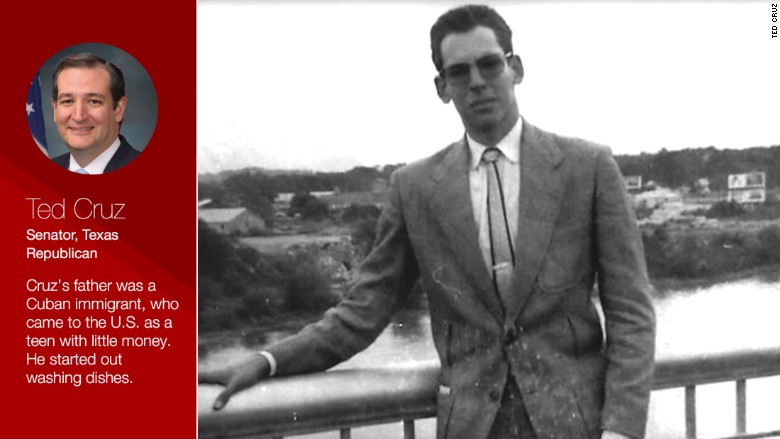 Cruz seeks to relate to voters by telling his own family's struggles.
His father, Rafael, fled to the U.S. from Cuba, where he fought in the revolution and was imprisoned and tortured. He arrived in Texas in 1957, "penniless and not speaking a word of English," according to Cruz's presidential website. In other accounts, Cruz has said his father immigrated with $100 sewn into his underwear.
"Imagine a teenage boy ... at age 18, he flees Cuba," said Cruz of his father during his presidential campaign announcement. "Imagine for a second the hope that was in his heart as he ... got on a Greyhound bus to head to Austin, Texas to begin working washing dishes, making 50 cents an hour."
Cruz's father went to the University of Texas and started a small business in the oil and gas field, which went bankrupt in the 1980s. The candidate also talks of his father's alcoholism, which prompted him to abandon the family. It's a tale of redemption, though, since Rafael Cruz returns after finding faith. He is now a pastor.
His American-born mother, on the other hand, was the first in her working class family to go to college and became a computer programmer, according to Cruz's site.
Cruz worked two jobs and took out more than $100,000 in loans to pay for his undergraduate degree at Princeton and his law degree from Harvard, both of which he graduated from with honors. "Loans, I suspect a lot of y'all can relate to. Loans that I will point out I just paid off a few years ago," he said in his announcement.
Cruz earns $174,000 as a senator. He ranks as the 47th richest senator with an estimated net worth of $3 million in 2014, according to the Center for Responsive Politics.
Bernie Sanders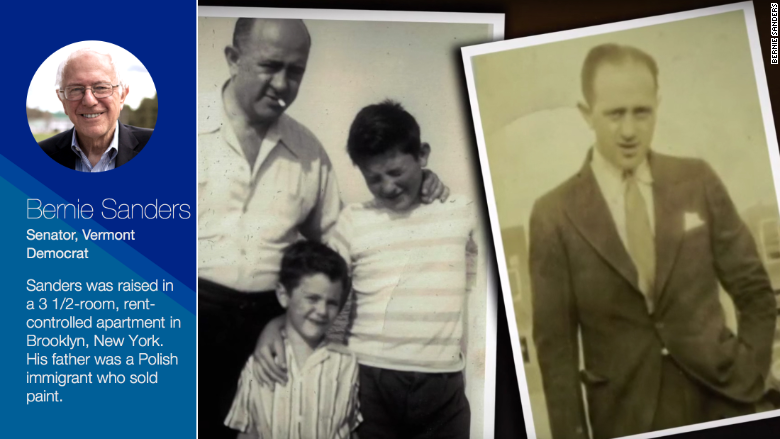 Sanders' whole campaign is about fighting for the Bottom 99%. He points out that he's a member too, having grown up in a 3 1/2-room, rent-controlled apartment in Brooklyn, New York.
"My father came to this country from Poland without a penny in his pocket and without much of an education," he said when he announced his campaign. "My father worked for almost his entire life as a paint salesman and we were solidly lower middle class. As a kid I learned, in many, many ways, what lack of money means to a family. That's a lesson I have never forgotten."
Sanders graduated from the University of Chicago and moved to Vermont, where he worked as a carpenter and documentary filmmaker, according to his campaign site. After serving as the city of Burlington's mayor and a congressman for Vermont, he became a U.S. Senator in 2007.
Even with a senator's salary of $174,000, Sanders hasn't accumulated much wealth. His net worth was $436,000 last year, ranking him 81st in the Senate, according to the Center for Responsive Politics.
Ben Carson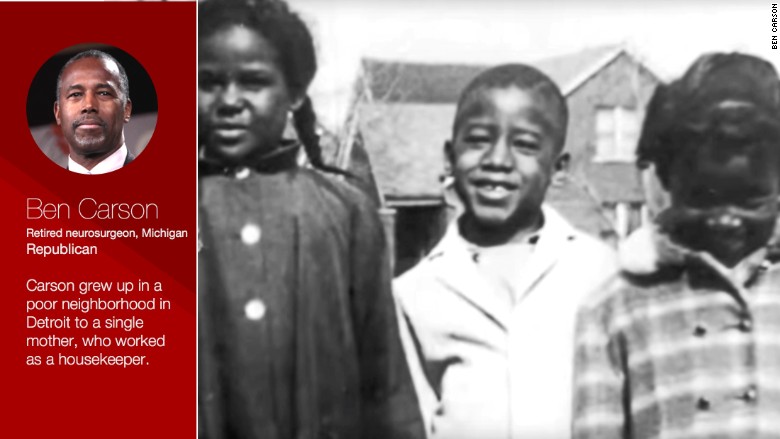 Carson's rough childhood has been well chronicled.
In his autobiography, Gifted Hands, which includes tales of his attacking a peer with a knife and throwing rocks and bricks, Carson says he grew up in an "upper lower class neighborhood in Detroit." His mother only completed third grade and worked as a housekeeper. She divorced Carson's father, who was an alcoholic and gambler, when the candidate was a child.
Carson graduated from Yale University and the University of Michigan School of Medicine. Before attending medical school, he worked as an X-ray technician, a bank teller, a school bus driver and a crane operator in a steel factory, according to his campaign site.
He earned $1.5 million from public speaking and book royalties, according to Carson's federal personal financial disclosure form for 2015.