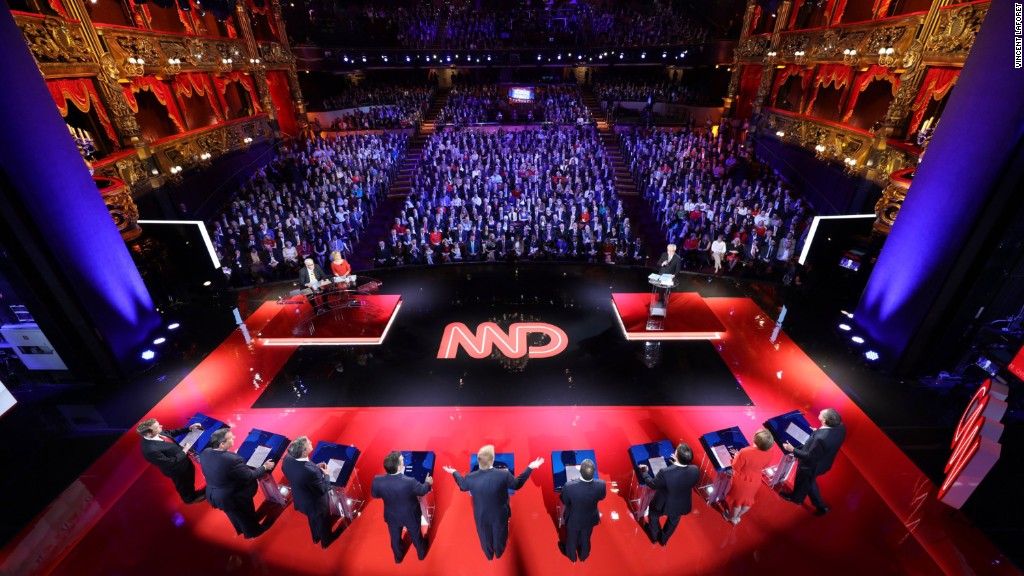 Tuesday's Republican presidential debate on CNN averaged 18 million viewers, making it the third-most-watched primary debate of all time.
So the streak continues: This election cycle's debates, fueled by Donald Trump, are finding "yuuuge" audiences.
Tuesday's two-hour debate was up against the hit drama "NCIS: Los Angeles" on CBS and the season finale of "The Voice" on NBC -- and it outrated both shows.
Tuesday's results were in line with TV industry expectations. The prime time debate ranked well ahead of the CNBC and Fox Business Network forums in October and November. CNBC averaged 14 million viewers and Fox Business averaged 13.5 million.
However, the GOP rematch did not top the ratings for the first two debates of the season. Fox News averaged about 25 million viewers in August and CNN averaged 24 million in September, when there was enormous curiosity about what a debate featuring Trump would look like.
By now, viewers know what to expect, yet many are coming back for every single debate.
Prime time GOP debate ratings this year are three to four times higher than they were in 2011. For perspective's sake, a GOP debate produced by Fox News on the same day four years ago averaged 6.7 million viewers, and that was considered very high at the time.
The 2015 debates have obliterated all prior ratings records for both Fox News and CNN.
They've given the GOP candidates an usually high-profile platform to campaign for votes.
Even the "undercard" debate at 6:30 p.m. ET "averaged 5.7 million total viewers," CNN said in a press release.
There's even been a spillover effect for the Democrats. The only Democratic primary debate on cable news this year, CNN's debate in October, averaged 15.3 million viewers.
Tuesday's GOP rematch now ranks as CNN's second-most-watched program of all time. The special "Larry King Live" episode in 1993 featuring Al Gore and Ross Perot's NAFTA debate, which averaged 16.8 million viewers, is now #3 behind the two GOP debates.
Tuesday's face-off also drew a big audience on the Internet, which is measured separately from the TV broadcast. Around 9:45 p.m. ET, about an hour into the prime time debate, the livestream peaked with 815,000 concurrent viewers, according to a CNN spokesman.
The simultaneous streaming came close to matching CNN's September GOP debate, when the livestream peaked at 921,000 viewers.
On both occasions, CNN streamed the debate on the CNN.com home page. It was available to all Internet users in the United States regardless of whether they had a cable subscription.
Sign up for the Reliable Sources newsletter — delivering the most important stories in the media world to your inbox every day.