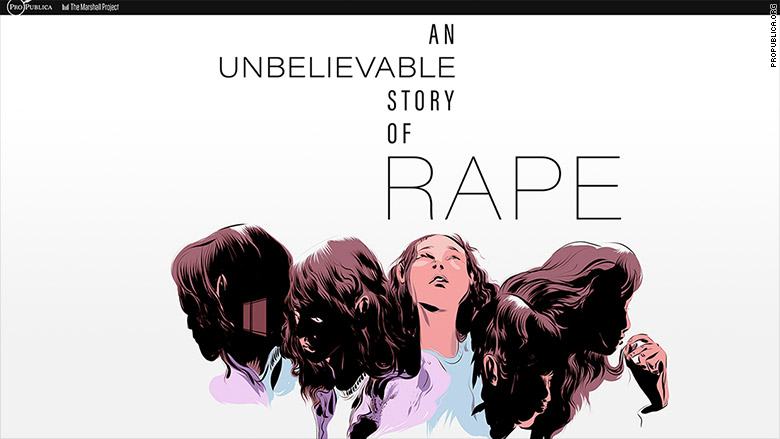 On Wednesday, ProPublica and The Marshall Project teamed up to publish a powerful story about an investigation into a serial rapist and one of his victims.
It's an elaborate narrative highlighting misconceptions about rape victims that may cause investigators to doubt their account. The rape victim in this case even recanted her testimony at one point.
It's also a rare instance of two reporters from competing news outlets uniting to collaborate.
In August, ProPublica's T. Christian Miller learned that The Marshall Project's Ken Armstrong was chasing the same story.
Miller had called up the attorney for the victim at the center of the story, a young woman identified only as Marie. The attorney wondered why Miller was wasting his time, saying that another reporter had already been in contact with him.
"It's a guy named Ken Armstrong," the attorney told Miller. "Maybe you two should get together."
Miller liked the attorney's suggestion, but ProPublica senior editor Joe Sexton was less certain. Sexton said he initially had a "predictable, macho, righteous response," a visceral journalistic instinct to "beat the other guy and do it first."
But Miller saw the virtue in collaboration and, as Sexton put it, persuaded his editor to "behave like an adult and put the interest of the story ahead of our competitive zeal."
"The story was going to be done best and most effectively if we did it together," Sexton said.
It was left to Sexton to pitch the idea to Bill Keller, the former executive editor of the New York Times who serves as editor-in-chief of The Marshall Project.
Related: Bill Keller's project: Focus on the 'scandalous' justice system
The two worked together at the Times and remain friends, but Sexton knew it could be a tricky sell. The subject line of his email to Keller read: "a delicate question."
Keller said his "gut reaction" was the same as Sexton's. "We've got to crash our story to get it first," he recalled.
But Keller said he quickly saw the advantage of joining forces, largely because of the reporters involved. Armstrong is a Pulitzer winner, while Miller has produced acclaimed work this year on other flawed rape investigations. Still, Keller said he had some misgivings about asking his reporter to share a story.
"That's a big ask," Keller said. "Ken had been working on this story for six or eight months at that point. It had been on his bucket list ever since he heard about it."
But Armstrong was not reluctant. He said he admired Miller's work and knew the story would benefit from a partnership.
Related: Rolling Stone sued by UVa frat over 'Rape on Campus' story
This type of collaboration isn't unprecedented. Under Keller, the Times teamed up with ProPublica to win a Pulitzer Prize for investigative reporting in 2010.
Before teaming up with ProPublica, The Marshall Project worked on the assignment with producers at "This American Life," which will produce its own version of the story early next year. And as Sexton noted, forging partnerships with other news organizations is a founding principle of ProPublica.
But journalism is a competitive business, and landing a scoop is thrilling for any reporter.
Miller said that when he was a reporter eight years ago at the Los Angeles Times, he would have produced a "half-ass" story to ensure that he was first.
Armstrong, too, said that his first impulse as a journalist had long been to "compete."
"Now my first impulse is to collaborate," he said. "That's the new media landscape, I suppose - and I don't say that as a complaint. In this case collaborating worked beautifully."
Related: Reddit bans racist and abusive speech
The result was something better than either reporter could have produced individually: More than 11,000 words forming a riveting, well-organized saga.
Keller said that despite the pedigree of Miller and Armstrong, there was no guarantee that the collaboration would be harmonious.
"I can think of a lot of different reporters put together through a shotgun marriage who wouldn't have worked as well," he said. "I sort of had the sense that we had not only two great reporters, but also grown-ups."
Sign up for the Reliable Sources newsletter — delivering the most important stories in the media world to your inbox every day.