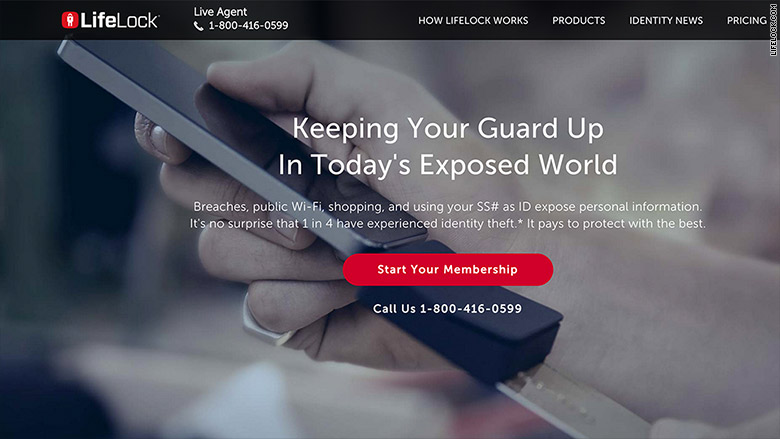 A major identity theft protection provider is paying a record settlement over charges that it failed to keep its customers' personal information safe.
LifeLock will pay $100 million to settle contempt charges from the Federal Trade Commission.
In 2010, the FTC alleged that LifeLock made deceptive claims when promoting its identity theft protection services. LifeLock paid a $12 million settlement that prohibited it from making misleading claims and required it to better protect its customer's personal information.
But in July 2015 the FTC claimed the company was in violation of that settlement by continuing to make false claims about its services.
The agency also alleged that from October 2012 to March 2014 the company didn't create and maintain a comprehensive information security program to protect customers' personal data, including Social Security and bank account numbers.
At the time, LifeLock (LOCK) said it disagreed with the FTC's charges and that it was prepared to go to court.
Related: How your voice can protect you from credit card fraud
The agency called Thursday's settlement "the largest monetary award obtained by the Commission in an order enforcement action," in a release.
Of the $100 million, $68 million may be used to refund customers that filed a class action lawsuit.
LifeLock neither confirms nor denies the allegations, but added that the current charges are related to things the company is no longer doing.
"The allegations raised by the FTC are related to advertisements that we no longer run and policies that are no longer in place. The settlement does not require us to change any of our current products or practices. Furthermore, there is no evidence that LifeLock has ever had any of its customers' data stolen, and the FTC did not allege otherwise," the company said in a statement Thursday.