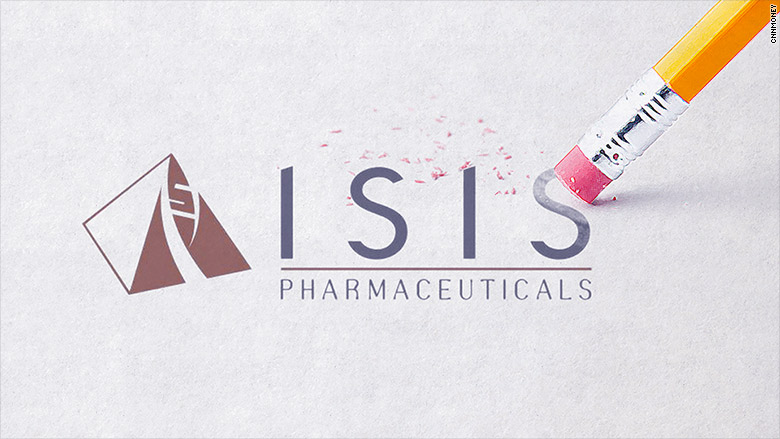 Sharing a brand name with the most feared terrorist group on the planet is never good for business.
After months of resisting pressure to change its name, Isis Pharmaceuticals (ISIS) announced plans on Friday to rebrand as Ionis Pharmaceuticals.
The California biotech company, which has been around for a quarter century, had named itself after the Egyptian goddess Isis, long associated with good health. But people around the world now link the Isis name with death and destruction, not health.
"When you say your company name, you want people to think about the work you're doing -- not an unfortunate namesake," Sarah Boyce, the company's chief business officer, told CNNMoney on Friday.
Last month following the terror attacks in Paris Isis Pharma told CNNMoney it was seriously considering ditching its name.
But Boyce said the company had already begun working on a possible name change over the summer even before the Paris attacks as it became clear it would be "more and more difficult to continue with our old name."
The company's statement made no mention of the terror group, but said the new name represents its innovative culture and heritage as a pioneer in this space.
As part of the rebranding, Isis Pharma is also dumping the "ISIS" ticker symbol in favor of "IONS," effective before U.S. markets open on Tuesday.
Related: U.S. and Russia team up to fight ISIS
In the past Isis Pharma didn't think the name was a problem because it doesn't sell directly to consumers and institutional investors hadn't expressed concerns. Retail investors had made inquiries into a potential name change though, Boyce said.
Shares of Isis Pharma fell 4% the day after the Paris terror attacks even though the company hadn't released any major news. It's not clear if that selloff was linked to the attacks.
The name change was already being welcomed by some users on StockTwits, a social network for traders.
"Smart of them what took Crooke so long?" StockTwits user Thorgood asked, referring to CEO Stanley Crooke.
Shares of Isis fell about 1% on Friday following the announcement, inline with the broader stock market.
Isis Pharma is going a step further than diet candy Ayds, which was forced to rebrand itself in the 1980s when the AIDS epidemic was raging. But the candy name was merely tweaked to Diet Ayds.