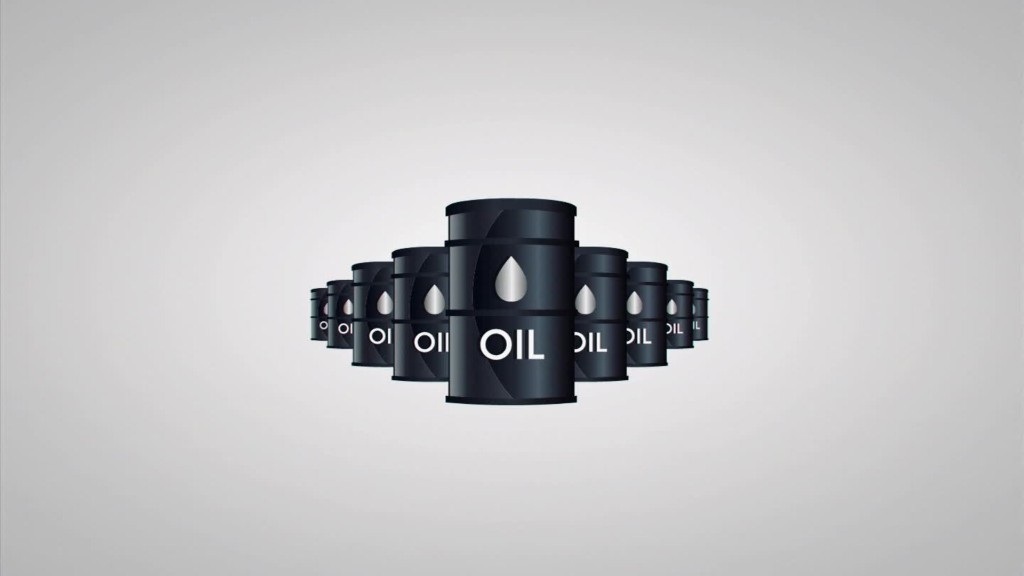 The epic oil crash could end next year. But before prices start climbing higher, they could go even lower.
It's been a catastrophic 18 months for crude oil, which has suffered a dramatic 68% plunge due to a massive supply glut. Oil fell to a fresh seven-year low below $34.50 a barrel on Friday.
The collapse in prices has wreaked havoc on the industry, causing tens of thousands of job losses, a surge in corporate defaults and plunging stock prices.
Many Wall Street oil experts believe that prices will rebound in late 2016. Yet more pain may be inflicted -- some say it's actually needed -- before prices bounce higher.
"It's still a long road ahead. The oversupply problem will be with us for a little while," said Mike Wittner, global head of oil research at Societe Generale.
Goldman Sachs wagers that crude oil will average $38 a barrel in February. That's lower than prices were for most of this year.
The problem is that the long-awaited "rebalancing" of the global oil market has yet to happen.
In other words, the world's supply of oil remains far above its demand. The supply glut was mostly created by skyrocketing American production.
But OPEC, led by Saudi Arabia, has exacerbated the issue by pumping oil ferociously. It's a strategy designed partly to pressure American producers out of the market.
OPEC declined to cut production when it met earlier this month, reinforcing the idea it's not coming to the rescue of oil markets.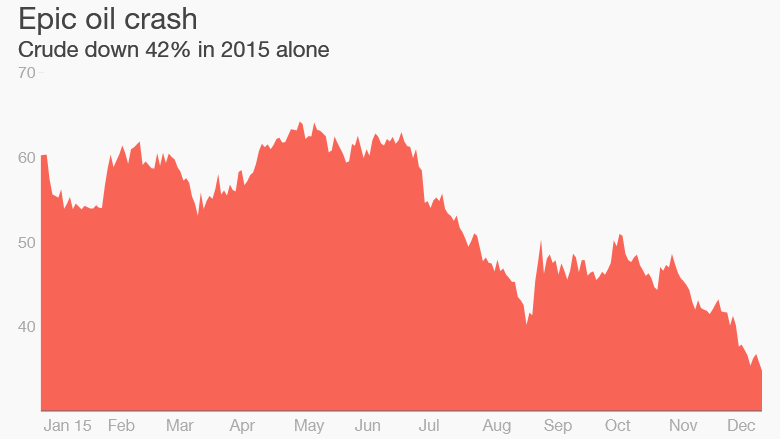 Goldman thinks oil could drop to $20
Cheap oil has caused U.S. output to decline from its April 2015 peak -- but not by enough to reduce the global glut, yet.
In fact, the oversupply problem had gotten so bad that there was a "traffic jam" of oil tankers waiting to be offloaded off the U.S. Gulf Coast in November because there was nowhere to put the crude.
Related: Epic oil glut sparks super tanker 'traffic jams' at sea
A growing number of American oil producers with lots of debt are facing financial problems (see: junk bond market chaos), but stronger oil companies like ConocoPhillips (COP) and Chevron (CVX) continue to chug along with plans to pump more oil.
"Financial stress may prove too little too late...We still see high risks that prices may decline further," Courvalin wrote.
Goldman Sachs says oil may need to tumble to "around" $20 a barrel -- something that hasn't happened since 2002 -- to force meaningful production cuts.
Iran's return to the oil market is also looming over prices. Sanctions could be lifted as early as January and Iranian officials have defiantly declared they will ramp up production despite the price crash.
At the same time, global oil inventories are brimming at record levels. Goldman said there is a "too close for comfort" risk that storage limits could actually be reached early in 2016.
All of this is great news for American drivers, many of whom have benefited as gasoline prices near $2 a gallon nationally.
Tom Kloza, chief oil analyst at the Oil Price Information Service, says gas prices could drop to as low as $1.79 by early February. However, he warned that prices at the pump are likely to quickly rebound to the $2.50-range after bottoming.
Related: $320 billion to disappear from oil budgets
Oil can't fall forever
No matter where oil prices eventually fall to, many observers believe a rebound will materialize late in 2016.
Societe Generale predicts oil could rise to $51 a barrel in the third quarter and then $56 a barrel in the fourth quarter.
"In the second half of next year, the market will see light at the end of the tunnel," said Societe Generale's Wittner.
Longer term, energy investment manager Tortoise Capital thinks oil will need to rise to the $60-to-$80 range to meet growing global demand.
But don't bank on a return to $100
Still, there seems little risk of crude oil returning any time soon to $100.
"I don't see it this decade without a geopolitical event that's somewhere between horrible and cataclysmic," said Kloza.
It's a sign of just how much the U.S. energy boom has reshaped the landscape. As soon as prices go back into the $60s and $70s, oil wells that have been tapped but not yet completed can be quickly turned on, lifting American output and lowering prices.
And then there's the U.S. oil export ban, which is likely to be killed as part of the spending bill in Congress. Lifting the restriction will only encourage greater American production in the future.