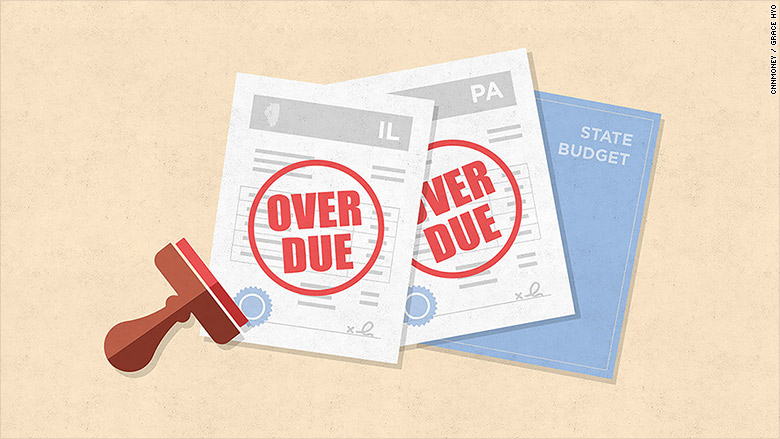 Illinois and Pennsylvania are rivals for the title of "most dysfunctional state in America."
States are required to pass budgets each year. Most got their budgets done by the July 1 deadline. But not Illinois and Pennsylvania. They are now 170 days overdue.
"I've been doing this for 25 years and I can't recall ever seeing two states enter December without adopting a budget for the fiscal year," says Arturo Perez, a fiscal analyst for the National Conference of State Legislatures.
Both states have the same problem: Republicans and Democrats who can't work together.
Illinois has a brand new Republican governor who is fighting a state legislature controlled by Democrats.
Pennsylvania has the reverse: a new Democratic governor battling a Republican-led legislature.
Unlike the federal government, states are required by law to pass balanced budgets. That's where the problems arise. Both the states are largely stuck over how to close budget shortfalls: by raising taxes or making cuts?
It also comes at a time when there's increasingly loud calls to transfer power away from the federal government to the state level.
Related: Tax for 34 countries -- ranked
The budget crisis is even hurting a rape crisis center
These budget "impasses" are turning into full-blown crises for many.
Schools and programs that serve the poor, vulnerable and elderly are scaling back or closing altogether.
Already a rape crisis center in Gettysburg, Pennsylvania has had to turn away 300 people, including 8 pregnant women.
"If this continues, this impasse will have a body count," says Terri Lynn Hamrick, the president of Survivors in Gettysburg, which runs a sexual abuse hotline and shelter with 28 beds. "They are using vulnerable people as pawns in a crisis."
The center is limping along. It has been unable to pay many bills. Trash hasn't been picked up for several weeks since it doesn't have the money to pay. Hamrick also had to beg the telephone company to keep the organization's phone lines on.
Related: Why mortgage rates are NOT going up now, but...
Federal dollars don't get to schools and crisis centers
The budget for Survivors -- one of 50 rape and sexual abuse crisis centers in Pennsylvania -- is only $650,000. They are supposed to receive federal funding from programs like the Violence Against Women Act, but those dollars go through the state. If there's no state budget, that funding doesn't make it to the centers.
"When you have to turn a child away who has been sexually assaulted, I don't know how lawmakers can live with themselves," says Diane Moyer, legal director of the Pennsylvania Coalition Against Rape.
Schools, county governments and nonprofits have been shutting programs down and trying to get loans from banks and donors. School districts and counties have borrowed about $1 billion in Pennsylvania alone.
Those interest payments will come due at some point, adding additional unplanned strain. The Pennsylvania Department of Education says about 700 low-income children have had their pre-K canceled entirely from lack of funds.
One county government just enacted a property tax increase in order to build up its reserves because it is fearful of another budget impasse next year.
Still neither state is the worst yet. That record belongs to Kentucky, which went until March 2003 before finalizing its budget for the previous year.
The federal government just ended its own budget stalemate Friday to avert a shutdown.
Related: Congress clears bill averting shutdown