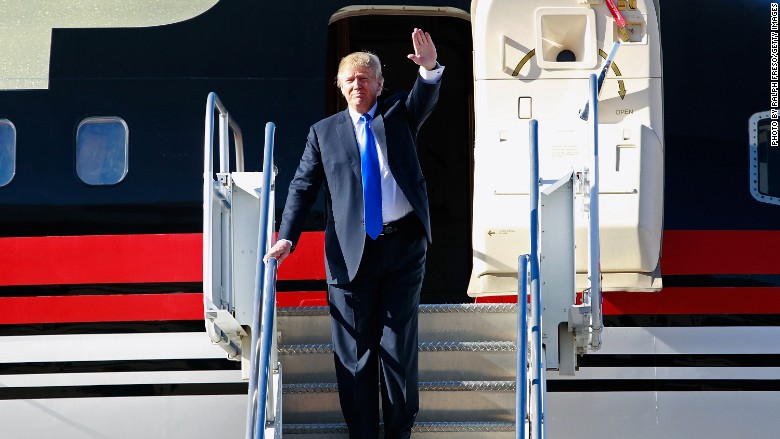 Donald Trump's bold talk and unpredictability may have propelled him to a big lead in the Republican primary, but it's creating a lot of anxiety on Wall Street.
That's because more than any other major candidate running for the White House in 2016, Trump represents precisely the type of uncertainty that investors worry about.
In a recent CNNMoney market survey of about two dozen top market professionals, we posed a question about what they thought a Trump presidency would mean for the stock market. A handful of them, especially those from large Wall Street banks, ignored the question entirely.
But among those who did respond, many didn't hold back on what they really thought of the real-estate mogul.
"The man is unfit to serve in any capacity," said David Joy, chief market strategist at Ameriprise Financial.
"A completely dysfunctional Washington would become worse," said Benjamin Halliburton, chief investment officer of Tradition Capital Management. "I am still trying to figure out if Trump is really a serious candidate or if this is just a PR stunt that has gotten out of hand."
Even those who think Trump winning would help stocks sounded cautious -- at best.
"It would initially be a positive if he actually puts in all of his crazy programs," said Jack Rivkin, CEO of investment firm Altegris, referring to Trump's plans on cutting taxes and expectations he will ramp up defense spending to combat ISIS.
It's fair to note that presidents often get more of the credit and the blame than they deserve for market movements. The Federal Reserve and the economic cycle tend to be far bigger drivers of stock prices.
"Presidents only affect stocks on the margin. But this one is a different animal," Rivkin said, referring to Trump.
Why investors may prefer Clinton
Some think the market may want the Democrats to keep the White House, given the history of stocks outperforming under Democrats.
"If the markets could punch a vote, they would choose the Democratic candidate, presumably Hillary Clinton," said Phil Blancato, CEO of Ladenburg Thalmann Asset Management.
Peter Kenny, an independent market strategist and founder of Kenny's Commentary, also thinks the market would prefer Clinton.
"Markets would respond negatively to Trump. Too many variables," he said.
Kenny's remarks echo concerns expressed by others that Trump's very tough talk on China would spark a trade war that hurts global growth.
Related: Democrats have been better for the stock market
Greg Valliere, chief strategist at Horizon Investments, said most of the large financial institutions he has as clients are "horrified" by Trump. They view him as a "populist demagogue who could push the Republican party off a cliff next year," Valliere wrote in a recent report.
Another fear: Trump's tax and spending programs would cause the U.S. budget deficit to "explode," Valliere wrote.
Related: Donald Trump terrifies Wall Street
Is the stock market reflecting Trump's rise yet?
But Trump would likely be generally "business friendly" which is good for stocks, noted John Praveen, chief investment strategist for Prudential International Investments.
Win or lose, it's not clear that the stock market has truly "priced in" the rising odds of a President Trump.
For example, Art Hogan, chief market strategist at Wunderlich Securities, said Trump winning would be a big negative but he insists: "It will never happen."