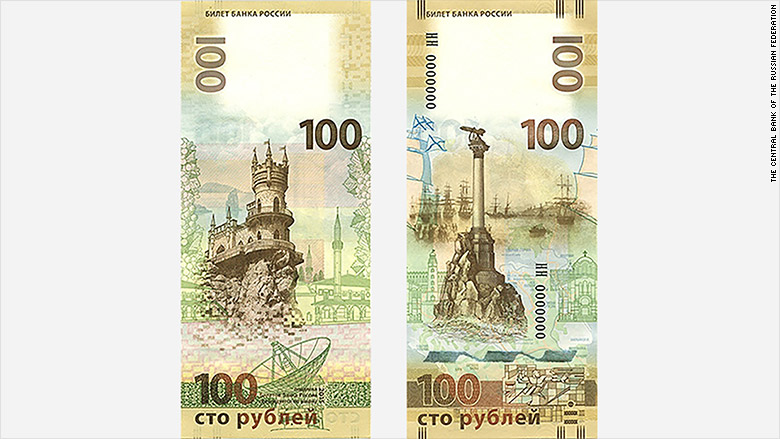 Russia likes Crimea so much that it has issued a special new banknote to honor the region.
The new design is sure to annoy Ukraine and its allies. Russia wrested control of Crimea from Ukraine in early 2014 following a hasty referendum.
This political and military move in Crimea isolated Russia from the rest of the Western world, leading the U.S., Europe and a number of other nations to issue punishing sanctions against high-ranking Russian individuals and companies.
The Russian central bank said the new banknotes will go into circulation Wednesday. It is printing 20 million copies of the 100 ruble banknote.
A single 100 ruble banknote is worth about $1.42. (Back when Russia annexed Crimea, this banknote would have been worth $2.75.)
The currency design features a castle in Crimea on one side, while the other side showcases a monument in the Crimean city, Sevastopol.
The Russian central bank boasts that the design features a QR code that smartphone users can scan to find out more "historical information on the commemorative banknote."
The banknote release comes in the same month that the ruble has hit an all-time low versus the U.S. dollar.
The ruble has lost over half its value in the past two years as the Russian economy has struggled to cope with the pressure of international sanctions and low oil prices. Russia is a major oil and gas exporter and it has been slammed by the unexpected drop in energy prices over the past two years.
Related: Oil giant ConocoPhillips pulls out of Russia
Russia has also been blamed by the international community for supporting separatist fighters in eastern Ukraine, leading to thousands of deaths in the region.
European Union leaders on Monday decided to extend their economic sanctions against Russia until mid-2016 to pressure Russia into restoring order and calm to the war-torn parts of eastern Ukraine.
--CNN's Clare Sebastian contributed to this report.