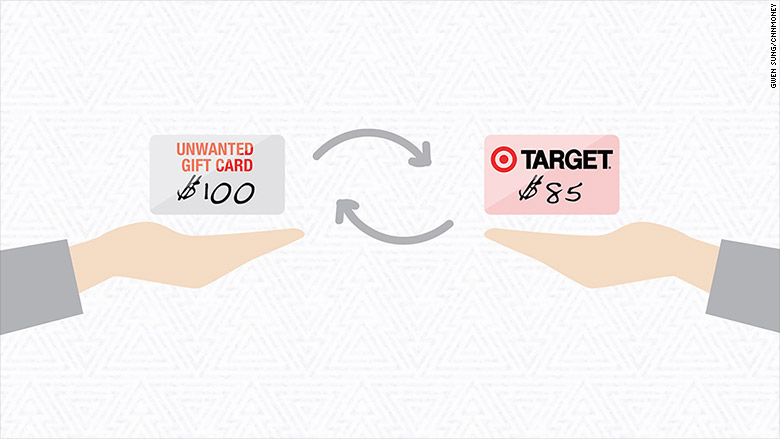 If you are a coffee-hater with a Starbucks gift card, you may be in luck. Target is buying unwanted gift cards, albeit at a reduced price.
There are fees taken out during the exchange, and the trade-in values vary. One example provided by Target: A $100 Walmart (WMT) gift card would exchange for an $85 Target gift card.
Target (TGT) is partnering with gift card exchange website Cardpool and electronic trade-in company Nextworth for the program. Cardpool provides the trade-in rate of consumers' gift cards and then re-sells them.
A card from a big-box store is likely to have a higher exchange rate than a more regional establishment, but the rates vary with demand, according to Patrick Ramsey, general manager of Cardpool. "You often find that grocery stores, gas stations and the mass merchandisers...will often have some of the higher prices closer to the face value."
Gift cards are the most asked-for present during the holidays, according to the National Retail Federation, which estimated total gift card spending to hit nearly $26 billion this season.
Target will exchange gift cards from more than 600 brands, including Old Navy (GPS), Cheesecake Factory (CAKE), Tiffany & Co (TIF), Staples (SPLS) and Pottery Barn (WSM).
The program is available in 1,562 Target stores in the electronics department.
There are several companies that allow you to buy and sell previously-owned gift cards, including GiftCardGranny.com and CardCash.com. You can also sell gift cards for cash (up to 85% of the card's value) at Coinstar kiosks.