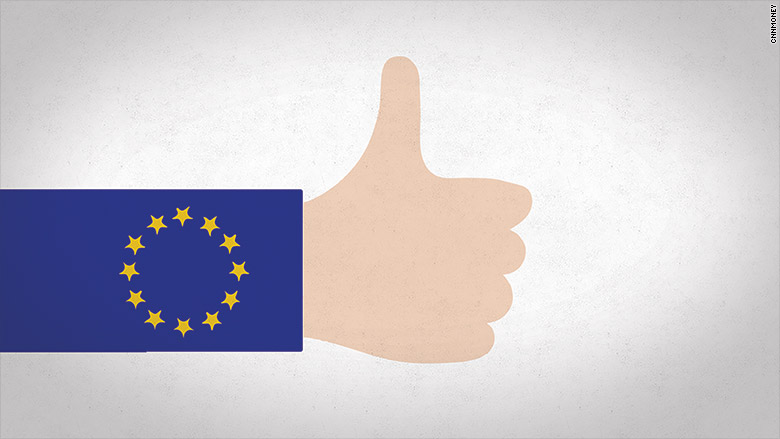 "Europe is our top pick for next year."
That's what HSBC is telling investors. If you don't have any money in Europe, consider putting some there. If you already own some European stocks, consider buying more.
HSBC isn't alone in advising clients that Europe is the place to be -- literally and financially -- in 2016.
Europe is on sale for American tourists and investors. The value of the euro has fallen dramatically, making everything from Parisian hotels to Italian leather handbags to stocks a lot cheaper than they were a few years ago.
One dollar is supposed to be the equivalent of one euro at some point in 2016. (It's close, but not quite there yet now.) That euro hasn't been that cheap in over a decade.
"Europe makes a lot of sense [in 2016]," says Brad McMillan, chief investment officer at Commonwealth Financial Network. "Valuations are not terrific, but they are better than in the U.S."
Related: 2016: Why the bull market in stocks isn't dead yet
Europe has more upside potential than the U.S.
The rationale goes like this: Europe has more upside than the U.S. because of where it is in the business cycle and the boost it is getting from the cheap euro and the central bank's stimulus efforts.
Europe struggled more to get out of the financial crisis than the U.S. did. It's basically in the teenage phase of the business cycle, while America could be compared to a 50-year-old.
European businesses have cut a lot of costs, so they are lean and able to really profit from any growth. The cheap euro is also driving a tourism and export bounce for the continent.
"Europe is in the 'sweet spot' of company profits," says Andrew Milligan, head of global strategy at Standard Life.
On top of that, the European Central Bank is pumping a lot of money into the eurozone economy to get it going at full speed again. When America's central bank did that, it caused one of the longest bull markets in U.S. stock history.
Now the U.S. Federal Reserve is cutting back on stimulus. American stocks are on track to end 2015 about flat, while many European markets like Germany and France are up over 9%. Experts say that difference could play out again in 2016.
"Europe is at a totally different point of the earnings cycle," says Ben Laidler, global equity strategist at HSBC.
Laidler says many HSBC clients are overweight U.S. stocks. That's been a great place to be in recent years, but it's likely time for investors to shift their portfolio allocations.
Related: 3 reasons emerging markets are set to rebound in 2016
Watch out for currency problems
Europe still has a lot of political problems as it deals with a massive influx of refugees and the ongoing debt saga in Greece. But McMillan of Commonwealth Financial Network calls the EU "like an aircraft carrier" that can handle it.
The larger worry for American investors betting on Europe is currency. If the euro continues to slide in value against the dollar, that will make any investment gains that Americans try to translate from euros back into dollars look puny.
Investment companies have an easy solution to the currency problem: hedging. There are many European funds that now hedge out a lot of the currency risk for U.S. investors.