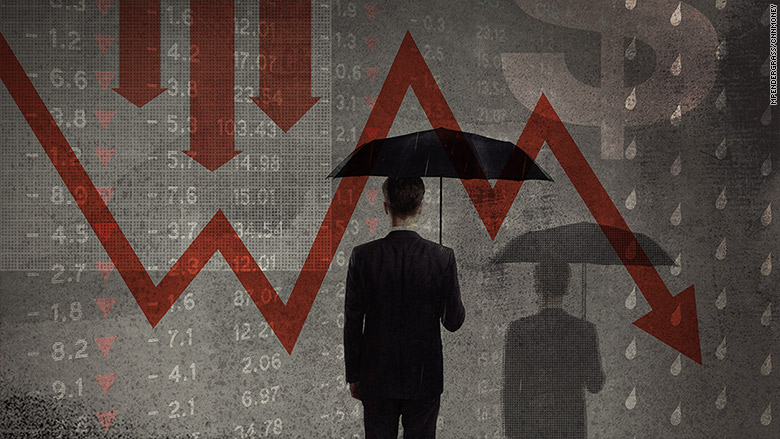 Good riddance, 2015.
Nearly 70% of investors lost money this year, according to Openfolio, an app that allows people to track their investment performance and compare their portfolio with other users.
U.S. markets had their worst year since the financial crisis. No wonder making money was tough.
"While the S&P 500 is on track to end 2015 almost exactly where it started, earnings have deteriorated," says Matt Coffina of Morningstar.
People who did make money did one of two things that most investment books and advisers tell you NOT to do.
1. They held a lot of cash.
2. Or they took on a lot of risk.
Cash was king
Cash was one of the best investments this year. Despite the fact that cash earns almost nothing in the bank or a money market fund, it still beat out U.S. stocks, commodities and even most bonds.
The S&P 500 and Dow stock indexes had wild swings and ended the year in the red (and that's not Christmas red). Popular bond funds like the Fidelity Total Bond Fund (FTBFX) and the Vanguard Total Bond Market Index Fund (BND) lost money last year.
Investors who ended the year with gains had almost a quarter of the portfolios in cash, Openfolio found. But keeping a lot of cash is not a good way to make money in the long-term. Those who argue they are timing the market tend to miss out on the upswings.
Related: The top stock pick for 2016 is...
The year of Amazon & Netflix
The other winning strategy was to bet big on individual stocks, especially tech stocks.
"The market is increasingly driven by a handful of high-flying growth stocks such as Amazon (AMZN) and Netflix (NFLX)," says Coffina.
Amazon and Netflix crushed the competition in 2015. Both stocks gained over 120% for the year, meaning a $10,000 investment on January 1 would be worth about $22,000 now. These are among the 10 most commonly held stocks by Openfolio users.
Many retail investors also hold Disney (DIS) and Facebook (FB). Both had applause-worthy returns.
Holding individual stocks adds more risk to an investment portfolio. It's a bet on one company versus investing in an ETF or mutual fund that have a lot of companies.
Consider that Apple (AAPL) is by far the most popular stock held by "average Joe" investors, yet it lost money in 2015. In fact, it finished down more than 4%, which is worse than the S&P 500. That made it one of the biggest knocks on people's portfolios this year.
The general rule of thumb is that investors have to do a lot more research if they want to buy individual stocks instead of funds.
Another lesson from 2015? Older investors did a lot better than younger ones, according to Openfolio.
Perhaps the best stock tip for 2016 is to call mom and dad -- or better yet, grandma and grandpa.
Editor's note: An earlier version of this story listed incorrect data for the Pimco Income Fund (PONDX).