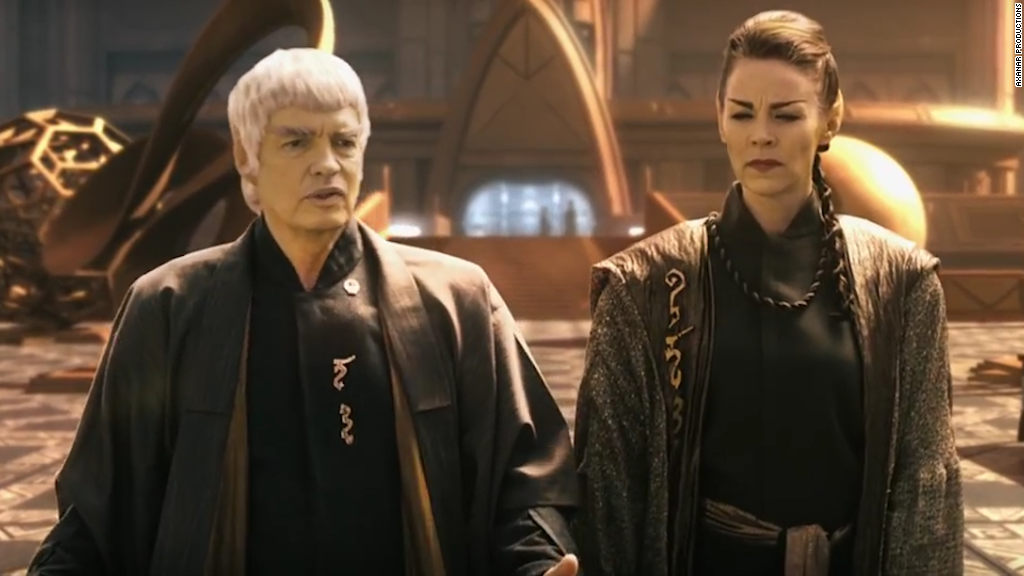 Paramount and CBS have sued the producer of a crowdfunded "Star Trek" fan film for copyright infringement.
Paramount (PGRE) and CBS (CBS), which own the rights to "Star Trek," are going after Alec Peters and Axanar Productions, which are raising money through Indiegogo to produce a movie called "Axanar."
The companies accuse Peters of "unauthorized exploitation" of the "Star Trek" franchise.
"The Axanar Works are intended to be professional quality productions that, by defendants' own admission, unabashedly take Paramount's and CBS's intellectual property and aim to 'look and feel like a true Star Trek movie,'" reads the lawsuit, filed in federal district court in California on Dec. 29.
CBS and Paramount are seeking $150,000 per infringing item.
Peters, a lawyer who collects and auctions "Star Trek" memorabilia, doesn't deny that he's making a "Star Trek" film. He told CNNMoney that he's been transparent throughout the process and that he met face-to-face with CBS executives earlier this year to discuss the legal parameters for fan films.
"I expressed my frustrations," he said. "I said we want to do the right thing but you're not telling us anything."
He also said that intends to finish making the movie, despite the lawsuit. "Oh yeah we are," said Peters to CNNMoney. "We are trying to reach an amicable settlement with them."
He explains in a pitch video on his Indiegogo website that he's not violating copyright law because he's not making a profit off his movie.
"We can raise money through donations and use that money to fund our production," he says in the video. "But we can't actually at the end of the day make any profit. We can't sell anything that says 'Star Trek' on it because that would be a violation of their copyright."
Related: Postal Service gets geeky with Star Trek and NASA stamps
Axanar Productions has raised $567,682 through Indiegogo. Donors who provide crowdfunding for "Axanar" receive perks, including illustrated scripts for $20 and a t-shirt for $125.
In a Facebook reaction to the lawsuit, Peters referred to his fan film as a "a love letter to a beloved franchise."
"Axanar" is a prequel to the original "Star Trek" televised series from the 1960s starring William Shatner and the late Leonard Nimoy. Peters' movie depicts the war between the Klingon Empire and the United Federation of Planets, which preceded the events in "Star Trek."
Axanar Productions has released a 21-minute short called "Prelude to Axanar," which serves as a test run for the yet-to-made feature film. "Prelude" features documentary-style interviews with war survivors and battle footage with laser cannons and exploding starships. Peters stars in the film as Capt. Kelvin Garth, a character who encountered Shatner's Capt. Kirk in the real "Star Trek" in an episode called "Whom Gods Destroy."
There's also a three-minute teaser of the film-in-progress, featuring a couple of Vulcans.
Paramount is releasing its own "Star Trek" film in 2016 called "Star Trek Beyond." CBS is also going to release a new "Star Trek" series in 2017.