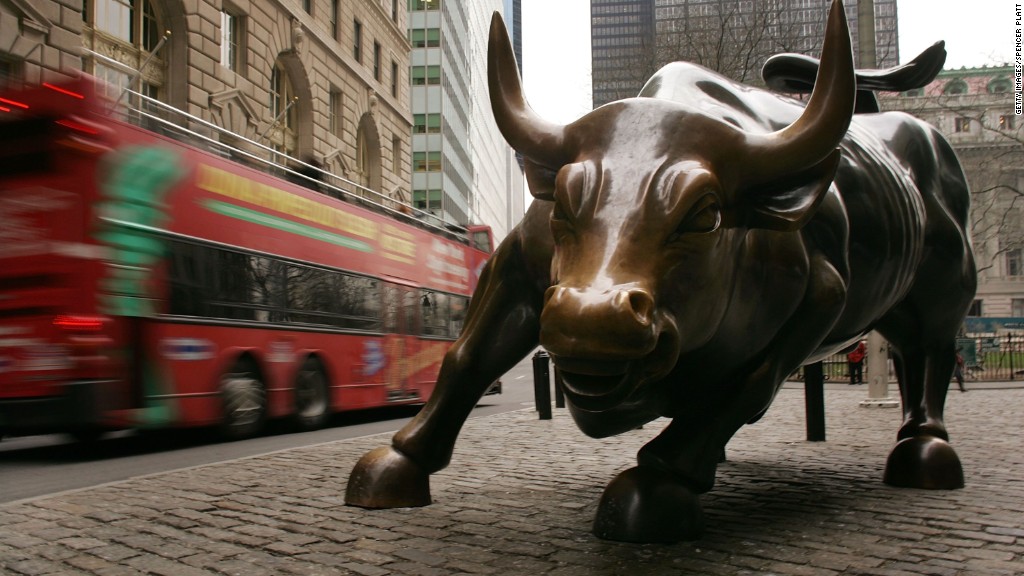 Hello, stock market winners. Gravity calling!
What went up last year went down at the start of 2016. Way down.
Netflix (NFLX) and Amazon (AMZN) were the top stocks in the S&P 500 in 2015. Both more than doubled.
But each were among the biggest losers in the blue chip index during a brutal first trading day of the new year for the overall market.
Shares of Netflix fell almost 4% on Monday while Amazon's stock plunged almost 6%. Both companies were downgraded by Wall Street analysts.
Two other big tech winners of 2015 -- Facebook (FB) and Google parent Alphabet (GOOGL) -- were each down over 2%. These two, along with Amazon and Netflix, were given the cutesy acronym of FANG by Wall Street last year. (They had no teeth on Monday though.)
Related: These were the best stocks of 2015 ...
But last year's top dogs weren't the only stocks getting crushed on Monday.
Watch maker Fossil (FOSL), which plummeted 67% in 2015, was down another 6% to kick off 2016. It was downgraded by an analyst as well on Monday.
And Chipotle (CMG), which tumbled 30% last year -- mostly at the end of 2015 due to concerns about an E. coli outbreak -- dropped another 6.5% Monday. Surprise! It was downgraded too.
But not all analysts were in a grumpy mood Monday.
Shares of military technology company FLIR Systems (FLIR) rose 2% after Goldman Sachs upgraded it.
And Canadian yoga apparel retailer Lululemon (LULU) soared over 6% following two analyst upgrades. Namaste!
Interestingly though, most of the stocks that were spared a grisly selloff were companies that were hit particularly hard last year -- energy stocks and retailers not named Amazon.
Related: ... and these were the worst
Coal miner Consol (CNX) rose over 8% and natural gas company Chesapeake (CHK) gained 10, making them the top gainers in the S&P 500. Southwestern Energy (SWN), EQT (EQT) and Range Resources (RRC) were also in positive territory.
Higher crude prices due to fears about tension between Saudi Arabia and Iran probably helped.
It's harder to explain why several retailers that faced a difficult time against Amazon last year -- companies like Macy's (M), Best Buy (BBY), Kohl's (KSS) and Gap (GPS) - were rising Monday.
Perhaps investors are realizing that Amazon is not going to put all these companies out of business -- and that their shares may now be bigger bargains than the products still stuck on their discount racks.
It would be a mistake to call one day the start of a new trend. Last year's losers may not necessarily turn out to be 2016's big winners.
But it is worth noting that it was tough to find many stocks that did well in 2015 that were also higher on Monday.
The few exceptions? Biotech Baxalta (BXLT), which surged late last year after it was spun off from medical equipment giant Baxter (BAX). It was up over 5% on Monday following reports that rival biotech Shire is in talks to buy it.
And gun makers Smith & Wesson (SWHC) and Sturm Ruger (RGR) both continued their hot streak Monday. Shares of each surged due to expectations that President Obama will announce executive actions later this week that could lead to stricter gun control rules.
So even on a terrible day for the market at large, it looks like investors still are willing to bet on more drug mergers and higher gun sales in 2016.