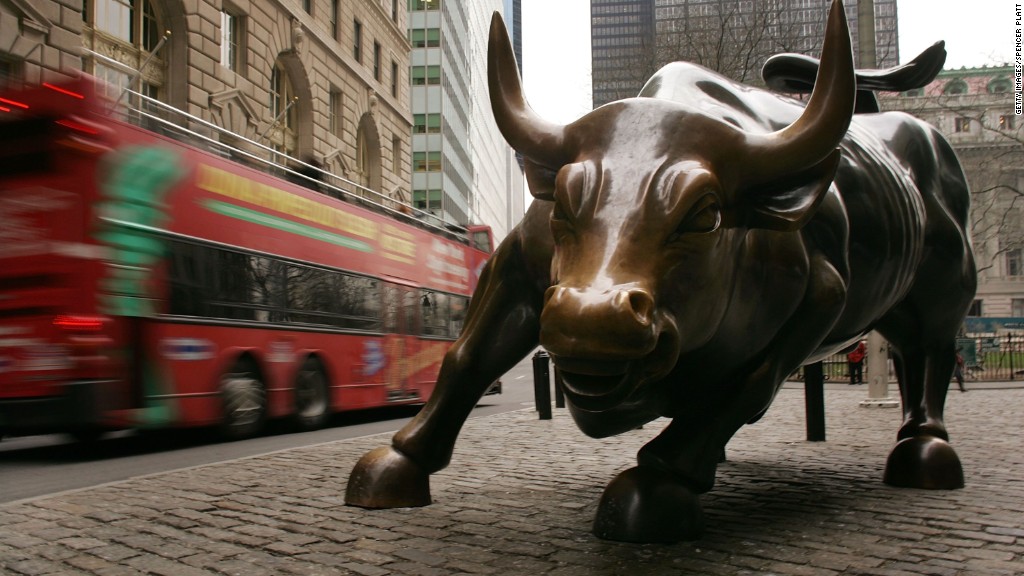 The holidays are definitely over. Expect a rough start to the new year.
Global stocks are sliding fast on the first trading day of 2016 after China suspended its markets early due to heavy losses.
Continuing coverage of Monday's market selloff
Here are the six things you need to know before the opening bell rings in New York:
1. China halts trading: China halted stock trading on Monday after weak manufacturing data spooked investors and sent shares plummeting. The benchmark Shanghai Composite shed 6.9%, while the Shenzhen Composite lost more than 8%.
The trading halt was China's first-ever use of circuit breakers -- a kind of emergency brake -- on its main exchanges.
Read more: Chinese stocks plunge
2. Futures dropping: U.S. stocks are set to drop after the first opening bell of the year. Stock futures are falling fast: Dow Jones futures are down 1.8%, while the S&P 500 index is 1.9% lower, and the Nasdaq is down 2%.
3. Stock market movers -- Baxalta, Alcoa, Netflix: Shares in Illinois-based drugmaker Baxalta (BXLT) were up as much as 15% on reports it is set to announce a takeover by London-listed competitor Shire (SHPGF).
Netflix (NFLX) is dropping 5.4% in premarket trading. Despite slowing U.S. subscriber growth, Netflix was one of the best performing stocks in the S&P 500 in 2015.
Other companies suffering premarket include Alcoa (AA), Facebook (FB), Apple (AAPL) and Cisco (CSCO).
4. Volatile oil: Oil futures are jumping up and down on Monday, after Saudi Arabia severed diplomatic ties with Iran. After spiking by nearly 3% in early trading, crude prices trimmed those gains to trade around $37.
Saudi Arabia kicked out Iran's diplomats on Sunday, saying an attack on the Saudi embassy in Tehran by Iranian protesters was the last straw. Those protests were triggered by Saudi Arabia's execution of Shiite dissident cleric Nimr al-Nimr, a move condemned by Iran as a violation of "human rights and Islamic values."
Saudi Arabia and Iran are major oil producers. Iran is eager to ramp up its oil output in 2016, as soon as economic sanctions are lifted.
5. U.S. economy: The U.S. ISM Manufacturing Index data for December is expected at 10a.m. ET. The index has been declining for five months and slipped below the neutral level of 50 in November, signaling a contraction in manufacturing.
Germany will publish its December inflation data at 8a.m. ET.
6. International markets overview: Asian markets ended the first session of the year sharply lower. Tokyo's Nikkei 225 slid 3%, Hong Kong's Hang Seng was down 2.7%, and Seoul's Kospi Composite shed 2.2%
European markets all fell in early trading. The FTSE 100 is down almost 2.6%. German Dax is down 4.3% and France's CAC 40 down 2.7%,