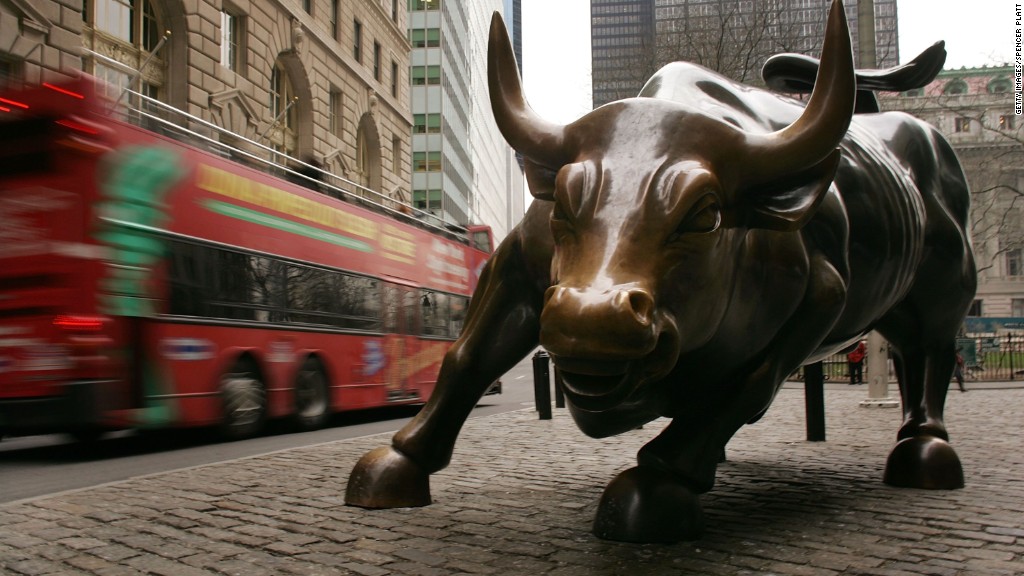 Talk about a scary start to 2016.
Fears of a crash landing in China's economy sent stocks diving around the world on Monday, the first trading day of the year. The global selloff was caused by a new report that showed China's manufacturing sector contracted at the end of 2015. Stocks in China fell so dramatically that trading was halted for the first time ever.
The Dow declined as many as 467 points and briefly fell below the 17,000 level for the first time since October. However, it bounced off the lows and ended the day down 276 points. It was still the Dow's worst opening day of the year since 2008.
The S&P 500 lost 1.5% and the Nasdaq dropped 2.1%.
"It seems like fear woke up early in 2016 and hope is basically sleeping in," said David Kelly, chief global strategist at JPMorgan Funds.
The retreat comes after the index fell 2% in 2014, its worst year since the 2008 financial crisis.
Monday's wave of selling began in Asia. Trading in China was stopped prematurely after circuit breakers were triggered during their first day they were implemented. Circuit breakers act as a kind of emergency brake to halt trading during times of extreme volatility.
Related: Just how bad is today's market selloff?
The benchmark Shanghai Composite plummeted nearly 7%. The Shenzhen Composite, often compared to America's Nasdaq index because it's home to many tech companies, nosedived more than 8%.
The selloff was fueled by a new manufacturing survey by Caixin that fell to 48.2 in December following two months of stabilization. It marks the 10th month in a row of sub-50 readings, which indicate deceleration.
Even though the manufacturing report was disappointing, it's just the latest sign of a slowdown in China. Analysts said selling in Chinese markets was also driven by other factors, including the scheduled lifting of bans on IPOs and sales by larger investors.
"With headwinds both domestic and external, investors feared a hard landing may be inevitable and rushed to the exits," Emma Dinsmore, CEO of R-Squared Macro Management, wrote in a client note.
JPMorgan's Kelly thinks Monday's crash in China was caused by fears about the introduction of the circuit breakers. He compared the trading halts to a bank saying only the first 10,000 customers will be served.
"Everybody wants their money before it shuts," Kelly said.
The latest evidence of trouble in the American manufacturing sector didn't help Wall Street either. The ISM manufacturing index fell to 48.2 in December, the lowest reading since June 2009 when the Great Recession ended. Manufacturing continues to be hurt by the strong U.S. dollar, which makes American goods more expensive for overseas buyers.
Related: China rout sparks global selloff
Global markets are also growing nervous over the dramatic increase in tensions between Saudi Arabia and Iran, the big oil-producing power players in the Middle East.
Saudi Arabia cut diplomatic ties with Iran after its embassy in Tehran was attacked. The violence follows Saudi Arabia's execution of a prominent Shiite cleric.
The Middle East tensions are already causing turbulence in the oil markets. Crude oil prices initially spiked more than 3% and returned above $38 a barrel but then retreated. Oil closed down almost 1% to $36.76 a barrel.
CNNMoney's Fear & Greed Index, which looks at seven measures of investor sentiment, dipped into "fear" territory on Monday.
Even Netflix (NFLX), the star performer of 2015, took a tumble on Monday. Shares of Netflix plunged as much as 8% after the streaming site was downgraded by analysts at Robert W. Baird due to concerns about U.S. subscriber growth. Netflix closed down nearly 4%. Similarly, Amazon (AMZN), another big winner last year, fell sharply on a separate analyst downgrade.
Not everything fell on Monday though. Gold jumped 1.4% to $1,075 an ounce thanks to the market scare and geopolitical concerns.
The rough start to 2016 could be a bad omen for Wall Street, which has an old saying: "As January goes, so goes the year."
U.S. stocks have finished the year in the same direction as January 72% of the time, according to Howard Silverblatt of S&P Dow Jones Indexes.