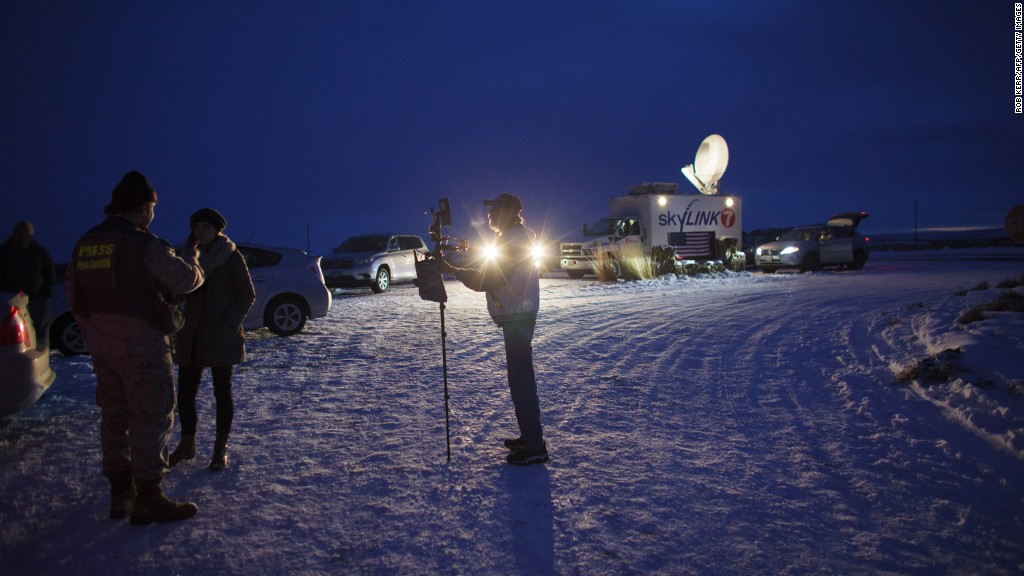 It isn't easy to get to Burns, Oregon. The remote town with a population of under 3,000 is a five-hour drive from Portland, making it closer to Idaho. And cellular service can be scarce in the swath of rural wilderness that surrounds it.
The reporters who arrived in Burns over the weekend were confronted with another challenge: How to describe the group of armed activists who had occupied federal property in an isolated part of Oregon to protest the prison sentence of two local ranchers.
Some observers said the description of the situation is being tempered by the race of the protesters.
Janell Ross, a reporter for The Washington Post, wrote that words such as "insurrection" or "revolt" would likely be used to describe a "group of armed black Americans took possession of a federal or state courthouse to protest the police."
Ross added: "If a group of armed Muslims took possession of a federal building or even its lobby to protest calls to surveil the entire group, it's even more doubtful they could avoid harsher, more-alarming labels."
David M. Ward, the sheriff of Harley County, Oregon, didn't mince words in his description of the occupiers.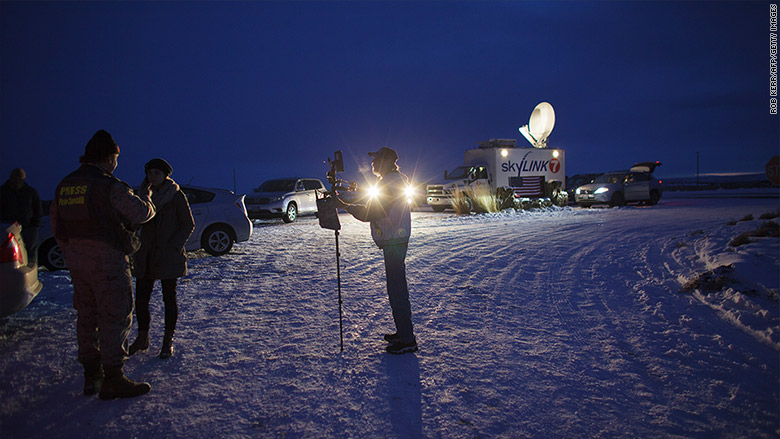 "These men came to Harney County claiming to be part of militia groups supporting local ranchers, when in reality these men had alternative motives, to attempt to overthrow the county and federal government in hopes to spark a movement across the United States," Ward said in a statement.
But descriptions of the group varied among publications covering the story.
The New York Times referred to them as a "group of armed activists and militiamen" in a story published in Sunday's paper. The story's headline originally included the word "militiamen," but the term has since been removed.
In a story published on the front page of Monday's issue, the Times used "protesters" and "occupiers." Times spokeswoman Danielle Rhoades Ha told CNNMoney that the paper is "using the words we think best define them at this time."
The Washington Post's national editor Scott Wilson said that the paper has described the group as both "occupiers" and "militia members" when those individuals use those terms themselves. Wilson said that describing them as "terrorists" would not be accurate.
"Further, terrorism is a tactic meant to instill fear in a population or group," Wilson said. "In this case, the occupiers, though armed, are not terrorizing, but rather occupying a government building in protest or solidarity."
The Associated Press has used "a variety of terms," according to spokesman Paul Colford, but the organization's preference has been to use specific terms like "armed ranchers" while also "saying exactly what their demands are."
"That's been our preference in other stories, too -- to describe what someone's background is, rather than affix a one-size-fits-all label," Colford told CNNMoney.
CNN has referred to them as armed protesters, militia members and occupiers.
For some critics, these terms don't go far enough.
"It is fascinating to watch the media describe the armed radicals in Oregon," tweeted the activist DeRay Mckesson.
Mckesson, a prominent figure in the protests that sprung up in Baltimore and Ferguson, Missouri, contends that the media has been soft on the anti-government protesters due to the fact that they are white. On Twitter, some of those critics have used the hashtag #OregonUnderAttack to call the occupiers extremists and even terrorists.
The occupiers see themselves differently. The group's leader is Ammon Bundy, whose father, Cliven Bundy, was at the center of a standoff with federal officials in 2014 over grazing rights.
On Saturday, Ammon Bundy and his armed anti-government cohorts seized a building operated by the United States Fish and Wildlife Service as a show of solidarity with Dwight Hammond and his son, Steven Hammond, two ranchers who were sentenced to prison for setting fires that spread to federal lands.
In a video posted on Facebook, Bundy said the group is prepared "to be out here for as long as needs be." He told CNN that he doesn't describe the group as a militia.
"We are not terrorists," Bundy said. "We are concerned citizens and realize we have to act if we want to pass along anything to our children."
Memories of protests in Ferguson and Baltimore, which included rioting and looting, loom over what is unfolding in Burns.
CNN correspondent Sara Sidner, who is on the ground in Burns, said Monday that Bundy and his supporters are being treated "quite different" than a "protest with mostly African-Americans."
Sidner said the setting of the anti-government occupation is also different.
"We are out 30 miles from anywhere," Sidner said during an appearance on "New Day." "There's nothing around us but wilderness."
Sign up for the Reliable Sources newsletter — delivering the most important stories in the media world to your inbox every day.