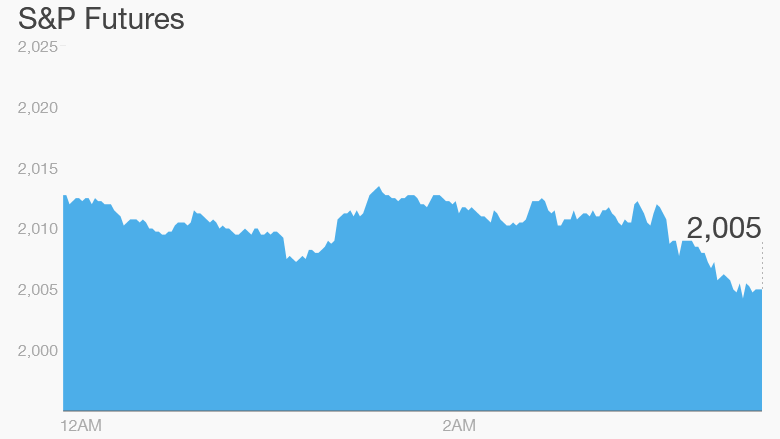 Global markets are sliding for a second day running and the mood on Wall Street remains grim.
U.S. stock futures are slipping after Monday's sharp falls. European markets are mostly lower, while Asian stocks ended down despite China markets steadying after another early slump.
Here are 5 things you need to know before the opening bell rings in New York:
1. China: China shares closed moderately lower, recovering during the day after opening the session down 3%. China's central bank pumped $20 billion into the financial system.
2. Oil: Oil prices are down slightly at around $36.60 in early trading. Increased tension between Middle East rivals Saudi Arabia and Iran caused wild swings in prices on Monday.
3. Stock market movers -- VW, Coach, Juniper Networks, Southwestern Energy, Tesco:
Volkswagen (VLKAF) shares fell by more than 4% in early trading after it was sued by the U.S. government over rigging emissions tests on diesel cars. This suit alone could lead to fines of around $18 billion.
Shares of American design label Coach (COH) were 2.5% higher in aftermarket trade Monday following an upgrade, and Juniper Networks (JNPR) was also up more than 2%. Southwestern Energy (SWN), on the other hand, was down more than 2%.
Tesco (TESO), one of the world's biggest retailers, jumped more than 4% in early London trading after an upgrade by Deutsche Bank.
4. Earnings and economics: U.S. auto sales for December will reveal what a bumper year it was for automakers.
The Institute of Supply Management is due to post its economic activity index for January at 10 am ET.
5. Monday market recap: The Dow Jones industrial average shed 1.6%, while the S&P 500 dipped 1.5% and the Nasdaq dropped 2.1%.