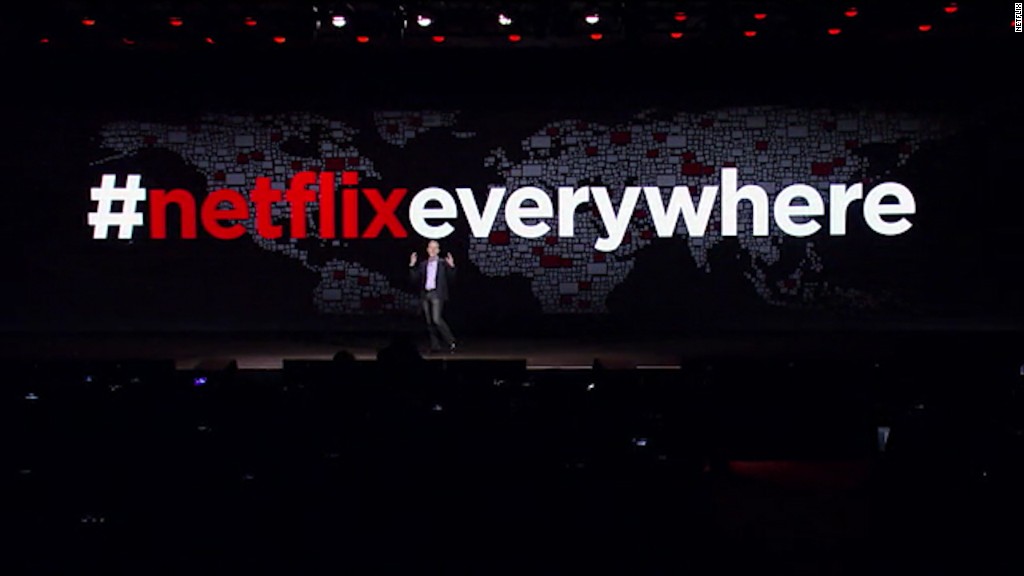 Netflix is now live in 130 more countries, offering its service to billions of potential new customers.
The streaming video service is now available in countries including Azerbaijan, India, Vietnam, Nigeria, Poland, Russia, Saudi Arabia, South Korea, Singapore, Turkey and Indonesia.
"[We are now in] nearly every country of the world but China," CEO Reed Hastings said at CES on Wednesday.
"You are witnessing the birth of a global TV network," he said. Shares in Netflix (NFLX) were up 8% after the announcement.
Netflix had been live in about 60 countries and debuted in Asia in September. At the time, Hastings said he was working on plans to be in every country in the region by the end of 2016.
Several countries are off-limits for now. Netflix said its service "won't be available in Crimea, North Korea and Syria due to U.S. government restrictions on American companies."
The countries added on Wednesday are mainly in Africa and Asia.
Netflix reaffirmed that it "continues to explore options for providing the service" in China.
The company will likely find challenges in China, where media content remains heavily censored by the government and many websites including Google (GOOGL) and Facebook (FB) are blocked.
It's likely that all Netflix content would have to be vetted before it could be made available in the country. Plus, China already boasts successful homegrown streaming companies.
Netflix has been spending billions of dollars to acquire TV shows and --even more importantly -- to secure the worldwide rights to the shows. That effort has required careful negotiation with big Hollywood studios.
The company has also started producing series in languages other than English and in countries outside the United States.
"We are in a unique position to bring the world's stories to the world's people," Chief Content Officer Ted Sarandos said at CES.
English continues to be the primary language for the service around the world, but 16 other languages are already supported. Netflix is adding Arabic, Korean and simplified and traditional Chinese.
-- CNNMoney's Charles Riley contributed to this report.