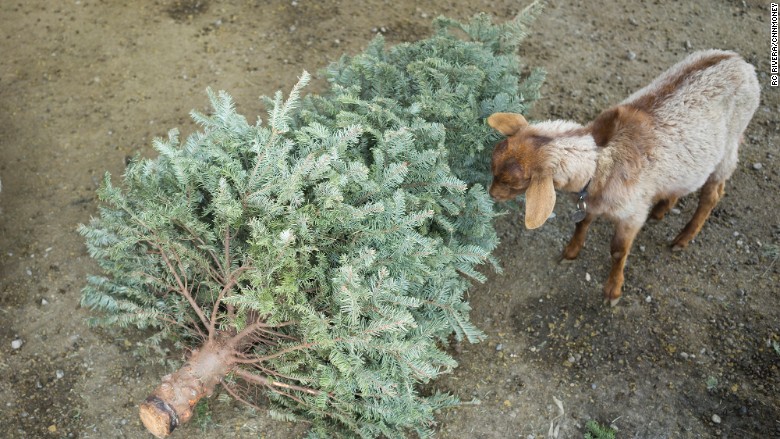 Wedged between train tracks in an industrial corner of San Francisco, a herd of goats is dining on piles of old Christmas trees.
They aren't picky about the type -- fir, pine or spruce -- but the newest tree is automatically deemed the most delicious, and anything sprayed with flame retardant is shunned.
The goats belong to City Grazing, a full-service goat grazing company that usually rents out the animals to help clear brush in the Bay Area.
For the second year, City Grazing is inviting residents to feed their old Christmas trees to the goats. It's an environmental alternative to leaving trees on the curb or burning them on Ocean Beach as part of the 25-year-old Post Yule Pyre.
Related: Sheep double as lawnmowers in Cleveland
A partnership with the San Francisco Fire Department, the goat program benefits tree owners and animals alike. Christmas trees dry out quickly and can become a fire hazard. Goats are hungry, and the trees have extra vitamin C and provide de-worming benefits.
Most people are shocked to hear goats can still afford rent in the city. In fact, they share land in the Bayview district with the San Francisco Bay Railroad, a short-line railroad that runs cargo between San Francisco and Richmond.
City Grazing started eight years ago when San Francisco Bay Railroad owner David Gavrich bought a handful of goats to graze along his tracks. The company now has 80 goats that are rented out to regular clients like landscapers, UCSF and the SF department of Recreation and Parks.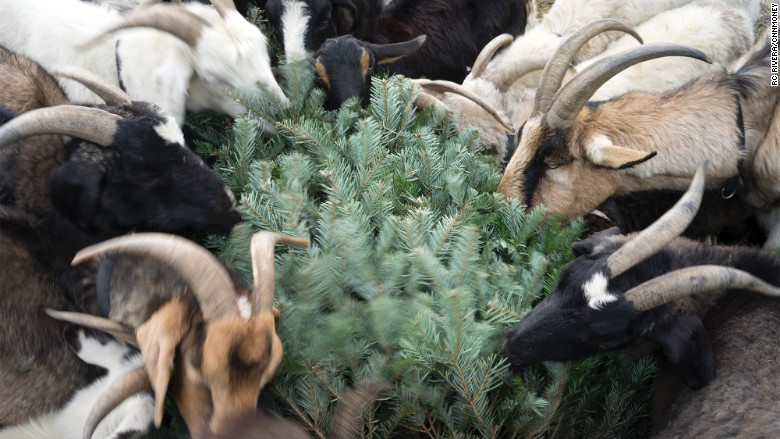 Notoriously un-picky eaters, goats eat invasive plants like ivy, blackberries and fennel. Their hooves and urine help slow the growth of more invasive plants. Their feces fertilize the land and even return some sterilized seeds to the soil.
City Grazing sends no fewer than three goats (so they don't get lonely) to a property for five to seven days. It takes about 50 animals to clear half an acre. Their goats are never processed for meat, and many are specially trained for unique urban spaces. They can go up stairs, walk on leashes and mingle with children without nibbling on them. City Grazing did not disclose how much goat rentals run.
"They all have names," said Genevieve Church, City Grazing's general manager. "Most of them know their names too, but they don't necessarily come when you call. Because they're goats."
The company is in the process of turning itself into a nonprofit so it can focus more on community outreach and even start research into carbon sequestration.
At the end of the first weekend, City Grazing volunteers said they were already receiving more Christmas trees than expected, though they didn't have an exact count. They had hoped to get two trees per goat at the most.
"They do get tired of them, so by the second weekend they're getting a little sluggish," said Church.
The goats are accepting trees this weekend from noon to four in San Francisco, and the next two Wednesday evenings from four to six.