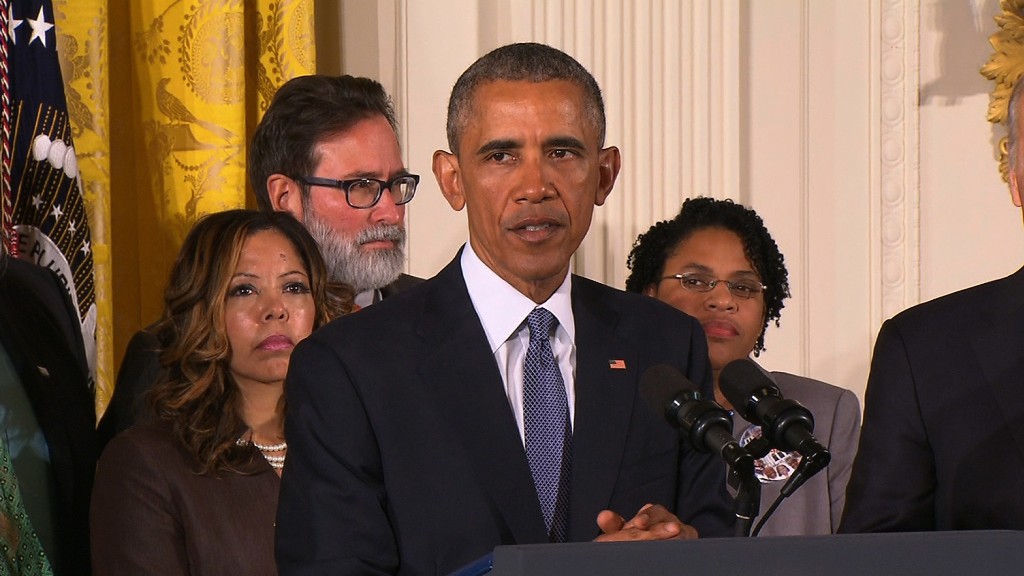 President Obama has proven, once again, that he's the greatest gun salesman in America.
Obama's call for more gun control has accelerated the recent surge in gun sales that began last month with the mass shooting in San Bernardino that claimed 14 lives.
"Tremendous, literally tremendous," said Bob Irwin, owner of The Gun Store in Las Vegas, shortly after Obama delivered a speech on expanding background checks. "It started with San Bernardino but Obama has just added to it. We can't keep guns in stock. Some of our major wholesalers are basically out of all the stuff that sells."
Irwin said his gun sales have doubled in the last two weeks. He said 90% of all sales are handguns "that they can grab with one hand and defend themselves," but he has also "sold a few of what they call assault rifles."
He believes the "absolute random" nature of the San Bernardino massacre is what freaked people out and drove them to buy guns for self-protection.
"Everybody's vulnerable," said Irwin. "You didn't have to go the wrong place at the wrong time to get murdered," he said. "It was like the Paris attacks, but here [in the U.S.]"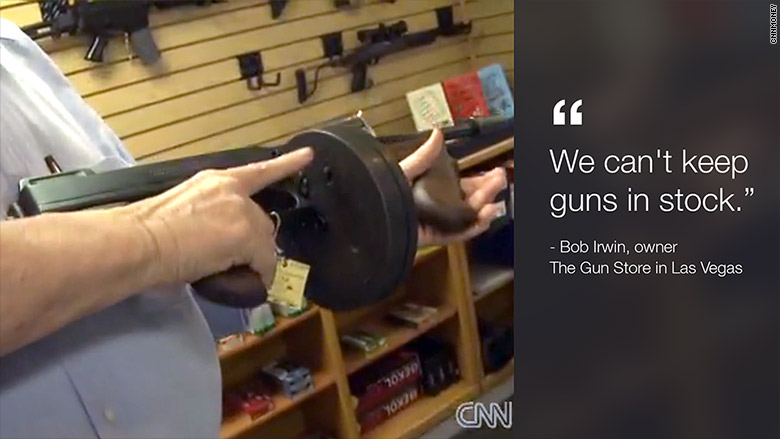 Wilshire Gun, a gun range/bar/restaurant in Oklahoma City, has experienced a dramatic rise in students for its concealed carry courses, according to general manager Brad Carroll.
"The political environment has bolstered that," he said. "A record number of people are doing concealed carry."
The courses required for concealed carry permits have gone from 70% to full to booked solid through January, Carroll said. Overflow students are paying extra to schedule private courses.
Related: How background checks work
Last year was a record year for FBI background checks, which are conducted for most gun sales. On Monday, Obama called for more resources to bolster the effectiveness of background checks. He assured gun owners that he believes in the Second Amendment and his actions are "not a plot to take away everybody's guns."
But Paul Bastean, owner of Ultimate Defense Firing Range in St. Peters, Missouri, said every time Obama talks about guns, sales go up.
The most current surge in sales came after Obama made remarks following the San Bernardino attacks, when he mentioned "common sense" gun control. Since then, Bastean has been selling up to 30 guns a day, instead of his usual three to five.
"He didn't say much more, but people are so fearful of what he defined as 'common sense,'" said Bastean. "They're so fearful that he is going to restrict their rights."