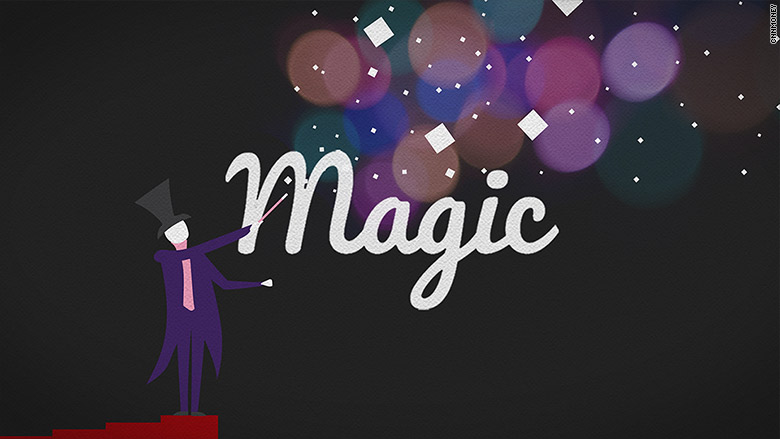 Being part of the 1% just got even more magical.
Magic is the Silicon Valley startup that promises to get you anything (legal) that you desire. Send a text with what you want, and, poof, it's yours. That's the premise.
The startup went viral last February. Up until this week, it's been serving only a select group of customers. I signed up in February and am #3769 on the waitlist. Magic CEO Mike Chen says the waitlist is currently over 50,000 people.
But now, anyone can get in on Magic's new premium offering. Anyone who can afford the price tag, that is.
The new service, Magic+, costs $100 per hour and operates under the same premise as the original.
The concierge on the other end of your text -- which is part human, part computer -- can handle everything from a last-minute move to planning a bachelor party weekend. Yes, those are actual tasks that have been requested through Magic+.
Chen said it's been testing the new 24/7 service with select customers for the past six months. While most other on-demand companies only operate in certain markets, Magic is available everywhere in the U.S.
Magic relies on other on-demand services -- like DoorDash, Instacart and Postmates -- to take care of many of the requests. On top of the hourly rate, customers pay for any items ordered and the third party service fees.
Related: This tech investor calls himself a 'manufacturer of income inequality'
Chen said the company's technology can track how much time Magicians (yes, that's what it calls them) are actually spending on tasks so customers only pay for time spent on their requests. He declined to disclose details on how many employees he has -- or how many customers.
Chen said many Magic customers were requesting tasks that didn't have a price tag attached -- like online research. Magic can't take a cut of transaction costs if there's no transaction, so the premium service makes business sense.
No surprise given the cost, the service is geared toward the wealthy and ultra busy. That's CEOs, investors, lawyers and actors, said Chen.
Magic is still offering the original service for one-off tasks (good luck getting off the waitlist), but Magic+ is trying to position itself as more of a personal assistant.
"It's better than having a real assistant in your office ... It's sort of like Jarvis meets Pepper Potts," said Chen. "Magic+ never gets sick, never goes on vacation, never forgets anything. It gives people the raw power to get stuff done."
The $100/hour rate is substantially more than the other on-demand services out there. Before shuttering in August, Zirtual charged $25 per hour. On-demand butler service Alfred charges $128 for an unlimited monthly subscription, which includes a weekly tidy-up. Postmates charges a $5 delivery fee plus a 9% service fee. GoButler offers one-off tasks with a model similar to the original Magic.
Chen said he hopes to "continually drive the price down" so Magic is available to the 99% -- eventually.