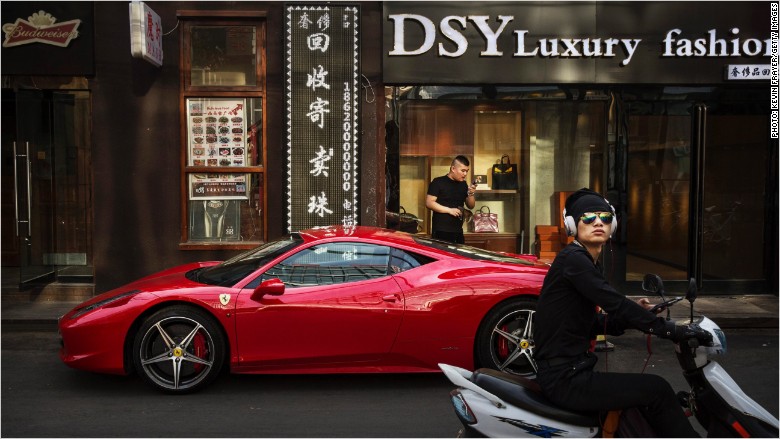 European shares have had a terrible start to the year. And it will get much worse if China's economy slows sharply.
Car makers and luxury brands have seen their shares crash by more than 10% just this week. Add to that steep falls in mining companies and it's been an ugly start for European investors.
The trigger has been sharp falls on China's stock markets, which have raised fears about the strength of economic growth and therefore demand for commodities and consumer goods.
China buys almost 8% of European Union exports, according to a report by UBS. If China's growth this year comes in much weaker than expected, Germany's economy will suffer most in the region.
The Chinese love to drive, wear and drink European products. But firms have been warning for months that China is causing problems.
Autos
BMW (BAMXF): The maker of BMW, Mini and Rolls-Royce said sales in China were up just 2.3% in first 10 months of last year. And it warned in August that sales were being hit in the world's biggest market for autos.
Volkswagen: (VLKPY) The troubled German car maker, which also owns Bentley, said sales to China fell 3.6% in the year to November.
Ferrari (RACE): Even stylish Italian sports cars are struggling. Ferrari's sales fell 24% in China in the third quarter of 2015.
Luxury Goods
Burberry: (BBRYF) The British fashion brand is heavily dependent on China. It relies on sales in mainland China and Hong Kong, but also on Chinese tourists visiting its stores in Europe and the United States. In October it warned that China remained "challenging."
Prada: (PRDSY) The luxury clothing label said revenues in the year to October in Asia Pacific fell 5%, and it noted tough conditions in Hong Kong and Macau.
LVMH (LVMHF): The maker of Louis Vuitton, Moet and Hennessy, Bulgari and DKNY has seen sales to Chinese tourists slow, though drinks sales in China are rising.
Richemont: The owner of luxury watch brand Cartier and other jewelers said in November that Asia Pacific sales showed a "significant decline" due to weakness in Hong Kong and Macau.
Miners
Rio Tinto: (RIO) The Anglo-Australian giant has been cutting costs for months to match the much lower returns from commodity prices.
BHP Billiton: (BHP) BHP has warned about Chinese "periods of market volatility" and has downgraded its Chinese steel output estimates.
Anglo American: (NGLOY) Maybe the most dramatic steps have been taken by Anglo. It has announced plans to shed 85,000 jobs as a result of the collapse in commodity prices.