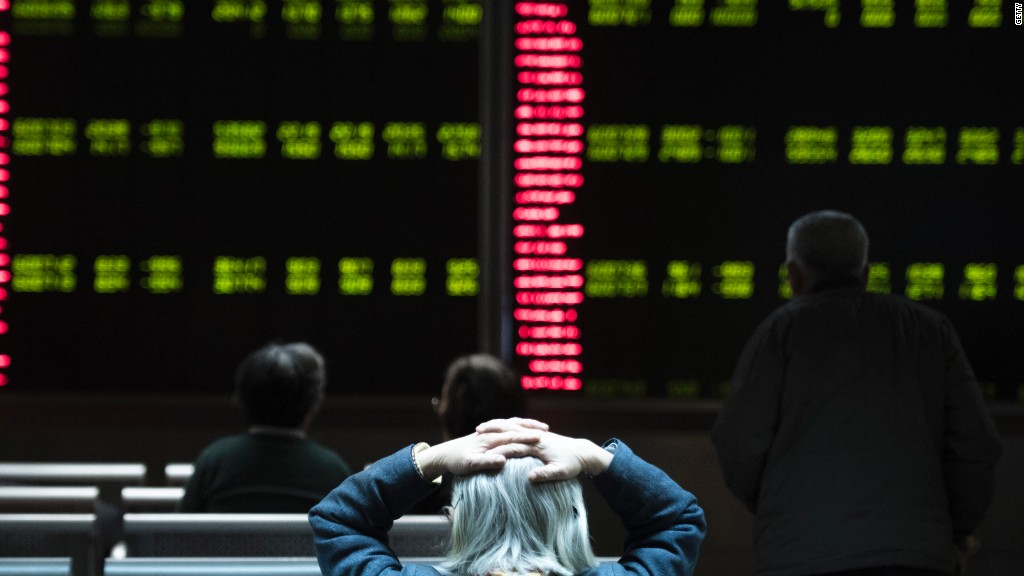 Stock markets around the world have started 2016 in freakout mode.
The global panic attack is being fueled by fears about China and the intensifying plunge in crude oil prices.
Here's what you need to know:
1. U.S. stocks are off to their worst start on record: The Dow is down 5.2% this year, which is the worst four-day start to a year on record. This comes after the stock market just wrapped up its weakest year since the 2008 financial crisis.
2. Stocks in China are crashing: Things are way, way worse in China. The benchmark Shanghai Composite has plunged 12% so far this year.
3. China's circuit breakers are making things worse: Selling in China was so dramatic that trading was halted twice this week by the country's new circuit breakers. The trading curbs, designed to give the market a "timeout" during times of stress, may have backfired by encouraging more selling. Regulators backtracked on Thursday, abandoning the circuit breakers.
4. Europe is getting crushed, too: Germany's stock market is down a whopping 7% so far this year. Stocks in the U.K. and France are also down about 5% apiece.
5. China's losing its economic mojo: The global market slide is in a large part a reflection of concerns that China's economy will crash land and ripple across the global economy. New reports this week show China continues to slow down.
6. China's currency is near five-year lows: China has allowed its currency the yuan to fall to its weakest level since 2011. Currency devaluation can boost growth by helping exports, but it can also cause money to exit the country. It also raises the risk of a "currency war" breaking out between China and its neighbors.
7. Oil's epic plunge intensifies: Crude oil prices plummeted to $32 a barrel, their lowest level in more than 12 years. Cheap oil is great for drivers but it's freaking Wall Street out. Not only are energy company profits crumbling, but some fear the oil plunge is a harbinger of a deeper slump in global growth.
8. Geopolitical risks are escalating: Investors are also nervously watching rising tensions between Saudi Arabia and Iran, the kingpins of OPEC. And on the other side of the globe, North Korea darkened the geopolitical picture further by saying it set off a hydrogen bomb, even though U.S. officials doubt the claims.
9. Fears of a sequel to 2008: The current market mayhem reminded billionaire George Soros of the 2008 financial crisis. But other experts think that comparison is overdone.
10. U.S. stocks are in "correction" mode: The Dow dipped back into correction late Thursday, meaning it declined 10% from a previous high. The Dow finished Thursday at 16,514, down 10% from its recent high of 18,351 on May 19.