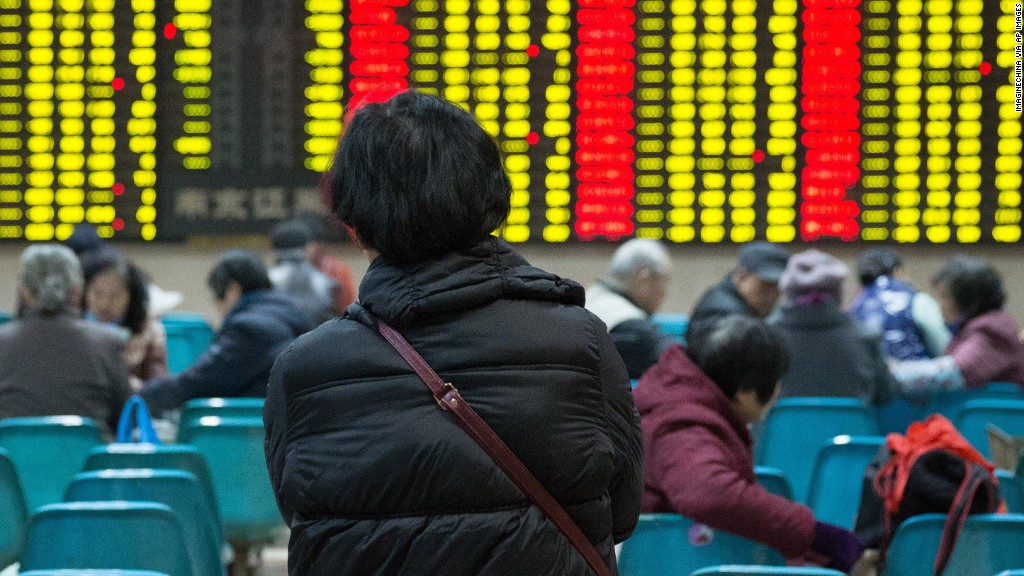 Another day, another China rout, another global sell-off.
Asian and European markets are deep in the red Thursday and U.S. stock futures are dropping fast: Dow and S&P 500 futures are down by around 2.5%.
The Dow has already suffered its worst start to a trading year since 2008, and the slump looks set to deepen.
Here are the six things you need to know before the opening bell rings in New York:
1. China shuts markets -- again: China suspended trading abruptly on its stock markets for the second time this week. Markets shut within 30 minutes of opening, after a fall of 7%.
Investors are growing increasingly worried about China, after two reports this week indicated that growth may be slowing more sharply than expected. The yuan has fallen to its weakest level since March 2011.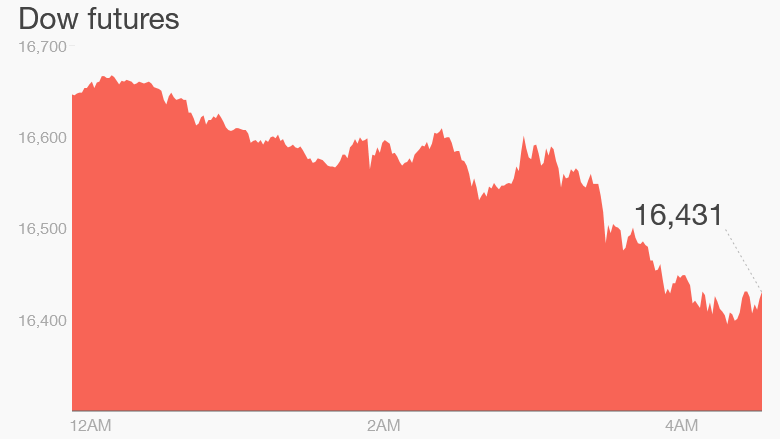 2. Oil slumps to decade low: Crude futures have slumped as much as 5.5% to just above $32 per barrel, the lowest in more than 10 years.
Oil prices have been struggling for months because of a huge global supply glut, and now the turmoil in China -- the world's largest oil importer -- is piling on the pressure.
A growing rift between Saudi Arabia and Iran isn't helping either: It reduces the odds of OPEC agreeing to cut back production.
Related: 3 reasons oil prices are plunging again
3. Stock market movers -- Macy's, Apple, Netflix, Amazon: Macy's (M) shares popped more than 5% during extended trading after it announced about 3,000 job losses as part of a plan to slash costs.
The global market selloff is sending many heavyweight stocks down in premarket trading. PayPal (PYPL) is trading 3% lower, as are shares in Bank of America (BAC) and Citigroup (C).
Netflix (NFLX), which announced a global expansion on Wednesday, is down 3.2%. Amazon (AMZN) is down 3%.
Apple (AAPL) is down 3.5% premarket, continuing its rotten start to the year after reports that the company is slowing production of its latest iPhones.
4. Earnings and economics: Companies reporting before the open include retailers Walgreens (WBA), and Finish Line (FINL), and Constellation Brands (STZ), the company behind Corona beer.
The U.S. Department of Labor's weekly report on jobless insurance claims is due at 8:30 am ET.
5. International markets overview: European markets are also being slammed by the China turmoil. The FTSE100 is down 3% and Germany's Dax has dropped 3.75% in early trading. Asian markets ended the session lower. Hong Kong closed 3% down, while Japan's Nikkei was 3.2%.
6. Wednesday market recap: The Dow Jones industrial average closed down 1.5%, while the S&P 500 dropped 1.3% and the Nasdaq 1.1%.