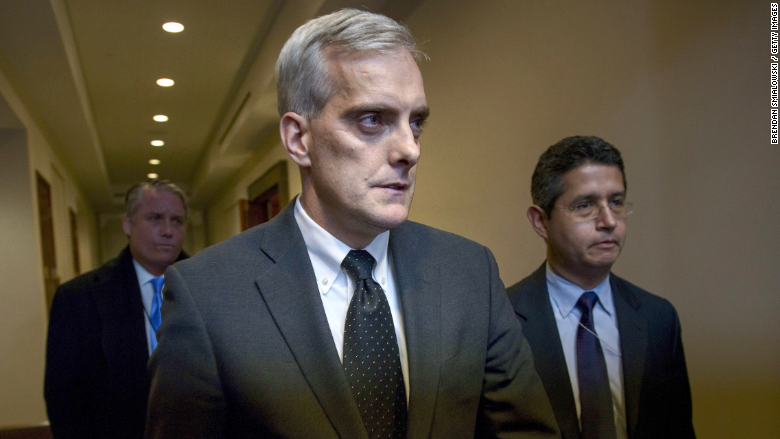 America's big tech companies will meet with top Obama administration officials in San Jose, California on Friday to discuss how terrorists are using social media to recruit attackers.
Apple (AAPL), Facebook (FB), and Twitter (TWTR) are scheduled to meet with federal policymakers to figure out a plan to address this issue, according to those firms. Apple CEO Tim Cook is expected to attend.
Google (GOOGL), Microsoft (MSFT) and LinkedIn (LNKD) will also be there, according to those familiar with the meeting.
The White House, Department of Justice, and the nation's top intelligence official will take part in those discussions, according to some of the companies.
White House Chief of Staff Denis McDonough is expected to lead the meeting. Other top officials are expected to take part in the discussions, including Attorney General Loretta Lynch, FBI Director James Comey and National Intelligence Director James Clapper.
The White House did not respond to a request for comment.
This could signal the first step toward addressing a new national security concern.
According to an agenda of the meeting obtained by CNNMoney, participants will discuss various ways to use technology to combat terrorism, including identifying recruitment methods and making it harder for terrorists to carry out attacks.
Social media has become a battlefront in the fight against terrorism. These online platforms make it easy to connect people around the world -- and terrorists are using it to find potential agents, inspire them to become violent, and coordinate attacks.
Twitter, for instance, has become a favorite for fighters who live within the Islamic State. They openly share photographs and messages about beheadings, religious hatred and the ongoing civil war in Syria. Then they openly try to get online followers to join the cause.
As a matter of policy, Twitter does take down gruesome or menacing posts when alerted by the public. But social media companies aren't seen as sufficiently proactive about shutting down these accounts.
Those open conversations become direct person-to-person chats on other apps with increased privacy. Conversations are encrypted and only users have keys to unlock them, making it hard for law enforcement to track them. In recent months, the FBI director has repeatedly told Congress that surveillance is getting harder.
In past years, the government has clashed with Silicon Valley on the topic of encryption. Following the terrorist attack in Paris where encrypted apps were found on recovered devices, the debate resurfaced.
The White House reached out to Silicon Valley for the meeting last week, and it was initially pitched as an informal sit-down, according to a source from one of the tech companies.
"They made it very clear early on they weren't interested in re-litigating the encryption fight they've lost three or four times," the source said.
Ultimately, the agenda did include the sensitive issue of encryption and several top security officials were added.