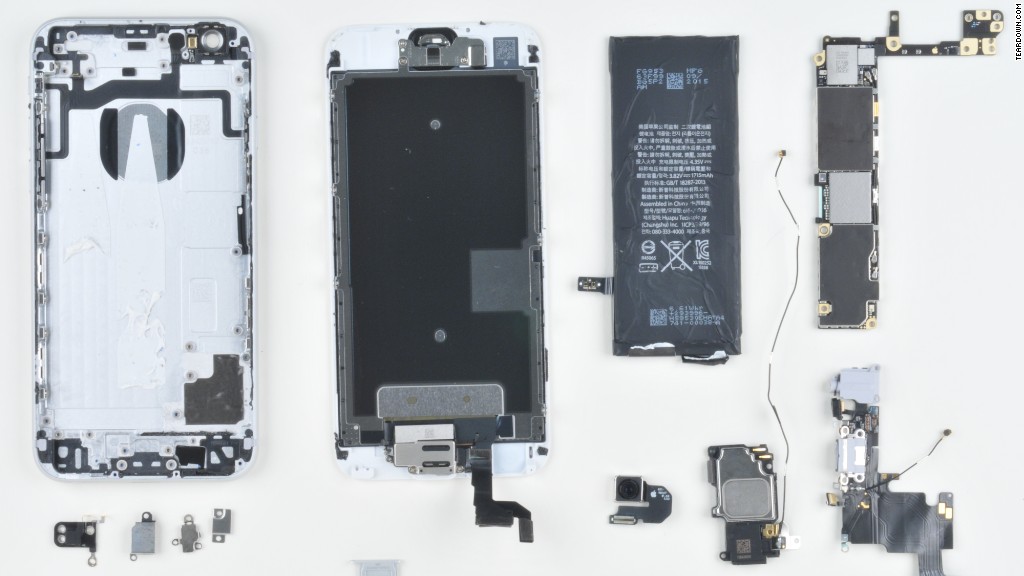 Apple stock is back to a place it hasn't been in a long time: it costs less than $100 a share.
So is it a bargain buy or just the beginning of a deeper plunge?
Expert opinions are all over the place.
Wall Street analysts -- the people who get paid to predict where stock prices are headed -- have forecasts for the stock ranging from $65 to $200.
The overwhelmingly majority of experts still say Apple (AAPL) is a "strong buy." The average forecast is for the stock to hit $142 in the coming months, according to data compiled by TipRanks, a site that tracks and ranks analysts on their predictions.
Where the stock is going hinges on iPhone sales and its ability to innovate more.
Apple shares are tanking this week because of a report in Japan's Nikkei newspaper that Apple plans to slash its output of iPhone 6S and iPhone 6S Plus by 30%.
That comes on the heels of an Accenture report warning that demand for smartphones is waning. People don't believe the newer models are all that much better than what they currently have, so they don't want to pay for an upgrade.
Related: Apple shares have rotten start to the year
The case for Apple tanking
"Given its huge reliance on excessively profitable iPhones, Apple, we believe, is bound to enter a phase of diminishing investment returns," said Per Lindberg, an analyst for ABG Sundal Collier, who predicts the stock will fall to $65.
He argues that a simple analysis shows Apple's earnings would be cut in half if it loses market share or has to reduces prices to remain competitive.
Lindberg isn't your typical Wall Street analyst. He's based in Sweden and is one of only three Apple researchers, out of the dozens, with a "sell" rating on the stock, according to TipRanks and FactSet.
His pessimism is backed up by the stock's recent performance. Apple hasn't closed below $100 a share since October 2014 (the stock dipped briefly below $100 on August 24, the day the Dow fell a historic 1,000 points at the open. But it recovered by the end of the day).
Apple is actually in a "bear market" -- the stock is down more than 25% since its all-time high in April.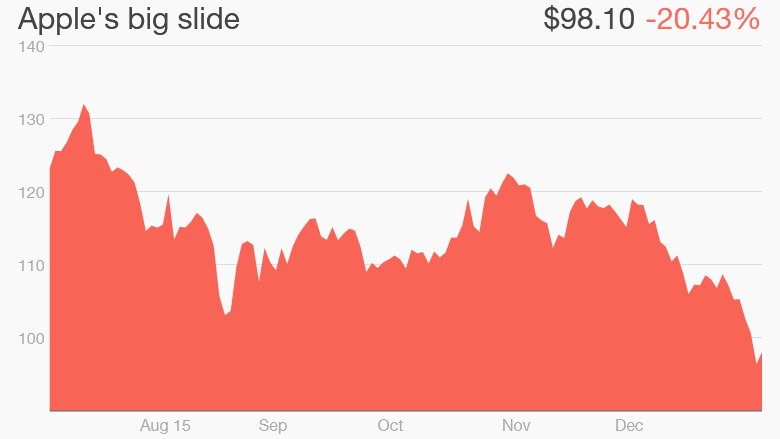 Related: These stock markets are in correction (or worse)
The case for Apple rising
But Apple stock has many loyal fans -- much like its products. Apple is by far and away the most widely held stock in the investment portfolios of "regular Joe" investors. It is also the most looked up stock ticker on CNNMoney's site.
Over the years, Apple stock has made many people rich, and not just corporate executives.
Lindberg's views are refuted by many experts, including Gene Munster, a senior research analyst at Piper Jaffray.
He is the top ranked forecaster for Apple stock on TipRanks (meaning he has made the most accurate predictions), and he believes Apple stock is headed to $179.
Munster says the iPhone 6 scale back is already priced in. He notes that Apple has always met or exceeded its sales guidance for the past three years.
As recently as December, Apple CEO Tim Cook said iPhone sales would grow in 2016.
If Apple manages to beat the very gloomy expectations that Wall Street now has, the stock should bounce. It was already rebounding somewhat Friday, although it is still below $100.
"We believe... the iPhone franchise is healthy and will benefit over the next several years from the move to annual upgrade programs," wrote Munster in a note this week.