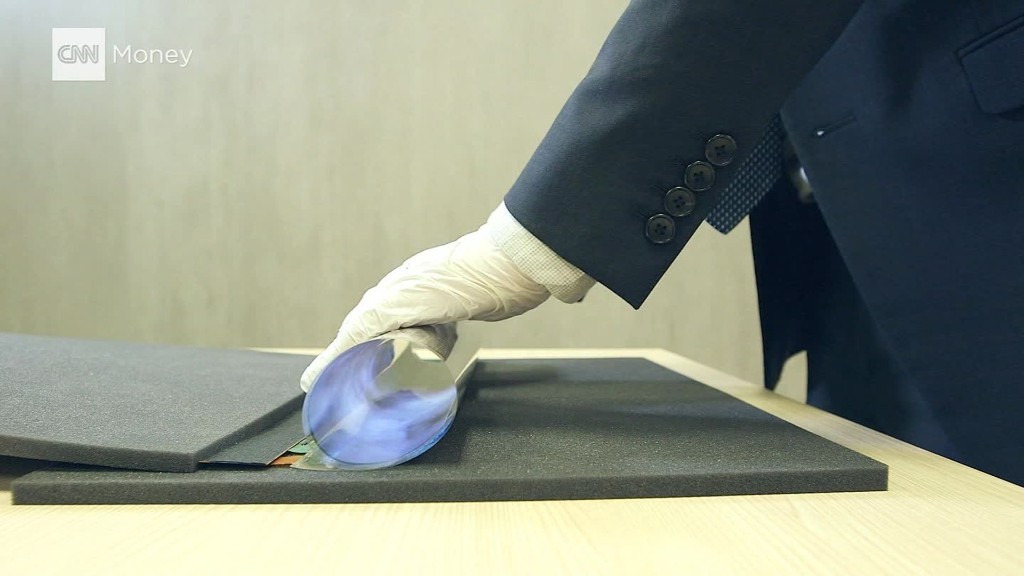 TGIF for the market! Not so much.
Stocks couldn't hold onto their earlier gains and finished the day lower. But at least some tech blue chips didn't plunge again.
Apple (AAPL) and Microsoft (MSFT) were up slightly Friday -- but they're still down sharply for the week.
The tech heavy Nasdaq has had an even worse start to 2016 than the Dow and S&P 500, falling more than 7%.
That put the Nasdaq back into correction mode -- more than 10% below its 52-week (and all-time) high.
So the worst may not be over for the tech sector just yet.
Related: Stocks finally rise after insane week on Wall Street
Many of last year's big tech stock winners continue to trade at extremely high valuations.
Amazon (AMZN), which has fallen 10% this week, is still valued at 110 times 2016 earnings forecasts.
And Netflix (NFLX), one of the few tech stocks to hold up relatively well so far in 2016 thanks to the news of its global expansion, is trading at more than 440 times this year's earnings estimates.
That has some investors fearing this is the beginning of a tech bubble bursting. Just like in 2000.
And guess what? The last time that the Nasdaq fell nearly this much in the first five trading days of a year was ... .2000. The Nasdaq plunged more than 8% sixteen years ago.
Related: Netflix now in nearly every country but China
Of course, tech stocks quickly surged back to what were then all-time highs by March 2000 ... before completely imploding.
That hopefully won't happen again this year. But there are reasons for investors to be concerned, particularly those betting on companies with ties to the mobile device market.
Apple's stock has fallen 8% this week. It's now below $100 a share for the first time since August.
And that's due to concerns about slowing demand for iPhones -- particularly in China. There was also a report that Apple may be looking to cut iPhone production.
Related: What's driving the global market freakout
Apple hasn't commented on this speculation. But there is some evidence to support the notion that the iPhone 6s may not exactly be a huge success.
Two chip companies that make components for Apple products -- Cirrus Logic (CRUS) and Qorvo (QRVO) -- both warned late Thursday that sales for the current quarter would be weaker than expected.
Apple frenemy Samsung issued a tepid earnings outlook on Friday. Samsung's Galaxy line of phones compete with Apple's iPhones. But the South Korean tech giant also lists Apple as a big customer. It makes memory chips used in Apple products.
So bad news for Samsung is yet another sign of weakening demand for smartphones globally.
The tech stock selloff is also telling, considering that it comes while many big gadget makers are at the CES trade show in Las Vegas touting their new products.
Shares of several companies that had a presence at CES are down big this week. GoPro (GPRO) and Garmin (GRMN) have both fallen 10%, for example. And Fitbit (FIT) plunged more than 25% after its new Blaze smartwatch underwhelmed Wall Street.
Related: The highlights from CES -- Control BB-8 by using the Force
This isn't to say that tech stocks are in for a dismal year. But investors probably need to pick and choose their spots instead of hoping that the entire sector will do well.
As always, it comes down to profits.
Earnings growth for Apple is starting to slow to the single digit percentage range for the next few years.
So it may be tough for Apple to move significantly higher unless it proves to Wall Street that there are new products on tap to generate more excitement -- and increased sales and earnings.
But Alphabet (GOOGL) (i,e. Google) is expected to post an earnings gain of nearly 20% this year. Analysts are forecasting more than 30% growth in profits from Facebook (FB).
Tech investors typically flock to market leaders with momentum. That's unlikely to change in 2016.