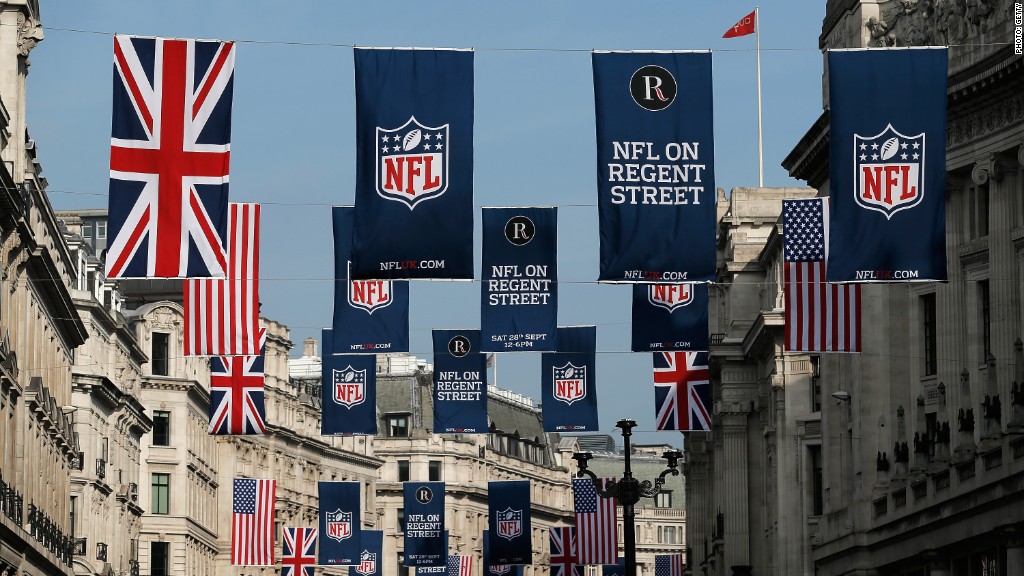 The NFL is planning to live stream all three of its London football games next season.
The league is in talks with tech powerhouses Apple and Google, among others, about possibly selling the Internet rights to the games, a source with knowledge of the talks said Friday.
The talks were first reported by Reuters on Friday.
"It is unclear if the NFL seeks to sell the rights to stream all three games as a package or individually, or how much the league is asking for the rights," Reuters said.
Earlier this season, Yahoo (YHOO) live-streamed one London game in an experiment of sorts for the NFL. CBS (CBS) and Fox televised the other two games in the NFL International Series.
The three games scheduled for London next season are the Jacksonville Jaguars and Indianapolis Colts (October 2); the St. Louis Rams and New York Giants (October 23); and the Cincinnati Bengals and the Washington Redskins (October 30).
Two games will take place at London's Wembley Stadium, while the other will take place at Twickenham Stadium.
The NFL declined to comment on Friday. Representatives for Apple (AAPL) and Google (GOOGL) also declined. But the talks are a logical extension of the recent Yahoo partnership.
NBC, CBS, Fox and ESPN have the rights to the vast majority of NFL games through the early 2020s, but online streaming is a way to involve new bidders and explore new distribution options.
Along with the international series, the NFL is accepting bids for its package of Thursday Night Football games. The league is looking to sell both the television rights -- which have been shared by CBS and the NFL Network for the past two years -- and the Internet rights to the Thursday slate.
In October, Yahoo hosted a live-stream of a London game between Buffalo Bills and the Jacksonville Jaguars.
Whether it was a success depends on your point of view.
The October matchup, which kicked off at 9:30 a.m. ET, averaged 2.36 million viewers -- significantly lower numbers than it would have garnered through traditional television.
But the Yahoo stream allowed viewers all around the world to watch through the same distributor. The NFL said it was "thrilled with the results," noting that more than 15 million people sampled Yahoo's stream.