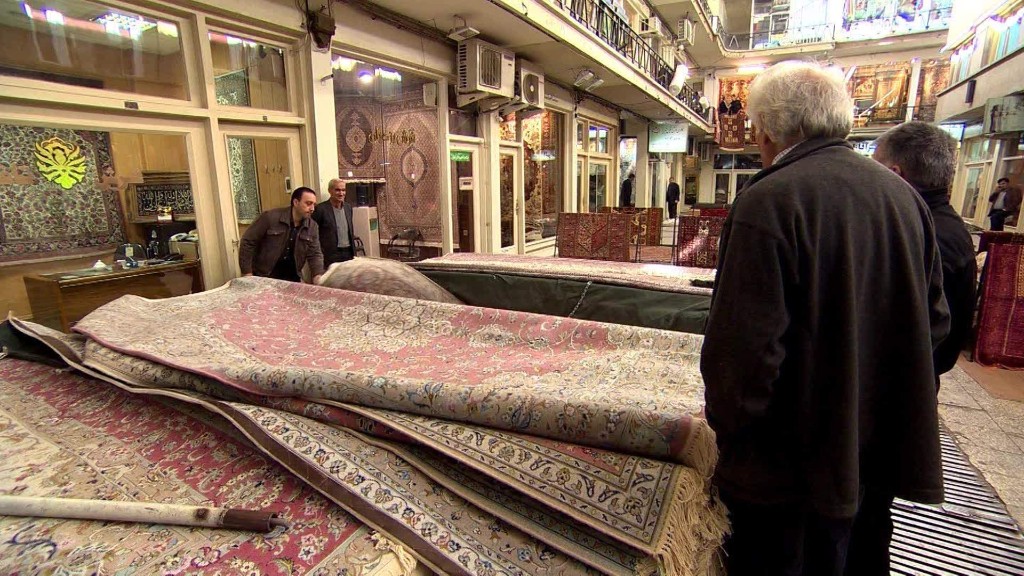 Iran can't wait to put up the "open for business" sign in 2016.
In a matter of weeks, the international community is expected to lift many sanctions that have crippled the Iranian economy for decades.
But don't be fooled: U.S. companies won't find Iran very open for business.
The U.S. is lifting its nuclear sanctions on Iran as part of the landmark deal, but many business sanctions will remain in place. It will still be almost impossible for most U.S. businesses to set up a physical presence in Iran or partner with Iranian companies.
In contrast, Europe is opening up almost all trade with Iran. The result is likely to be: European companies win, American companies lose.
"There is not going to be a comprehensive law allowing all U.S. companies to operate in Iran anytime soon. This will make American firms the biggest loser of the nuclear deal," says Majid Rafizadeh, a Middle East scholar at Harvard.
The latest flare up between Iran and Saudi Arabia could make the U.S. even more cautious about scaling back additional sanctions.
Related: Did Iran just make a big economic mistake?
Europe sanctions off, U.S. sanctions stay
The deal that Iran signed with the P5+1 (the U.S., U.K, Germany, France, Russian and China) was built on a simple premise: Iran agreed to open up its nuclear facilities for inspection and monitoring in exchange for international sanctions being lifted. Iran wants out of the economic "time out" it's been in since 1979.
The world now awaits "Implementation Day" when the International Atomic Energy Agency verifies that Iran has met its nuclear commitments. The date hasn't been set yet, but is expected to be in early 2016.
After Implementation Day, Iran will be able to sell its oil again on world markets and its banks will be able to connect to the global system. The U.S. will also allow the sale of commercial passenger aircraft to Iran and imports of Persian rugs and some foods to the U.S.
But the European Union will be far more generous. It plans to make it very easy for European companies to sell everything from cars to railroads to insurance in Iran.
"As many countries rush to sign contracts with Iran [after Implementation Day], the Obama administration will have to decide to either put U.S. firms at a disadvantage or issue them licenses," says Rafizadeh.
U.S. companies have to apply to the Treasury Department for special permission to do business with Iran.
As the Treasury states clearly on its website, "The U.S. embargo will generally remain in place, even after Implementation Day, because of concerns outside of Iran's nuclear program."
Related: Saudi Arabia-Iran row spreads to other nations
Iran's big economic potential
Iran has a lot of economic potential and not just for oil. It's a new market. While it's not nearly the size China, it's a lot bigger than Cuba, which U.S. businesses are also eying this year for possible expansion.
Iran has 80 million people, about 60% of which are under age 30. The population is highly educated and literate. Middle class Iranians say they want ties with the West, especially the U.S.
The problem is U.S. executives are not supposed to do business directly with Iran, and U.S. businesses can't set up offices or stores there.
Trade ties between the two are virtually non existent. The only exceptions are some food, medicine, and medical devices. Some limited consumer software licenses have also been granted.
How Apple would have to deal with Iran
But it remains complex. Take a company like Apple (AAPL). It can apply to Treasury for a waiver to ship iPads to Iran from the U.S., but its U.S. business can't service the device or open a store in Iran. Apple could also face penalties if the iPad landed in the wrong hands.
However, a European subsidiary of Apple could operate in Iran after Implementation Day. It just couldn't talk to Apple HQ in California about the Iranian operations.
A lot of European businesses recognize their advantage. Within hours of the P5+1 deal being signed, Germany chartered a plane to take some of its top business leaders to Tehran, according to The Guardian.
U.S. businesses are trying to figure out what they can do. Farhad Alavi of Akrivis Law Group helps many companies applying to the U.S. Treasury for licenses and exemptions to do business in Iran. He's been getting a lot of inquiries since the deal was signed.
"This whole issue is going to be a big compliance headache," says Alavi.
Related: Saudi Arabia hikes gas prices 50%
2016 politics play a role
Business are also aware that the 2016 election could change the game...again.
"If I were a company, I would be concerned that the rules may change again in January 2017. The next president certainly is going to want to show that their policies are different from the current president," says Patrick Clawson, director of research at the Washington Institute for Near East Policy.
Congress is already working on addition punitive measures.
"In the end, it is the U.S. which should ultimately decide whether they want to take advantage of economic relations with Iran or not," says Seyed Hossein Mousavian, a research scholar at Princeton and former Iranian ambassador to Germany.