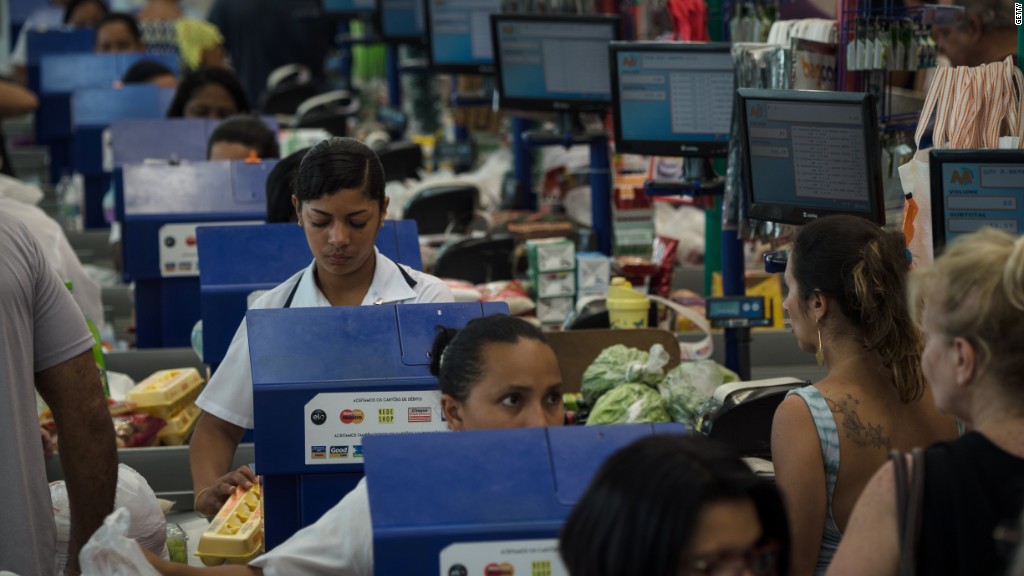 Power struggles, soaring inflation, falling currencies and commodities.
Latin America has already seen all of those in the new year and we're only 11 days in. After logging in as the worst performing emerging market last year, the region is kicking off the new year on very shaky ground again.
The World Bank projected last week that Latin America wouldn't grow at all in 2016. The IMF believes the region's growth will be below 1%. These dire predictions come after Latin America has already had five straight years of declining economic growth.
And this year, enormous political tension and change could add to its economic malaise this year.
Here's how Latin America got off on the wrong foot in 2016.
1. Brazil's recession keeps getting worse
Brazil is facing a crisis of confidence. It's in the midst of the longest recession since the 1930s. And the country is still reeling from the widespread corruption scandal at the state-run oil company, Petrobras. In December, inflation shot up to 10.7% from the previous year -- the highest mark in 12 years.
Its recession could deepen even further in 2016. President Dilma Rousseff is facing the possibility of impeachment.
Opposition leaders started impeachment proceedings in early December. However, odds of impeachment have dimmed since the Supreme Court change the impeachment rules in Rousseff's favor.
Even if she isn't impeached, Rousseff has lost public favor. Her approval rating has barely budged since it hit 8% last August -- the lowest mark since the early 1990s when the president was impeached.
Rousseff is shaking up her cabinet to turn around the economy, but investors aren't pleased -- they're pulling cash out. Brazil's stock market, Bovespa, is down 6.5%.
Related: Brazil dives deeper into recession
2. New power struggle in Venezuela
Venezuelans voted for change in December after inflation hit triple -- yes triple -- digits in 2015. The country's opposition party won a "super" majority of seats in Congress -- enough to potentially oust socialist President Nicolas Maduro.
But it's not that simple. Maduro's party packed the Supreme Court with new justices to try to prevent some newly elected Congressmen sworn into office. They were eventually sworn in last week, but controversy looms over whether the Supreme Court will uphold any of the new Congress' legislation.
Maduro also appointed a new economic minister last week and plans to fight any anti-socialist policies that his party has established.
Venezuela's economy shrank about 10% last year, according to the IMF. It's one of the worst in the world, and the political infighting won't help.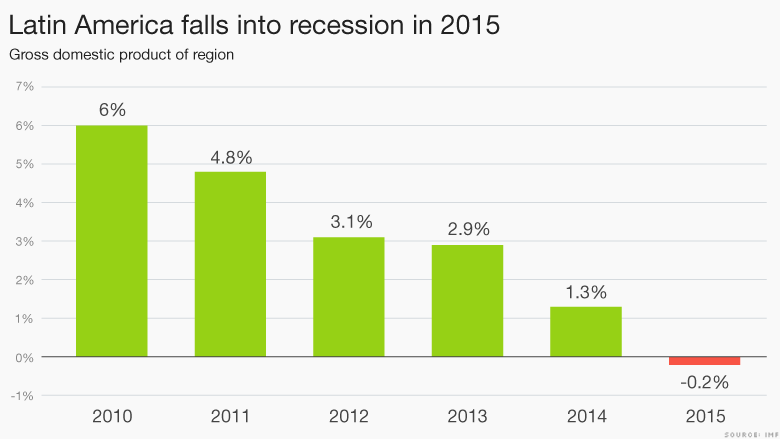 3. Peso pain in Mexico
Mexico relies on exports to help power its economy. Trade makes up one third of Mexico's GDP. Falling oil prices and the global slowdown is weighing down the Mexican peso.
Mexico's peso recently hit an all-time low against the U.S. dollar. You have to give about 18 pesos to get a dollar. A year ago you get a dollar for 14 pesos.
The peso is the most traded emerging market currency, and some experts consider it a risk benchmark.
The latest economic news isn't that great either. Mexico reported Monday that industrial production fell sharply and well below expectations. The country is a manufacturing powerhouse in the region. An industrial slowdown puts pressure on the rest of its economy to pick up the slack.
Mexico is actually one of the better performing economies in the region because it has the most ties to the U.S. economy and it's made key economic reforms in recent years.
But even those ties and reforms aren't enough to save Mexico from a global economic slowdown spurred by China's slowing demand for commodities.
Related: 2015 was Latin America's worst year since global recession
4. Other economies are cracking from commodities crash
Latin America's engine of economic growth -- commodities -- keeps breaking down. Brazil, Venezuela, Colombia and Mexico all export lots of oil, and they're suffering while oil prices continue to hit historic lows.
It's not just oil either. Chile and Peru are huge exporters of copper and aluminum. Both those metals are already down 7% and 1% respectively in the new year, after tanking in 2015.
Argentina is one of the world's biggest exporters of soy and the price of soybeans is down 18% in the last 12 months at the lowest levels since 2007.
Argentina's new president, Mauricio Macri, has wasted no time since he took office. He's put in place several economic reform measures at a rapid pace. But things are expected to get worse there before turning around.
In the meantime, his administration sees inflation hitting 20-25% this year -- not much better than last year.