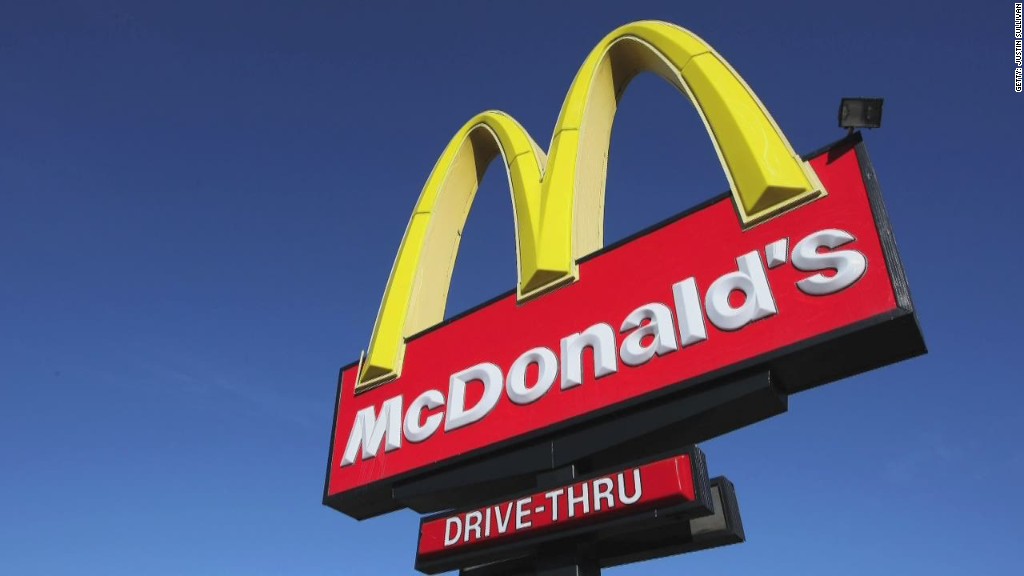 McDonald's problems in Europe just got supersized.
Three Italian consumer groups have accused the fast food giant of burdening franchisees with exorbitant rents, high royalties and restrictive contracts.
The groups, which are backed by the Service Employees International Union, have filed the antitrust complaint with the European Commission and asked the regulator to open a formal investigation.
"McDonald's abuse of its dominant market position hurts everyone: franchisees, consumers, and workers," said Scott Courtney, organizing director at SEIU.
McDonald's (MCD) has roughly 6,000 franchise restaurants in Europe that pay to use the company's branding.
According to the consumer groups' allegations, McDonald's charges its franchisees rents that are up to 10 times higher than market rates. These rents account for 66% of all revenue collected from franchisees in Europe, the groups contend.
A European Commission spokesperson said the group had received the complaint, and will now examine it.
McDonald's, meanwhile, defended its franchise model, saying it "has helped create the best business opportunities for our franchisees and the best overall experience for our customers."
Related: McDonald's under investigation for tax dodging in Europe
The allegations are not the only problem McDonald's faces on the continent. In December, the European Commission announced it was investigating McDonald's for failing to pay some taxes in both Luxembourg and the U.S.
The antitrust watchdog agency said McDonald's signed two special deals with Luxembourg in 2009 that allowed the company to shift profits around to avoid paying all the taxes on the royalties it collects from franchise restaurants in Europe and Russia.
The SEIU is working to organize workers across the fast food industry, and has orchestrated numerous protests against McDonald's in the U.S. Fast food workers are demanding wages of at least $15 an hour.
McDonald's shares have gained 20% in the past six months as the company reinvents itself. In late October, McDonald's released earnings that showed global sales growth of 4%.
The company still has much work to do and says it will turn its attention to boosting customer traffic.