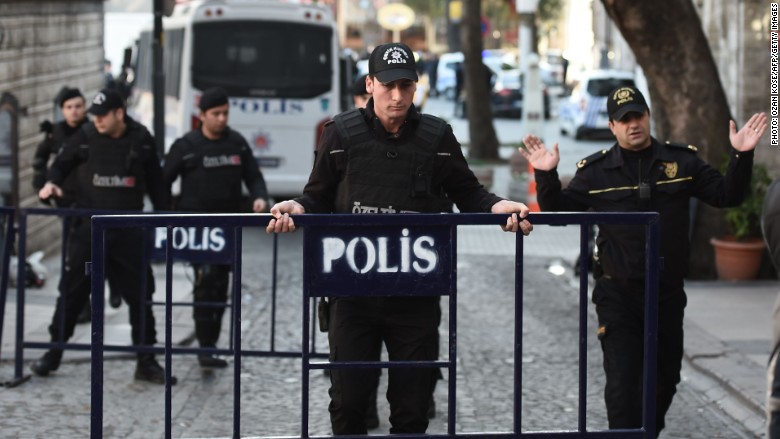 A suicide bomber killed 10 people in central Istanbul on Tuesday, an attack that strikes at the heart of Turkey's vital tourism industry.
At least 15 people were wounded. All those who died were foreigners, including nine Germans, according to Turkish officials.
Germany advised its citizens to avoid crowds and tourist attractions in Istanbul until further notice.
German tourists are vital for Turkey's leisure sector. Official data show that more than 15% of all visitors arriving in Turkey during the first nine months of 2015 were German -- making them the biggest single group of tourists.
Turkey's economy is already struggling: Growth is slowing and its currency has lost nearly 25% against the U.S. dollar in the last 12 months.
The country made $34 billion from tourism in 2014. It is the world's sixth most popular destination, attracting nearly 40 million foreign visitors.
Related: Russia and Turkey will both lose from Moscow's sanctions
The tourism industry has grown rapidly in the last decade. Visitor numbers grew 200% between 2002 and 2014, according to the Turkish Investment Support and Promotion Agency. And the government has plans to boost the sector in the future, hoping to generate $50 billion in revenues by 2023.
But the Istanbul attack -- and bombings in Ankara last year -- could put an end to the boom.
"It is undoubtedly very bad news for the tourism sector in Turkey. ... Istanbul is already suffering form heavy drop in tourist arrivals," said Ipek Ozkardeskaya, market analyst at London Capital Group.
Tourism already suffered a hefty blow last fall, when Russia barred its travel agencies from selling trips to Turkey and banned charter flights to the country.
Moscow imposed the ban as part of a wave of economic sanctions against Ankara, after the Turkish army shot down a Russian warplane near the country's border with Syria. Turkey said the plane violated its airspace and refused to apologize for the incident. Russia then accused Turkey of helping terrorists.
Around 4.5 million Russians visited the country in 2014, making them the second biggest group after Germans.