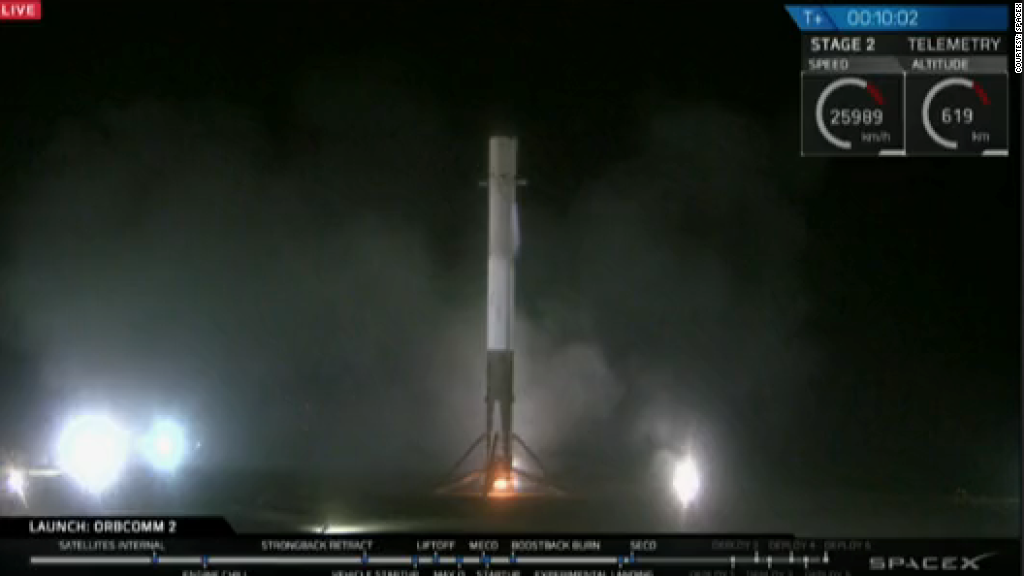 SpaceX has already executed a dramatic upright rocket landing. Now the company is hoping for a repeat performance on the open ocean.
"Aiming to launch this weekend and (hopefully) land on our droneship," SpaceX CEO Elon Musk tweeted on Monday. "Ship landings needed for high velocity missions."
SpaceX pulled off its first successful vertical landing of the Falcon 9 rocket in December after a launch from Florida's Cape Canaveral Air Force Station. Three previous attempts failed.
The private space flight company made its first attempt at a "droneship" landing in January 2015, but the rocket crashed into the ocean platform. During another attempt in April, the rocket landed vertically on the platform, but tipped over because of an engine malfunction.
Landing rockets upright is crucial to cutting the cost of space travel, since the rockets can be reused. Most rockets that have carried people or satellites to outer space over the past 58 years have been discarded after their launch, often burning up upon reentry. The SpaceX rockets cost from $60 million to $90 million.
Related video: A history of SpaceX rocket landings (and crashes)
Musk, who is also CEO of Tesla Motors (TSLA), isn't the only tech executive to pull off a vertical rocket landing.
BlueOrigin, led by Amazon CEO Jeff Bezos, succeeded in landing a rocket upright in November, becoming the first company to due so. However, the sub-orbital BlueOrigin was significantly shorter that SpaceX's.
Related: Elon Musk: Falcon 9 is ready to fly again
SpaceX missions have been unmanned so far. But NASA has approved SpaceX to take a crew to the International Space Station in 2017.