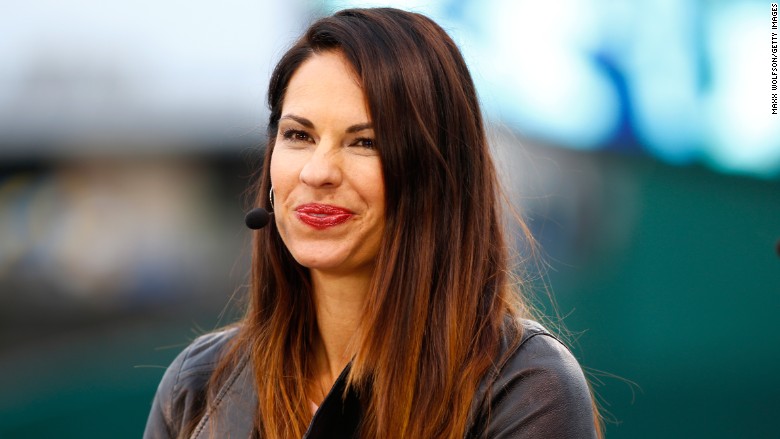 On Wednesday, ESPN announced that it was changing its "Sunday Night Baseball" play-by-play team putting Mendoza and former Major League Baseball player, Aaron Boone, alongside commentator Dan Shulman and on field reporter, Buster Olney.
This means that Mendoza will be ESPN's first female regular MLB analyst.
Last season, Mendoza made history becoming the first female analyst to call a nationally televised MLB playoff game.
ESPN's new Sunday night team will debut at next season's opening night game, a rematch of the 2015 World Series between the New York Mets and World Champion Kansas City Royals, and Mendoza is ready to step up to the plate.
"To be honest, I really just wanted to be apart of our baseball coverage on a consistent basis." Mendoza told CNNMoney. "When I found out about 'Sunday Night,' it was icing on the cake."
Mendoza, who won an Olympic gold medal in softball, went on to say that in order to be a better announcer she shadowed "Monday Night Football" to learn more about the broadcasting aspects of the job and the technology behind the production.
Mendoza's Wild Card broadcast was so noteworthy that her scorecard was collected for inclusion to the National Baseball Hall of Fame.
Related: Yankees, Astros score most watched MLB Wild Card Game ever
"I remember the representative from Cooperstown said, 'Hey, you know, we were hoping to get your scorecard after the game,' and I was like, 'why?'" Mendoza laughed. "I was so concentrated on the game... It kind of occurred to me more after the game that this was bigger than just two teams playing for a spot in the playoffs."
Despite the game being the most watched MLB Wild Card game in history and Mendoza receiving positive reviews for her analysis, some online and on talk radio criticized Mendoza solely for being a woman in the booth.
Mendoza said that she expects more of the talk, but that she tries to "turn it off," realizing she can't make everyone happy.
"Any change, regardless of even me being a female... there's going to be resistance," she said. "At the end of the day, I just want to make baseball really fun for people to listen to."
On top of all the broadcasts and games that Mendoza is excited about next season there's one place that she's looking forward to in particular.
"Fenway," Mendoza said. "Never been to Fenway for a baseball game."