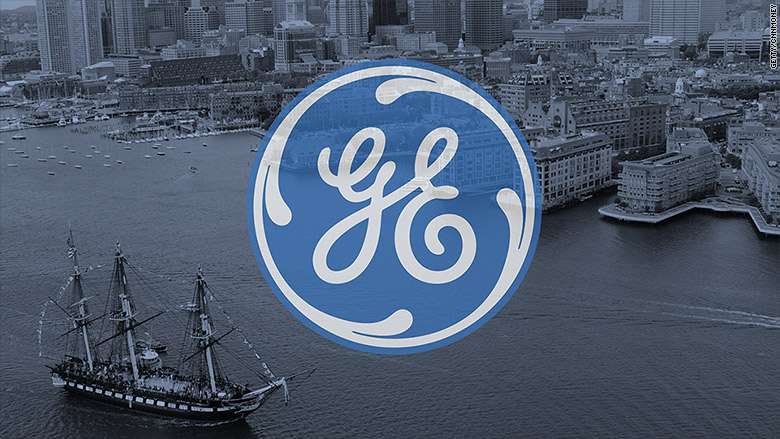 GE is moving its corporate headquarters to Boston, the company said Wednesday.
"We want to be at the center of an ecosystem that shares our aspirations," said GE CEO Jeffrey Immelt in a press release.
General Electric (GE), which is currently based in Fairfield, Conn., has made good on its very strong hint -- which it first mentioned last year-- that it wasn't happy with Connecticut taxes and that it could leave the state.
"Reports that Connecticut officials intend to raise taxes by another $750 million are truly discouraging," GE said on June 1, 2015, in a press release. "Retroactively raising taxes again on Connecticut's residents, businesses and services makes businesses, including our own, and citizens seriously consider whether it makes any sense to continue to be located in this state."
The company will begin to relocate this summer, and plans to complete the move by the end of 2018.
Related: Is GE finally turning around? Stock hits 7-year high
Immelt said the company is receiving a package of incentives from Boston and Massachusetts, but that the move won't have any material impact on its finances.
Massachusetts is providing $120 million in grants and Boston is providing $25 million in property tax relief, according to the office of Gov. Charlie Baker. Incentives include $1 million in job training and up to $5 million for an "innovation center" to forge connections with area research institutions and schools.
The company plans to sell its offices in Fairfield as well as the iconic 30 Rockefeller Center building in New York City. The company will relocate to the Seaport District of Boston and will employ 800 people there.
GE has offices in 130 countries.
GE had a strong year. Its stock was up 18.3% over the past 12 months and the company landed a massive $2.6 billion contract to build 1,000 trains in India over the next 11 years.
The conglomerate, which originated with Thomas Edison in 1878, has divisions in Aviation, Capital, Oil & Gas, Energy, Healthcare, Power, Transportation and Home & Business Solutions including Appliances and Lighting.
Correction: An earlier version of the story misstated the amount of GE's stock increase over the past 12 months. It increased 18.3% over that time.