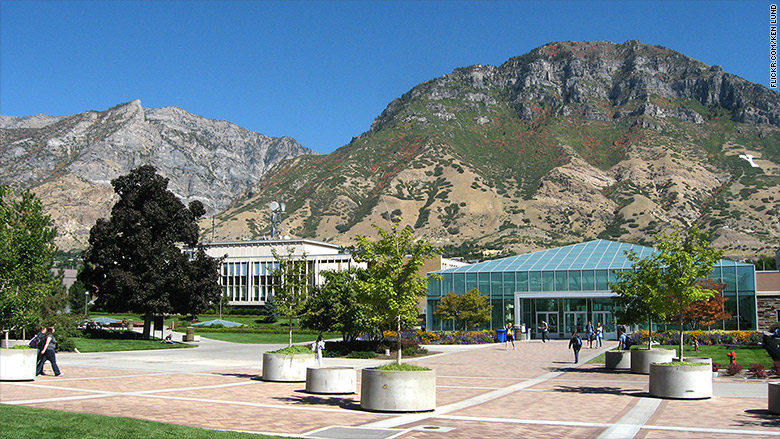 Provo, Utah needs no introduction to skiing buffs and the Mormon church.
The town is also quickly becoming one of America's hottest job markets.
Jobs in the Provo area grew at the fastest pace of any town in the United States last year. It's unemployment rate is an enviable 2.7%, nearly half the national average of 5%, according to the U.S. Labor Department.
Provo's 5.2% annual jobs growth through November far outpaces the 1.9% gains nationally.
Home to Brigham Young University, Provo is the center of the largest Mormon missionary training center. Ski resorts are minutes away and its Peaks Ice Arena was a venue for the Salt Lake City Winter Olympics in 2002.
Related: Obama's economy: unfinished business
But that's not where the jobs growth story lies. Provo has become a big tech hub for the area.
One factor luring businesses of all stripes: wicked fast internet. Google (GOOG) awarded Provo with its Google Fiber program in 2014. That means residents and businesses have lightning fast internet -- something tech start ups especially love, locals say.
"Our start up economy is just crazy...we call ourselves Silicon Slopes," says Rona Rahlf, president of the Utah Valley Chamber of Commerce in Provo.
And it's not just firms that "started in mom's basement," says Provo mayor John Curtis. Ebay (EBAY) and Adobe (ADBE) have offices near Provo.
Related: Solar energy jobs double in 5 years
Provo metro area population is over half a million and its workforce is about 274,000 people.
And it's really young. Over half the population in Provo is under 30 years old, according to Census data.
"We think we're a well-kept secret," says Curtis, the mayor.
Todd Pedersen, CEO of home security company Vivint, cites the college town feel, the low cost of living and entrepreneurial spirit as keys to keeping his business in Provo.
"Our company has significantly benefited from being a part of this area," he says.
Vivint employs 9,000 workers. In 2013, the private equity firm Blackstone (BX) bought a majority stake in it for $2 billion.
And Vivint is only one of the area's several unicorns -- tech start-ups like Uber, Lyft and Airbnb that are valued at $1 billion or more.
Related: Not every liberal arts grad is working as a barista
Qualtrics, an online survey company, Insidesales.com, a sales software firm and Pluralsight, which offers online courses for employee training -- are all valued around $1 billion.
And if tech jobs don't appeal, the ski resorts nearby like Sundance are always there.
Besides, Provo's construction industry saw a double-digit percent increase in job growth last year too, according to the Labor Department. Hospitals and the nearby colleges, such as Utah Valley State University, are among the area's largest employers.
Related: Black unemployment falls to lowest since 2007
In fact, companies are fighting over each other for talent, says Rahlf from the Chamber of Commerce. Even Vivint admits it plans to raise their minimum wage for entry-level employees this year to $11 an hour from $10.
It's a good problem to have for residents.
"Having that low unemployment rate -- that means everyone is in a good mood," says Curtis.