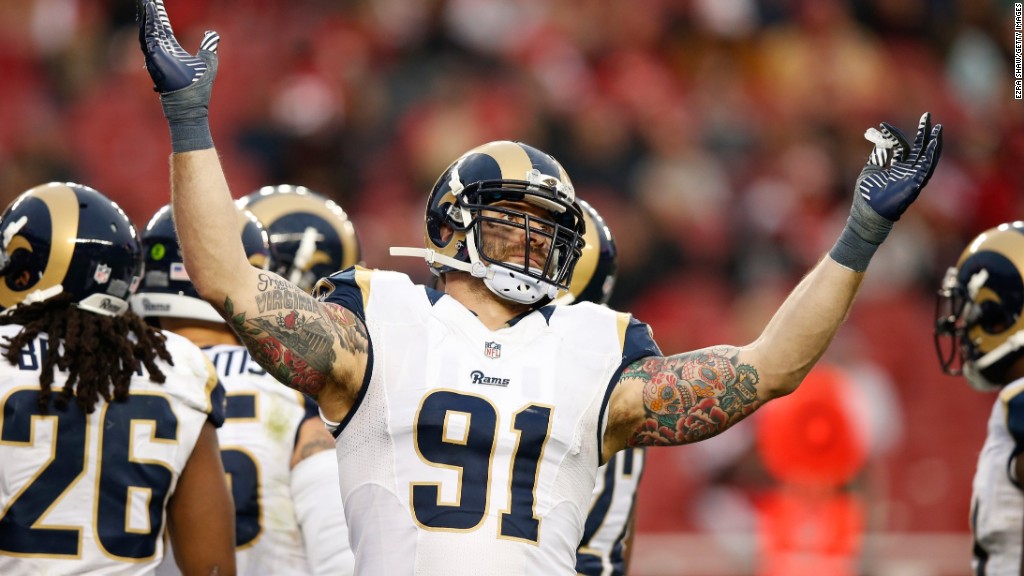 The owner of the St. Louis Los Angeles Rams may now be public enemy no. 1 in Missouri. But he's a hero to the NFL.
Rams owner Stanley Kroenke, a real estate mogul who Forbes estimates is worth $7.5 billion, always had the upper hand. He also owns the NBA's Denver Nuggets and hockey's Colorado Avalanche as well as a majority stake in the British soccer team Arsenal.
It doesn't hurt that Kroenke's also married to Ann Walton, the daughter of Walmart (WMT)co-founder Bud Walton. She's worth $4.4 billion. Kroenke's THF (which stands for To Have Fun) realty firm owns many strip malls with Walmarts as anchor tenants.
So Kroenke has definitely benefited from the rise of Walmart over the past few decades.
Related: NFL gives Rams approval to return to LA
Kroenke's plan to build a new stadium in Inglewood, California, will require no additional funding from the NFL.
He bought 60 acres of land in Inglewood in 2014 and then partnered with another real estate firm to develop the 238 acres adjacent to it.
Kroenke expects to spend at least $1.8 billion on the 80,000 seat stadium as well as offices, retail and residential spaces and public parks.
"The plan Kroenke has is very elaborate and luxurious. It has to be very attractive to the NFL. He's fully financing it privately," said Andrew Zimbalist, professor of economics with Smith College. "It's too rich of a plan to reject. This is what the NFL wanted. "
Before the league's Tuesday night vote to let the Rams move back to LA, a league committee studying its options appeared to favor a different plan which would have let the San Diego Chargers and Oakland Raiders move to a stadium in Carson, which is south of Los Angeles.
Zimbalist said the Chargers-Raiders proposal was not yet fully funded. As a result, it was highly likely that the NFL would have to kick in as much as $400 million to help build the Carson stadium.
That's because the NFL set up a stadium fund program a few years ago that would loan $200 million to teams seeking a new home. Two teams equal $400 million.
Related: NFL wants to live stream three London games in 2016
So why did some owners want the Raiders and Chargers to move to a stadium in Carson instead? Even Disney (DIS) CEO Bob Iger was touting it. Disney may not be an NFL team owner, but it has a big influence on the league since it owns ESPN.
Patrick Rishe, director of the sports business program at Washington University in St. Louis, said the six owners on the relocation committee represent the NFL's old guard, such as the Pittsburgh Steelers, Kansas City Chiefs and New York Giants.
So they may have gravitated towards the Chargers-Raiders plan since the owners of those two teams also have longstanding ties to the league.
Chargers owner Dean Spanos is the son of Alex Spanos -- who bought a majority stake in the Chargers in 1984. The father of Raiders owner Mark Davis -- the legendary Al Davis, who passed away in 2011 -- bought the Raiders in 1972.
Kroenke, on the other hand, is a relative newcomer as an NFL owner. He took full control of the Rams in 2010. He was a minority owner in the team prior to that.
Rishe said that the relocation committee's vote may have been "tainted politically." Other team owners felt that it was important to do what was best for the league financially as opposed to bailing out older owners in need of new stadiums.
Related: Bob Iger leads effort to bring the Chargers and Raiders to Los Angeles
So he's not surprised that the owners ultimately sided with Kroenke.
"The decision had to be based on economics," Rishe said. "Kroenke offers the NFL more cost certainty. And this is going to be one of the most palatial sports facilities in the world when all is said and done."
Rishe added that the Inglewood location is more desirable to the NFL than Carson. That's because Inglewood is closer to where much of the wealth in LA is -- places like Hollywood, Beverly Hills, Santa Monica and Malibu.
The Chargers or Raiders could eventually wind up moving to the new stadium in Inglewood as well. But Kroenke is the clear winner.
John Vrooman, an economics professor at Vanderbilt University, estimates that the Rams could generate $500 million in annual revenue in LA -- up from $300 million in St. Louis.
And he estimates that the net worth of the team will jump from $1.5 billion to nearly $2.2 billion as a result of the move.
"Kroenke is going to make big money from wider development surrounding the relocation of the Rams," Vrooman said.
"He is the only relocation candidate that could break even on the stadium deal and still make mega-bucks over, under, around and through the Hollywood Park project. Those synergies were not there in the Carson joint venture."
Of course, all of this is little consolation to fans in St. Louis.
Kroenke, a Missouri native whose full name is Enos Stanley Kroenke in honor of St. Louis baseball greats Enos Slaughter and Stan "The Man" Musial, is not the most popular guy in the Show Me State.