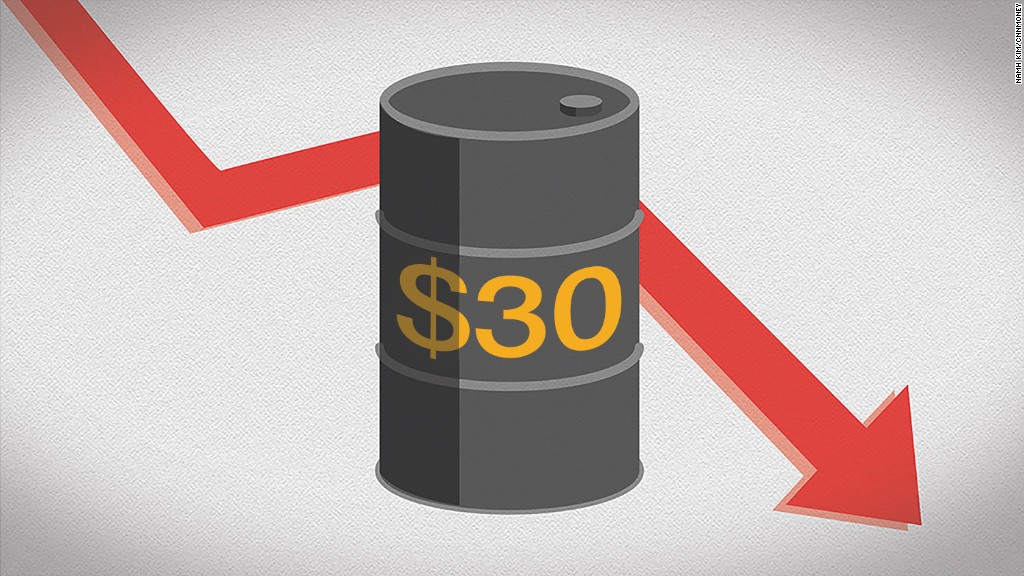 America's once-booming oil industry is suddenly in deep financial trouble.
The epic crash in oil prices has wiped out tens of thousands of jobs, caused dozens of bankruptcies and spooked global financial markets.
The fallout is already being felt in oil-rich states like Texas, Oklahoma and North Dakota, where home foreclosure rates are spiking and economic growth is slowing.
Now there are calls in at least some corners for the federal government to come to the rescue.
"It is time to send out an S.O.S., before it's too late," John Kilduff, founding partner of energy hedge fund Again Capital, wrote in a recent CNBC column. In the Kilduff dictionary, by the way, S.O.S. stands for "Save Our Shale" industry.
Related: Half of oil junk bonds could default
Kilduff fears Saudi Arabia's strategy of flooding the world with oil to put pressure on high-cost producers in the U.S. will kill America's shale business.
"While we are laughing our way to the gasoline pump now, we are heading back down the road to dependence on OPEC and foreign oil," he wrote.
Greg Valliere, chief strategist at Horizon Investments, thinks an oil bailout could become the next big issue in Congress.
"If Washington can bail out big banks and the auto industry, why not a bailout for oil companies?" Valliere wrote in a client note on Thursday.
Sheila Hollis, an energy practice partner at the law firm Duane Morris, has also heard murmurings about an oil bailout. However, she doubts there's the political will in Washington for one.
"It makes sense in theory, but they'd need some pretty impenetrable body armor to take this on," she said.
Related: Falling oil means rising foreclosures in these states
To be sure, it's early days for the idea of a federal rescue. A spokesman for the American Petroleum Institute told CNNMoney he hadn't heard of the idea before.
There don't appear to be any imminent legislative proposals in Congress for a full-scale bailout. However, Senator Lisa Murkowski and Rep. Fred Upton plan to meet to discuss an energy package that could include modest proposals such as expediting the process for exporting natural gas and loosening environmental regulations, according to The Hill.
Kilduff, the hedge fund manager, is proposing bolder ideas that include:
-Paying oil producers to shut down production, thereby reducing some of the supply glut
-Financial assistance to preserve wells for when prices rebound
-Loan guarantees to keep the industry afloat
-Revamp the bankruptcy code to help struggling oil companies restructure
-Enable the federal government to buy land with drilled-but-uncompleted wells
Does the oil industry even want a bailout?
Buddy Clark, a 33-year veteran in the energy finance space, doubts these ideas would be game changers.
"The problem with most of these companies is they are overlevered. Adding federal money doesn't help the equation," said Clark, a partner at the Houston law firm Haynes and Boone.
He also doubts whether fiercely independent producers in places like Texas would even accept federal aid.
"No one really wants to get in bed with the federal government," said Clark.
The Independent Petroleum Association of America, which represents thousands of independent producers, told CNNMoney it's not interested in a bailout from Washington.
Related: $10 oil: Crazy idea or the real floor beneath the oil crash?
Federal aid would face backlash
Many Americans would staunchly oppose any federal aid for the oil industry.
"The Democrats would turn it into a bailout of ExxonMobil (XOM). It would be a political disaster," said Joe McMonigle, former chief of staff of the Energy Department who is now a senior energy analyst at Potomac Research Group.
Also, environmental groups would be enraged if President Obama would help oil producers he just referred to as "dirty energy" in his State of the Union address.
"It's an outrageous proposal. We would oppose it, obviously," said Athan Manuel, an official from the Sierra Club.
Related: Solar energy jobs double in 5 years
Job losses keep mounting
One idea that Kilduff proposed may generate more sympathy: give oil workers enhanced unemployment benefits or temporary government jobs as caretakers of the oilfields.
A stunning 130,000 energy jobs disappeared in 2015 as oil and natural gas companies slashed spending.
The pink slips will continue to fly as pain in the oil patch builds. Last year, 42 North American oil companies filed for bankruptcy, according to a list compiled by Haynes and Boone.
"The workers are going to suffer the most. Anything that can be done on their behalf would be great," said Clark.